The Many Ways Crawfordsville and Westminster Colleagues Gave Back This Year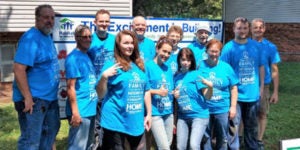 The spirit of giving back and helping those in need in our communities is strong throughout Penguin Random House. As this year winds to a close, we take a look back at a number of the charitable activities by colleagues who work at our distribution centers in Crawfordsville, Indiana and Westminster, Maryland.
Crawfordsville 2018 Giving Back Highlights
Throughout this year, employees based in Crawfordsville united with open hearts and helping hands to give back to their community. With a spirit of collaboration, the employees' vision began to take shape. The goal of their efforts was two-fold: raise awareness and raise funds to benefit local non-profit agencies.
Each department eagerly committed to organizing a fundraising event of their choice. The various events included special lunch offerings, candy bar and baked goods sales, 50/50 and gift basket raffles, and even T-shirt sales.
Crawfordsville colleagues raised in excess of $4,000.00. With the generosity of the company's matching gifts program, nine local non-profit agencies will benefit from more than $8,200.00 to help those in need.
The PRH Employees Give Back program proudly supported the following non-profit agencies in 2018:
All for Kids and the Nourish Program addresses the issue of food insecurities for children and families.
Mountie Mission helps low-income families by supplying clothes, personal care products and job training.

Pam's Promise assists with transitional housing for women of domestic violence and their children.

Nourish Program addresses the issue of food insecurities for children and families.
Trinity Mission supports Men's Residential Transformational Addiction Program.
Shop with a Firefighter supports children in need of winter clothing.
Family Crisis Shelter provides emergency housing and supportive services to survivors of domestic violence and sexual assault.
Strides for Life supports cancer prevention, detection and research.
Animal Welfare League protect and provide for animals in need.
Westminster 2018 Giving Back Highlights
This time of year, the Carroll Community Hospital is festooned with a beautiful array of Christmas trees and other holiday items, on display for Carroll Hospice's Season to Remember Holiday Auction. This silent auction is an important fundraiser for the hospice, and all items are donated and decorated by corporate sponsors and private individuals from the community. For 2018, our Westminster Customer Service colleagues went with a whimsical idea called "Penguins Playing" – proud mama and papa penguin looked on while the penguin chicks frolicked in the branches and slid down the ski slope!
Continuing a holiday tradition, Westminster's IT Group challenged all employees at PRH Westminster to participate to create Easter Baskets, Christmas Stockings and Sacks for Seniors for The Shepherd's Staff, a Christian Outreach and Support Center serving those in need in Carroll County.
In support of Tuscarora Elementary School and the new Butterfly Ridge Elementary School summer reading program, Penguin Random House donated 300 book, with two books placed in each of 150 backpacks for kids.
Penguin Random House Westminster held a month-long food drive for the Westminster Rescue Mission from mid-June to mid-July. Summer months typically give rise to an increase in requests for assistance, as this is a time when so many families struggle with hunger as children are out of school and not receiving their lunch meal. A total of 708 pounds of non‐perishable food items was donated and Penguin Random House matched this with a monetary donation of $708.00.
Here are some of the other non-profit organizations Westminster colleagues supported this year:
The ARC of Carroll County (used recycled cards to make unique, handmade greeting cards, gift bags and gift tags, sold throughout the year, particularly during the holiday season. Proceeds from the sale of the cards, bags and tags are used to benefit clients).
Boys & Girls Club of Westminster (450 books for the

PRH Book Nook

, plus 1,100 tote bags and 40 mugs).
Carroll County Arts Council (hand-crafted wreaths donated for silent auction).
Carroll Hospice (employee costume contest fundraiser).
Habitat for Humanity of Carroll County (a group of Westminster colleagues formed a "demolition team" to help with demo work as part of Habitat's homeownership program, focused on creating affordable homeownership opportunities).
Y of Central MD (2,800 backpacks for Head Start, 200 tote bags and many books).
Posted: December 19, 2018