The New Republic Salon: Nicholson Baker In Conversation with Laura Marsh via Zoom (7/22)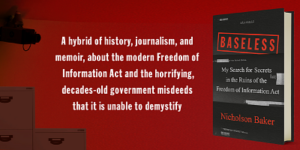 Nicholson Baker discusses his new book, BASELESS (Penguin Press), with The New Republic's literary editor, Laura Marsh, as part of The New Republic Salon series via Zoom on Wednesday, July 22 at 7:00 pm (ET).
A major new work, a hybrid of history, journalism, and memoir, about the modern Freedom of Information Act – FOIA – and the horrifying, decades-old government misdeeds that it is unable to demystify, from one of America's most celebrated writers.
Eight years ago, while investigating the possibility that the United States had used biological weapons in the Korean War, Nicholson Baker requested a series of Air Force documents from the early 1950s under the provisions of the Freedom of Information Act. Years went by, and he got no response. Rather than wait forever, Baker set out to keep a personal journal of what it feels like to try to write about major historical events in a world of pervasive redactions, withheld records, and glacially slow governmental responses. The result is one of the most original and daring works of nonfiction in recent memory, a singular and mesmerizing narrative that tunnels into the history of some of the darkest and most shameful plans and projects of the CIA, the Air Force, and the presidencies of Harry Truman and Dwight Eisenhower.
Baker is the author of ten novels and numerous works of nonfiction, including The Anthologist, The Mezzanine, and Human Smoke. He has won the National Book Critics Circle Award, the Hermann Hesse Prize, and a Katherine Anne Porter Award from the American Academy of Arts and Letters. He lives in Maine with his wife, Margaret Brentano; both his children went to Maine public schools.
!! As a reminder, if you are posting to a personal or other non-PRH account you must include the hashtag #TeamPRH !!
Posted: July 21, 2020