The New York Times Highlights RHCB #1 Bestseller BLACK BOY JOY— "Playful With a Side of Gravity"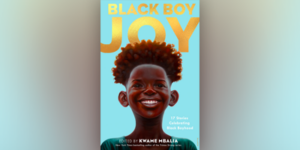 BLACK BOY JOY: 17 Stories Celebrating Black Boyhood, edited by Kwame Mbalia and published by Delacorte Press, debuts at #1 on The New York Times middle grade bestseller list for the week of August 22. This achievement is highlighted by The New York Times in the most recent "Inside the Best-Seller List" column, headlined Joy, Flexibility and Bravery Land on the Best-Seller List.
In the column, Elisabeth Egan, a New York Times Book Review editor, notes, "With irresistibly named tales like 'There's Going to Be a Fight in the Cafeteria on Friday and You Better Not Bring Batman,' the vibe is playful with a side of gravity; as Kwame Mbalia writes, 'Grab your string cheese. Prepare to laugh, cry and maybe even dance, but most of all, prepare to feel joyful.' At the moment, BLACK BOY JOY is the only anthology on the middle grade list."
From seventeen acclaimed Black male and non-binary authors, BLACK BOY JOY is a vibrant collection of stories, comics, and poems about the power of joy and the wonders of Black boyhood. Contributors include: B. B. Alston, Dean Atta, P. Djèlí Clark, Jay Coles, Jerry Craft, Lamar Giles, Don P. Hooper, George M. Johnson, Varian Johnson, Kwame Mbalia, Suyi Davies Okungbowa, Tochi Onyebuchi, Julian Randall, Jason Reynolds, Justin Reynolds, DaVaun Sanders, and Julian Winters.
Posted: August 18, 2021