THE PERSONAL LIBRARIAN Authors to Virtually Present Their New Historical Novel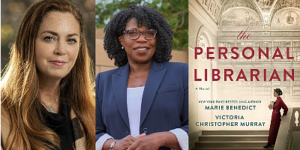 Marie Benedict and Victoria Christopher Murray, authors of THE PERSONAL LIBRARIAN (Berkley), will their discuss their New York Times bestselling historical novel, a Good Morning America Book Club pick, at a virtual event hosted by the Detroit Public Library on Wednesday, July 28 at 6:00 pm (ET). To register, click here.
THE PERSONAL LIBRARIAN tells the story of J. P. Morgan's personal librarian, Belle da Costa Greene, an extraordinary woman, famous for her intellect, style, and wit. She goes to extreme lengths—for the protection of her family and her legacy—to preserve her carefully crafted white identity in the racist world in which she lives.
In her twenties, Belle da Costa Greene is hired by J. P. Morgan to curate a collection of rare manuscripts, books, and artwork for his newly built Pierpont Morgan Library. Belle becomes a fixture in New York City society and one of the most powerful people in the art and book world, known for her impeccable taste and shrewd negotiating for critical works as she helps create a world-class collection.
But Belle has a secret, one she must protect at all costs. She was born not Belle da Costa Greene but Belle Marion Greener. She is the daughter of Richard Greener, the first Black graduate of Harvard and a well-known advocate for equality. Belle's complexion isn't dark because of her alleged Portuguese heritage that lets her pass as white—her complexion is dark because she is African American.
"Benedict, who is white, and Murray, who is African American, do a good job of depicting the tightrope Belle walked, and her internal conflict from both sides—wanting to adhere to her mother's wishes and move through the world as white even as she longed to show her father she was proud of her race. Like Belle and her employer, Benedict and Murray had almost instant chemistry, and as a result, the book's narrative is seamless."
—NPR
Ms. Benedict is a lawyer with more than ten years' experience as a litigator. A graduate of Boston College and the Boston University School of Law, she is a New York Times and USA Today bestselling author of The Only Woman in the Room, The Mystery of Mrs. Christie, Carnegie's Maid, The Other Einstein, and Lady Clementine. All have been translated into multiple languages. She lives in Pittsburgh with her family.
Ms. Murray is an acclaimed author with more than one million books in print. She has written more than twenty novels, including Stand Your Ground, an NAACP Image Award Winner for Outstanding Fiction and a Library Journal Best Book of the Year. She holds an MBA from the NYU Stern School of Business.
!! As a reminder, if you are posting to a personal or other non-PRH account you must include the hashtag #TeamPRH !!
Posted: July 26, 2021