The TASTE Podcast is Back!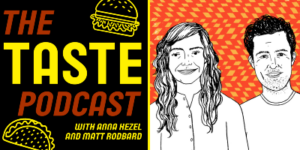 After a two-year hiatus, the TASTE Podcast, recorded at our very own 1745 Broadway studios, is back with a fresh new batch of lively conversations about cooking, with chefs and authors like Jacques Pépin, Eric Kim, and Priya Krishna.
Hosts (and TASTE editors) Matt Rodbard and Anna Hezel discuss some of the most exciting new cookbook releases of the season, the best ranch-flavored snacks, what kind of seltzer you should serve at your next party, and more.
Mr. Rodbard, TASTE Editor in Chief, comments, "The TASTE Podcast launched in 2018 and quickly grew a significant following for home cooking, and cookbook, fans looking for a smart and lively conversation on the topics they enjoy most – recipe advice, fresh ingredients from around the world, and info on the newest book releases. Fast forward to 2021, and the thirst for audio content has exploded and we've returned to our trusted audience, while picking up many new listeners too. The future is super exciting, as we interview authors, media figures, and rising stars in food."
Ms. Hezel, TASTE Senior Editor, adds, "There's such an opportunity with a podcast to ask chefs and authors the questions they're not being asked anywhere else. We get to have these really intimate conversations about people's cooking habits and dream book projects. Talking about food is a great way to get to know an author, whether they write cookbooks, narrative nonfiction, or even fiction."
Subscribe to stay in the loop, and to listen to past episodes with guests such as Samin Nosrat, JJ Johnson, and Carla Lalli Music.
Subscribe to the TASTE podcast on: Apple Podcasts, Spotify, Stitcher, or wherever you enjoy podcasts.
Posted: December 3, 2021