The Who Was? Show, Inspired by Penguin Workshop's New York Times Bestselling Who Was? Series, Debuts on Netflix Today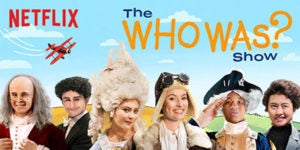 Every 11 seconds, a Who HQ book is sold somewhere in the world. Now Penguin Workshop's wildly popular children's biography series is coming to Netflix Kids & Family in The Who Was? Show, a laugh-out-loud original series that tells the stories of famous historical figures from across the globe through improv, sketches, impersonations, music videos and animated shorts in a show-within-a-show format that is as entertaining as it is educational.
Francesco Sedita, president and publisher of Penguin Workshop and an executive producer of the show, describes it as "The Muppets meets SNL meets You Can't Do That on Television." Sedita came up with the idea of creating a TV series based on the books, and even created a pilot episode. A few years ago, the Penguin Workshop team pitched it to potential partners at the Kidscreen conference, where it was picked up by Netflix.
The Who Was? Show pairs two unlike historical figures in each episode and imagines what might happen if someone like Marie Antoinette were to meet Louis Armstrong, or if Bruce Lee met Julius Caesar. The 13-episode series, premiering on Netflix today, May 11, features a diverse teenage cast and appearances by special guest stars including Ellie Kemper, H. Jon Benjamin, Jane Krakowski, John Oliver and Andy Daly, among others. The show is helmed and written by a comedy dream team whose credits include The Daily Show, Conan O'Brien, Great Minds with Dan Harmon, and Roseanne.
The Who Was? book series, the brainchild of VP and Editor-at-Large Jane O'Connor, launched in 2002 with 4 titles. Since then, it has become one of the most popular series in children's books, known for its instantly recognizable cover art, which features historical figures illustrated as bobbleheads. In recent years, Penguin Workshop has introduced two spinoff series, Where Is? and What Was?, and collectively, the three series are known as Who HQ. By the end of 2018, the series that began with just 4 books will have become a brand encompassing some 231 titles, with more than 35 million copies in print worldwide.
For an inside look at how Who Was? went from page to screen, check out Publishers Weekly's interview with Penguin Workshop's Francesco Sedita and Jane O'Connor.
Posted: May 11, 2018