THE WONDERFUL THINGS YOU WILL BE Dream World Apparel Program Launched at Nordstrom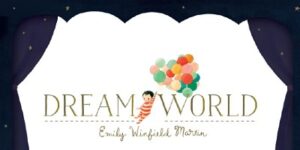 Emily Winfield Martin, author and illustrator of the #1 New York Times bestseller, THE WONDERFUL THINGS YOU WILL BE (Random House Books for Young Readers), is bringing her whimsical product line, Dream World, to life with a new apparel program – based on the artwork from THE WONDERFUL THINGS YOU WILL BE, which is about to hit 2 million copies sold.
In collaboration with Peek Kids, Emily's artwork has been transformed into a wonder-filled infant apparel collection for baby boys and girls, ages 0-24 months old. Using illustrations from THE WONDERFUL THINGS YOU WILL BE, the line includes dresses, onesies and tutus, and is being sold at Nordstrom. The patterns are playful yet elegant, and in true Emily Winfield Martin fashion, whimsical.
You can view the collection at https://peekkids.com/pages/dreamworldxpeek and look for the items at Nordstrom.com.
You can also find more beautiful Emily Winfield Martin product such as puzzles by New York Puzzle, a plush doll by MerryMakers, and a growth chart, baby's first book, and matching game at Clarkson Potter.
Peek Kids is a uniquely positioned premium children's brand that embodies the best of West Coast urban sophistication. It stands for values such as inclusion, creativity, and education, that are expressed through high-quality products sold on peekkids.com and better retailers nationwide. Follow them on Instagram @peekkids.
Emily Winfield Martin is a collector and lover of fairy tales, and the original Grimm's tale of Snow White and Rose Red enchanted and haunted her all her life. She is a painter of real and imaginary things, and the author and illustrator of such books as Dream Animals and The Wonderful Things You Will Be. Emily lives among the giant trees of Portland, Oregon, and if you need her, you might look in the heart of the woods. Visit her online at emilywinfieldmartin.com.
Posted: February 5, 2021