THE WORLD NEEDS MORE PURPLE SCHOOLS by RHCB Authors Kristen Bell and Benjamin Hart Coming in June 2022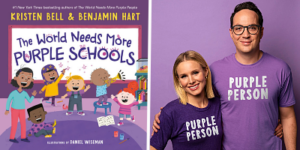 Hot on the heels of their instant #1 New York Times bestselling picture book debut, The World Needs More Purple People (June 2020; over 350,000 copies in print), actress, producer, and parent Kristen Bell (Frozen, The Good Place, Veronica Mars) and creative director and parent Benjamin Hart will publish THE WORLD NEEDS MORE PURPLE SCHOOLS in June 2022. The news was announced by Michelle Nagler, Vice President, Associate Publishing Director, Random House Books for Young Readers. Caroline Abbey, Editorial Director, acquired world English rights and audio rights and will edit the project.
The new title will release with a 250,000-copy first printing and is an extension of Kristen and Benjamin's My Purple World publishing program, which they created to encourage children to embrace the things that bring us together as humans, while celebrating what makes people unique. Through seeing Penny Purple and her friends use their voice, support others, and be kind, children will learn to embrace their unique selves while finding common ground.
Penny and her pals from The World Needs More Purple People take center stage in the heartwarming new picture book THE WORLD NEEDS MORE PURPLE SCHOOLS (Random House Books for Young Readers | June 21, 2022 | Ages 3–7), where they will put their skills into action to make their school a purple place! This positive, empathetic story is perfect to prepare children for back to school and a great conversation starter for parents and teachers to talk to children about connecting with those who are different from them and making school a safe and welcoming environment for everyone.
Kristen and Benjamin's beloved characters also appear in Random House Children's Books' leveled reader Step into Reading® program with THE NEW PUPPY (Random House Books for Young Readers | September 21, 2021 | Ages 4–6 | SIR Level 2) and THE NEW BIKE (Random House Books for Young Readers | September 6, 2022 | Ages 4–6 | SIR Level 2). As Step 2 Step into Reading® readers, THE NEW PUPPY and THE NEW BIKE are perfect for kids who loved The World Needs More Purple People and are ready to graduate from picture books to leveled readers. In THE NEW PUPPY, Penny Purple's friend Mateo is adopting a dog, and he is determined to be a good dog owner and use his purple skills to make sure the puppy feels safe. The book is perfect for families with pets—especially those who have adopted new animal friends during the pandemic. In THE NEW BIKE, Penny Purple zooms around her neighborhood on her new bike, connecting with friends and celebrating purple acts of kindness, curiosity, and inclusion. The book's message may be earnest, but the story's silliness will keep kids—and adults—laughing.
Kristen Bell is an actress and producer who has starred in such films as Frozen, Bad Moms, and Forgetting Sarah Marshall, as well as the television series The Good Place and Veronica Mars. She has been a guest editor for Parents magazine and has been featured in parenting articles on platforms like Motherly, Real Simple, Babble, and more. She also produces and stars in the web series Momsplaining for EllenTube. Benjamin Hart is a multidisciplinary designer and creative director. He is a principal partner and the co-president of Brains on Fire, a creative agency that specializes in building communities, and has worked on numerous projects and campaigns focused on early childhood development and education.
Together the duo also helped launch a new baby company in 2019 called Hello Bello, which provides families with access to premium and more natural products at affordable prices. Follow the conversation online for My Purple World publishing via #purplepeopleworld.
Daniel Wiseman is an illustrator of children's literature. He's drawn pictures for several published works including My Brother the Duck by Pat Zietlow Miller, the Baby Scientist series by Laura Gehl, and What About X? by Anne Marie Houppert, among many others. He also occasionally lends his hand to Highlights magazine. He was the co-founder and creative director of Pixel Press, the technology company that created the Bloxels Video Game Building software, a platform dedicated to teaching children the design process through game creation. Daniel, along with his talented wife, Elizabeth, are raising two sons in their little cabin in the East Tennessee woods.
Posted: November 18, 2021