The World of Eric Carle Launches Official YouTube Channel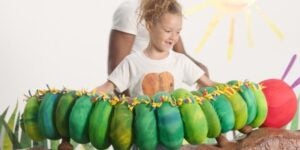 Penguin Young Readers and The World of Eric Carle have launched an all-new Youtube Kids Show in partnership with Rockefeller Productions, producers of the critically-acclaimed The Very Hungry Caterpillar Stage Show. The World of Eric Carle Youtube Channel,  an all-new children's variety show featuring puppetry, read-alouds, crafting tutorials, and animation centered around the author's beloved, classic characters, premiered its first 15-minute episode on November 17th, with new episodes releasing every two weeks over the next year.
The Channel, which is now live, can be accessed by clicking here!
Jen Loja, President, Penguin Young Readers, said, "As Eric Carle's longtime publishers, Penguin Young Readers is proud to launch this fun and accessible new platform for children and families to engage with the world of Eric Carle. Through storytelling, interactive art projects, puppetry, and animation, Eric Carle's beloved and timeless characters and creativity can now be experienced in new and exciting ways by a whole new generation."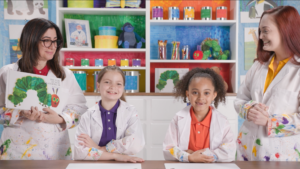 Each episode in the all-new series features three segments –puppetry from the cast of The Very Hungry Caterpillar Show, a read-aloud from a special guest, and a crafting tutorial based on each episode's theme – along with interstitial animated segments from StoryToys, producers of The Very Hungry Caterpillar. Apps are now available on the Apple App Store, Google Play, and Amazon.
In the future, the World of Eric Carle YouTube Channel will expand to include livestreams, art contests, musical content, and more, continuing Eric Carle's mission of going beyond the visual to give young children a truly interactive experience.
Posted: November 20, 2022