There's a Book for That: Alzheimer's and Brain Awareness Month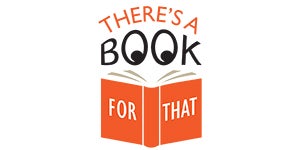 June is Alzheimer's and Brain Awareness Month. According to the Alzheimer's Association, 47 million people are living with Alzheimer's and other dementias worldwide. Add to that the number of caregivers and those directly affected grows exponentially. Awareness inspires action and the following titles on brain health, Alzheimer's and dementia aim to educate, support and inspire.
To learn more visit: alz.org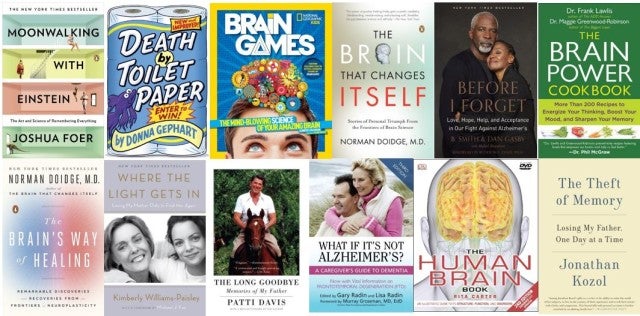 FEATURED TITLES
BEFORE I FORGET: LOVE, HOPE, HELP, AND ACCEPTANCE IN OUR FIGHT AGAINST ALZHEIMER'S by B. Smith, Dan Gasby, Michael Shnayerson
Restaurateur, magazine publisher, celebrity chef, and nationally known lifestyle maven, B. Smith is struggling at 64 with a tag she never expected to add to that string: Alzheimer's patient. Crafted in short chapters that interweave their narrative with Lessons Learned, their practical and helpful advice, readers travel with them as they learn to deal with Alzheimer's day-to-day challenges.
MOONWALKING WITH EINSTEIN: THE ART AND SCIENCE OF REMEMBERING EVERYTHING by Joshua Foer
An instant bestseller that is poised to become a classic, MOONWALKING WITH EINSTEIN recounts Joshua Foer's yearlong quest to improve his memory under the tutelage of top "mental athletes.
THE BRAIN'S WAY OF HEALING: REMARKABLE DISCOVERIES AND RECOVERIES FROM THE FRONTIERS OF NEUROPLASTICITY by Norman Doidge
From the New York Times bestselling author of THE BRAIN THAT CHANGES ITSELF, the next generation of neuroplasticity's miracles—how doctors and patients are awakening the brain's ability to grow and change and heal, including cases of overcoming the symptoms of Multiple sclerosis, Parkinson's disease, and dementia.
WHERE THE LIGHT GETS IN: LOSING MY MOTHER ONLY TO FIND HER AGAIN by Kimberly Williams-Paisley, Michael J. Fox
After a Redbook piece that went viral and attracted media attention from Good Morning America and NPR, Kimberly Williams-Paisley, actress (Father of the Bride, Nashville) and wife of country megastar Brad Paisley, shares the story of her mother's diagnosis of a rare form of dementia at the age of 61 and the effect it has had on their relationship.
THE HUMAN BRAIN BOOK by Rita Carter
Combining the latest findings from neuroscience with new brain imaging techniques, as well as developments on infant brains, telepathy, and brain modification, this new edition of DK's The Human Brain Book covers brain anatomy, function, and disorders in unprecedented detail.
THE THEFT OF MEMORY: LOSING MY FATHER, ONE DAY AT A TIME by Jonathan Kozol
In the most personal book of his career, Kozol tells the story of his father's life and work as a nationally noted specialist in disorders of the brain and his astonishing ability, at the onset of Alzheimer's disease, to explain the causes of his sickness and then to narrate, step-by-step, his slow descent into dementia.
THE BRAINPOWER COOKBOOK: MORE THAN 200 RECIPES TO ENERGIZE YOUR THINKING, BOOST YOUR MOOD, AND SHARPEN YOUR MEMORY by Frank Lawlis, Maggie Greenwood-Robinson
Brain-boosting recipes from the New York Times bestselling author and chief content adviser for the Dr. Phil show.
THE LONG GOODBYE by Patti Davis
In THE LONG GOODBYE, Patti Davis describes losing her father to Alzheimer's disease, saying goodbye in stages, helpless against the onslaught of a disease that steals what is most precious—a person's memory. "Alzheimer's," she writes, "snips away at the threads, a slow unraveling, a steady retreat; as a witness all you can do is watch, cry, and whisper a soft stream of goodbyes."
WHAT IF IT'S NOT ALZHEIMER'S?: A CAREGIVER'S GUIDE TO DEMENTIA by Gary Radin, Lisa Radin, Murray Grossman, MD EdD
This book is the first and only comprehensive guide dealing with frontotemporal degeneration (FTD), one of the largest groups of non-Alzheimer's dementias. The contributors are either specialists in their fields or have exceptional hands-on experience with FTD sufferers.
FOR YOUNG READERS
NATIONAL GEOGRAPHIC KIDS BRAIN GAMES: THE MIND-BLOWING SCIENCE OF YOUR AMAZING BRAIN by Jennifer Swanson, Hank Green; Ages 8 to 12, Grades 3 to 7
In this fascinating, interactive book—a companion to the National Geographic Channel hit show – kids explore the parts of the brain and how it all works.
DEATH BY TOILET PAPER by Donna Gephart; Ages 9-12
Fans of Louis Saachar will welcome the adventures of a contest-crazed seventh grader who uses his wits and way with words in hopes of winning a big cash prize to help his family.
For more information on these and related titles visit the edelweiss collection: Brain & Alzheimer's Books
Posted: June 22, 2016