There's a Book for That: April Fools Day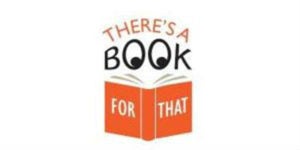 "Humor is just another defense against the universe." –Mel Brooks
It's April Fool's Day and humor is playing a big role in how we are coping these days. From social media memes to videos to our favorite comedians, poignant fun is being poked at us humans and shared left and right. In light of this levity in a serious time, here are some of the most popular comic memoirs and collections Penguin Random House has to offer: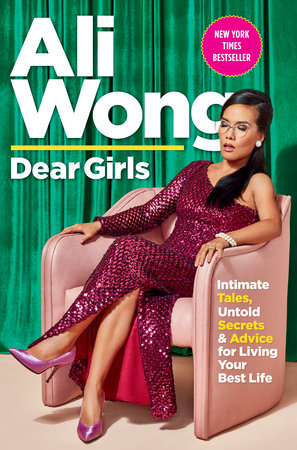 DEAR GIRLS: INTIMATE TALES, UNTOLD SECRETS & ADVICE FOR LIVING YOUR BEST LIFE by Ali Wong
Ali Wong's hilarious and heartfelt letters to her daughters (the two she put to work while they were still in utero), covering everything they need to know in life, like the unpleasant details of dating, how to be a working mom in a male-dominated profession, and how she trapped their dad.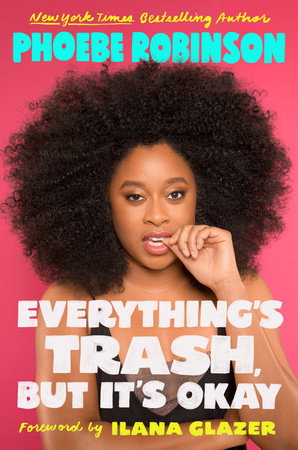 EVERYTHING'S TRASH, BUT IT'S OKAY by Phoebe Robinson
New York Times bestselling author of Don't Touch My Hair and star of "2 Dope Queens" Phoebe Robinson is back with a new, hilarious, and timely essay collection on gender, race, dating, and the dumpster fire that is our world. With the intimate voice of a new best friend, Everything's Trash, But It's Okay is a candid perspective for a generation that has had the rug pulled out from under it too many times to count.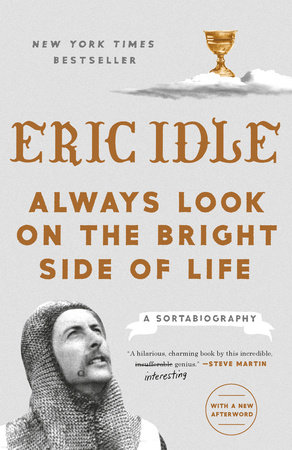 ALWAYS LOOK ON THE BRIGHT SIDE OF LIFE: A SORTABIOGRAPHY by Eric Idle
We know him best for his unforgettable roles with Monty Python—from the Flying Circus to The Meaning of Life. Now Eric Idle reflects on the meaning of his own life in this entertaining memoir that takes us on an unforgettable journey from his childhood in an austere boarding school through his successful career in comedy, television, theater, and film. In Always Look on the Bright Side of Life, he shares the highlights of his life and career with the kind of offbeat humor that has delighted audiences for five decades.
LIFE WILL BE THE DEATH OF ME . . . AND YOU TOO! by Chelsea Handler
The #1 New York Times bestselling author tells the funny, sad, super-honest, all-true story of her year of self-discovery—featuring Robert Mueller, a nerdily brilliant psychiatrist, a shaman, four Chow Chows, some well-placed security cameras, various family members (living and departed), friends, assistants, and a lot of edibles. Let's get this party started.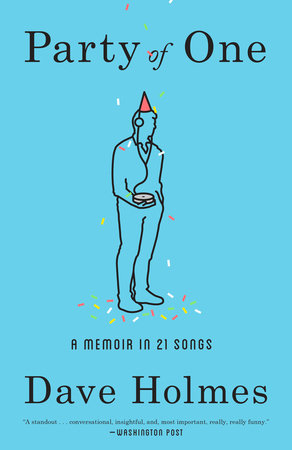 PARTY OF ONE: A MEMOIR IN 21 SONGS by Dave Holmes
Former MTV VJ Dave Holmes has written a hilarious memoir of a perpetual outsider fumbling his way toward self-acceptance, with the music of the '80s, '90s, and today as his soundtrack. This book is for anyone who's ever felt like a square peg, especially those who have found their place in the world around a band, an album, or a song. It's a laugh-out-loud funny, deeply nostalgic story about never fitting in, never giving up, and letting good music guide the way.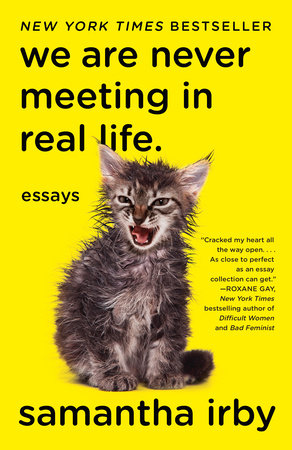 WE ARE NEVER MEETING IN REAL LIFE: ESSAYS by Samantha Irby
From the author of Meaty and creator of the blog "Bitches Gotta Eat" comes a smart, edgy, hilarious, and unabashedly raunchy collection of essays about navigating new relationships, growing older, and jobs that get in the way of one's television habit.
SICK IN THE HEAD: CONVERSATIONS ABOUT LIFE AND COMEDY by Judd Apatow
A New York Times bestselling collection of intimate, hilarious conversations with some of the biggest names in comedy from the celebrated director of "The 40 Year Old Virgin" and "Knocked Up" and first-class comedy nerd, Judd Apatow, with new conversations added for the paperback.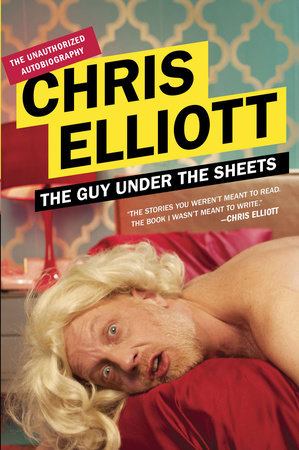 THE GUY UNDER THE SHEETS: THE UNAUTHORIZED AUTOBIOGRAPHY by Chris Elliott
Is Chris Elliott a highly successful and beloved comedian—or a slightly dim-witted no-talent from a celebrity family who managed to convince a generation of disillusioned youth that he was funny? From a ghastly childhood on the posh Upper East Side to his first job entertaining mobsters with his Judy Garland impersonation, The Guy under the Sheets is packed with countless episodes from the life of a mediocre artist who somehow faked his way to the top—of semi-moderate fame and fortune.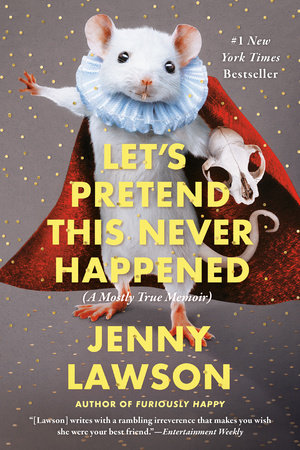 LET'S PRETEND THIS NEVER HAPPENED: A MOSTLY TRUE MEMOIR by Jenny Lawson
In the irreverent Let's Pretend This Never Happened, Lawson's long-suffering husband and sweet daughter help her uncover the surprising discovery that the most terribly human moments—the ones we want to pretend never happened—are the very same moments that make us the people we are today. For every intellectual misfit who thought they were the only ones to think the things that Lawson dares to say out loud, this is a poignant and hysterical look at the dark, disturbing, yet wonderful moments of our lives.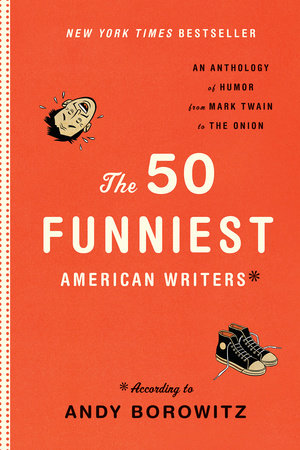 THE 50 FUNNIEST AMERICAN WRITERS*: AN ANTHOLOGY FROM MARK TWAIN TO THE ONION (A Library of America Special Publication) edited by Andy Borowitz
Brought together in this Library of America collection are America's fifty funniest writers—according to acclaimed writer and comedian Andy Borowitz. Reaching back to Mark Twain and forward to contemporary masters such as David Sedaris, Nora Ephron, Roy Blount Jr., Ian Frazier, Bernie Mac, Wanda Sykes, and George Saunders, The 50 Funniest American Writers* is an exclusive Who's Who of the very best American comic writing. Here are Thurber and Perelman, Lenny Bruce and Bruce Jay Friedman, Garrison Keillor, Dave Barry, and Veronica Geng, plus hilarious lesser-known pieces from The New Yorker, Esquire, The Atlantic, National Lampoon, and The Onion.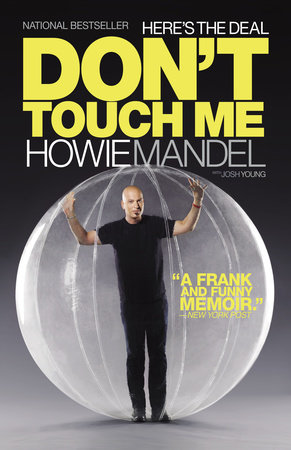 HERE'S THE DEAL: DON'T TOUCH ME by Howie Mandel, Josh Young
As heartfelt as it is outrageously hilarious, here is the story of comedian, actor, and game show host Howie Mandel's life and career—which have been shaped in surprising ways by OCD and ADHD. Here's the Deal: Don't Touch Me ably balances a comic tone with content that is at times quite serious. The result: a funny yet moving memoir that appeals not only to Mandel's fans, but also to a general audience of readers.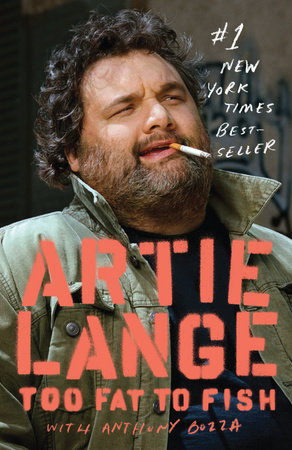 TOO FAT TO FISH by Artie Lange; Foreword by Howard Stern
Outrageous, raw, and painfully funny true stories straight from the life of the actor, comedian, and much-loved cast member of The Howard Stern Show—with a foreword by Howard Stern. Wild, shocking, and drop-dead hilarious, Too Fat to Fish is Artie Lange giving everything he's got to give.
For more on these and related titles visit: April Fools
---
There's a Book for That! is brought to you by Penguin Random House's Sales department. Please follow our Tumblr by clicking here—and share this link with your accounts: theresabookforthat.tumblr.com. Thank you!
Did you see something on the news or read about something on your commute? Perhaps you noticed something trending on Twitter? Did you think: "There's a book for that!"? Then please, send it our way at theresabookforthat@penguinrandomhouse.com
Posted: April 1, 2020