There's a Book for That: Asian American and Pacific Islander Heritage Month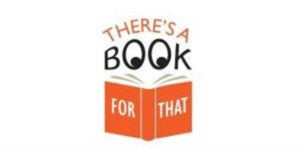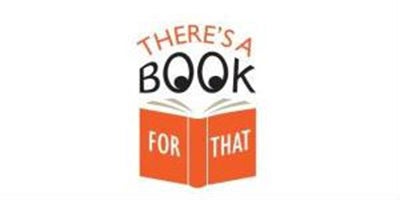 May is Asian American and Pacific Islander Heritage Month and this week—May 3 to May 9 —is also Children's Book Week with the motto "Every Child a Reader." Therefore, we are celebrating the following glorious stories, for children and adults to share, that honor the rich cultural history of Asian Americans and Pacific Islanders: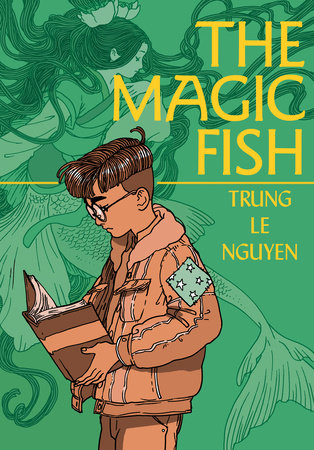 THE MAGIC FISH by Trung Le Nguyen
NAMED ONE OF THE BEST BOOKS OF THE YEAR by the New York Public Library • Kirkus Reviews • Booklist • Publishers Weekly
This beautifully illustrated YA graphic novel follows a young boy as he tries to navigate life through fairytales. Tiến still enjoys reading his favorite stories with his parents from the books he borrows from the local library. It's hard enough trying to communicate with your parents as a kid, but for Tiến, he doesn't even have the right words because his parents are struggling with their English. Is there a Vietnamese word for what he's going through? Is there a way to tell them he's gay?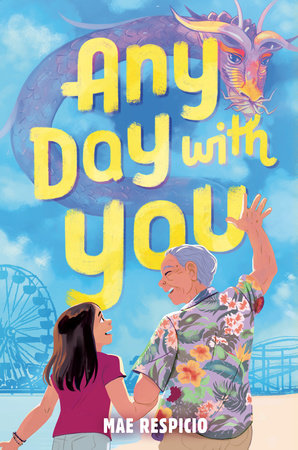 ANY DAY WITH YOU by Mae Respicio
Kaia and her family live near the beach in California, where the fun of moviemaking is all around them. This summer, Kaia and her friends are part of a creative arts camp, where they're working on a short movie to enter in a contest. The movie is inspired by the Filipino folktales that her beloved Tatang, her great-grandfather, tells. Kaia hopes that by winning a filmmaking contest, she'll convince her great-grandfather not to move back home to the Philippines.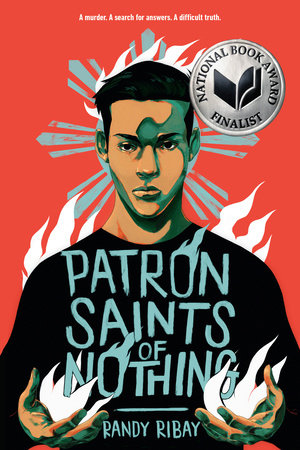 PATRON SAINTS OF NOTHING by Randy Ribay
A powerful coming-of-age story about grief, guilt, and the risks a Filipino American teenager takes to uncover the truth about his cousin's murder.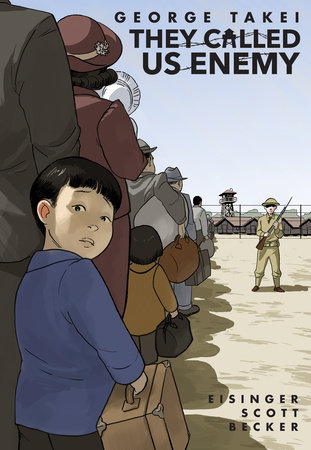 THEY CALLED US ENEMY by George Takei, Justin Eisinger, Steven Scott, Harmony Becker
A stunning graphic memoir recounting actor/author/activist George Takei's childhood imprisoned within American concentration camps during World War II. Experience the forces that shaped an American icon—and America itself—in this gripping tale of courage, country, loyalty, and love. Available in a Spanish edition here.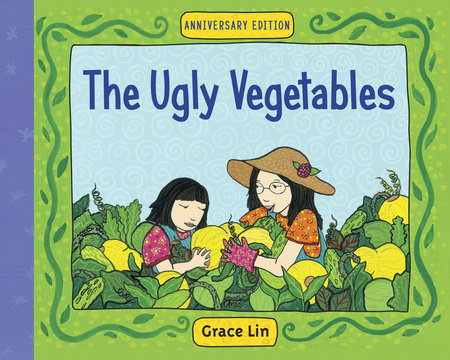 THE UGLY VEGETABLES written and illustrated by Grace Lin
In this charming story about celebrating differences a Chinese-American girl wishes for a garden of bright flowers instead of one full of bumpy, ugly, vegetables. The neighbors' gardens look so much prettier and so much more inviting to the young gardener than the garden of "black-purple-green vines, fuzzy wrinkled leaves, prickly stems, and a few little yellow flowers" that she and her mother grow. Nevertheless, mother assures her that "these are better than flowers." Come harvest time, everyone agrees as those ugly Chinese vegetables become the tastiest, most aromatic soup they have ever known. As the neighborhood comes together to share flowers and ugly vegetable soup, the young gardener learns that regardless of appearances, everything has its own beauty and purpose. THE UGLY VEGETABLES springs forth with the bright and cheerful colors of blooming flowers and lumpy vegetables. Grace Lin's playful illustrations pour forth with abundant treasures. Complete with a guide to the Chinese pronunciation of the vegetables and the recipe for ugly vegetable soup! Try it…you'll love it, too!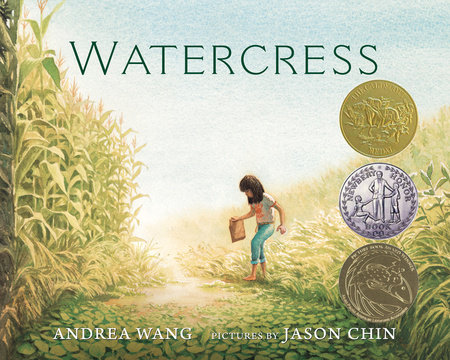 WATERCRESS by Andrea Wang; Illustrated by Jason Chin
Driving through Ohio in an old Pontiac, a young girl's parents stop suddenly when they spot watercress growing wild in a ditch by the side of the road. Grabbing an old paper bag and some rusty scissors, the whole family wades into the muck to collect as much of the muddy, snail covered watercress as they can. At first, she's embarrassed. Why can't her family get food from the grocery store? But when her mother shares a story of her family's time in China, the girl learns to appreciate the fresh food they foraged. Together, they make a new memory of watercress.
The book is illustrated by award winning author and artist Jason Chin, in an entirely new style, inspired by Chinese painting techniques. An author's note in the back shares Andrea's childhood experience with her parents.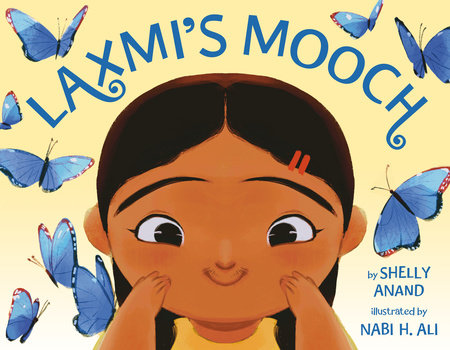 LAXMI'S MOOCH by Shelly Anand, Illustrated by Nabi H. Ali
A joyful, body-positive picture book about a young Indian American girl's journey to accept her body hair and celebrate her heritage after being teased about her mustache.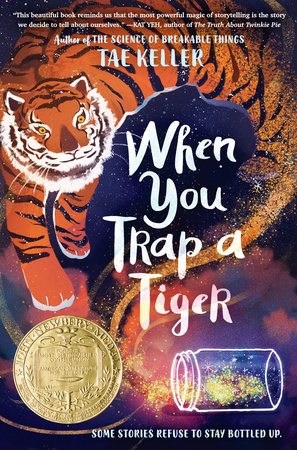 WHEN YOU TRAP A TIGER by Tae Keller
WINNER OF THE 2021 NEWBERY MEDAL
WINNER OF THE ASIAN/PACIFIC AMERICAN AWARD FOR CHILDREN'S LITERATURE
When Lily and her family move in with her sick grandmother, a magical tiger straight out of her halmoni's Korean folktales arrives, prompting Lily to unravel a secret family history. Long, long ago, Halmoni stole something from the tigers. Now they want it back. And when one of the tigers approaches Lily with a deal—return what her grandmother stole in exchange for Halmoni's health—Lily is tempted to agree. But deals with tigers are never what they seem! With the help of her sister and her new friend Ricky, Lily must find her voice…and the courage to face a tiger.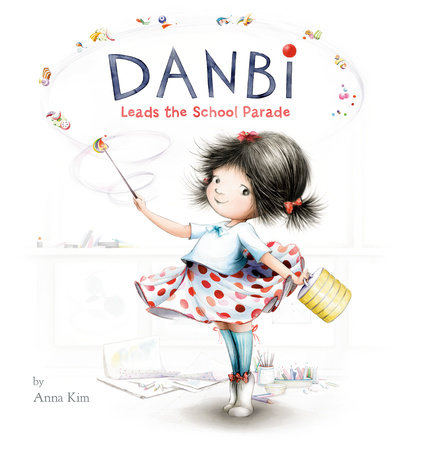 DANBI LEADS THE SCHOOL PARADE by Anna Kim
An Asian/Pacific American Award for Literature Honor Book
Danbi is thrilled to start her new school in America. But a bit nervous too, for when she walks into the classroom, everything goes quiet. Everyone stares. Danbi wants to join in the dances and the games, but she doesn't know the rules and just can't get anything right. Luckily, she isn't one to give up. With a spark of imagination, she makes up a new game and leads her classmates on a parade to remember! Danbi Leads the School Parade introduces readers to an irresistible new character. In this first story, she learns to navigate her two cultures and realizes that when you open your world to others, their world opens up to you.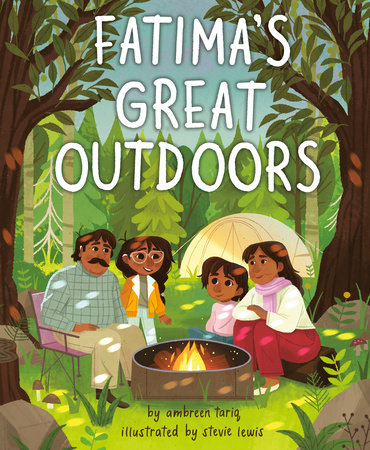 FATIMA'S GREAT OUTDOORS by Ambreen Tariq; Illustrated by Stevie Lewis
An immigrant family embarks on their first camping trip in the Midwest in this lively picture book by Ambreen Tariq, outdoors activist and founder of @BrownPeopleCamping. This picture book debut, with cheerful illustrations by Stevie Lewis, is a rollicking family adventure, a love letter to the outdoors, and a reminder that public land belongs to all of us.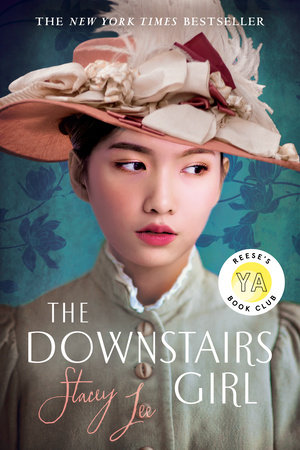 THE DOWNSTAIRS GIRL by Stacey Lee
By day, seventeen-year-old Jo Kuan works as a lady's maid for the cruel daughter of one of the wealthiest men in Atlanta. But by night, Jo moonlights as the pseudonymous author of a newspaper advice column for the genteel Southern lady, "Dear Miss Sweetie." When her column becomes wildly popular, she uses the power of the pen to address some of society's ills, but she's not prepared for the backlash that follows when her column challenges fixed ideas about race and gender. With prose that is witty, insightful, and at times heartbreaking, Stacey Lee masterfully crafts an extraordinary social drama set in the New South.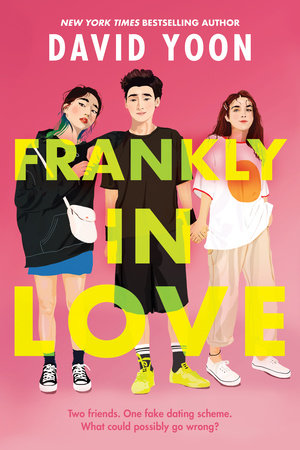 FRANKLY IN LOVE by David Yoon
An Asian Pacific American Librarians Association Honor Book
Frank Li has two names. There's Frank Li, his American name. Then there's Sung-Min Li, his Korean name. No one uses his Korean name, not even his parents. Frank barely speaks any Korean. He was born and raised in Southern California. Even so, his parents still expect him to end up with a nice Korean girl—which is a problem, since Frank is finally dating the girl of his dreams: Brit Means. Brit, who is funny and nerdy just like him. Brit, who makes him laugh like no one else. Brit…who is white. Desperate to be with Brit without his parents finding out, Frank turns to family friend Joy Song, who is in a similar bind. Together, they come up with a plan to help each other and keep their parents off their backs. Frank thinks he's found the solution to all his problems, but when life throws him a curveball, he's left wondering whether he ever really knew anything about love—or himself—at all.
For more on these and related titles (for kids and adults) visit the collection Asian American & Pacific Islander Heritage Month
---
There's a Book for That! is brought to you by Penguin Random House's Sales department. Please follow our Tumblr by clicking here—and share this link with your accounts: theresabookforthat.tumblr.com. Thank you!
Did you see something on the news or read about something on your commute? Perhaps you noticed something trending on Twitter? Did you think: "There's a book for that!"? Then please, send it our way at theresabookforthat@penguinrandomhouse.com
Posted: May 5, 2021