There's a Book for That: Audie Award Winners!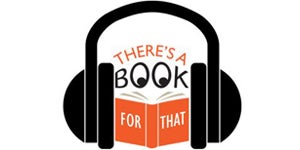 June is audiobook month and we congratulate this year's Audie Award winners, announced June 1, 2017 at the Audie Awards Gala in New York! Penguin Random House has 4 award winners and many finalists: View the full list here.
LITERARY FICTION & CLASSICS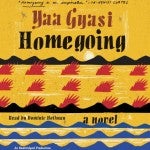 HOMEGOING by Yaa Gyasi
Narrated by Dominic Hoffman
This unforgettable story introduces us to two half-sisters, separated by forces beyond their control: one sold into slavery, the other married to a British slaver. Written with tremendous sweep and power, Homegoing traces the generations of family who follow, as their destinies lead them through two continents and three hundred years of history, each life indelibly drawn, as the legacy of slavery is fully revealed in light of the present day.
MULTI-VOICED PERFORMANCE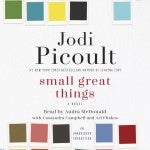 SMALL GREAT THINGS by Jodi Picoult
Narrated by Audra McDonald, Cassandra Campbell and Ari Fliakos
Ruth Jefferson is a labor and delivery nurse at a Connecticut hospital with more than twenty years' experience. During her shift, Ruth begins a routine checkup on a newborn, only to be told a few minutes later that she's been reassigned to another patient. The parents are white supremacists and don't want Ruth, who is African American, to touch their child. The hospital complies with their request, but the next day, the baby goes into cardiac distress while Ruth is alone in the nursery. Does she obey orders or does she intervene?

SCIENCE FICTION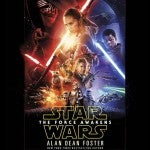 STAR WARS: THE FORCE AWAKENS by Alan Dean Foster
Narrated by Marc Thompson
Set years after Return of the Jedi, this stunning new action-packed adventure rockets us back into the world of Princess Leia, Han Solo, Chewbacca, C-3PO, R2-D2, and Luke Skywalker, while introducing a host of exciting new characters. Darth Vader may have been redeemed and the Emperor vanquished, but peace can be fleeting, and evil does not easily relent. Yet the simple belief in good can still empower ordinary individuals to rise and meet the greatest challenges.
YOUNG ADULT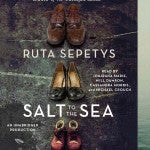 SALT TO THE SEA by Ruta Sepetys
Narrated by Jorjeana Marie, Will Damron, Cassandra Morris and Michael Crouch
Told in alternating points of view and perfect for fans of Anthony Doerr's Pulitzer Prize-winning All the Light We Cannot See, this masterful work of historical fiction is inspired by the real-life tragedy that was the sinking of the Wilhelm Gustloff—the greatest maritime disaster in history. As she did in Between Shades of Gray, Ruta Sepetys unearths a shockingly little-known casualty of a gruesome war, and proves that humanity and love can prevail, even in the darkest of hours.
Visit Books on Tape's 2017 Audie Winners page here to play clips of these titles!
Visit the Edelweiss collection for all of our 2017 Award Winners and Finalists: Audie Awards 2017
Posted: June 14, 2017