There's a Book for That: Autism Acceptance Month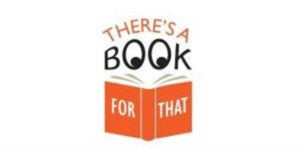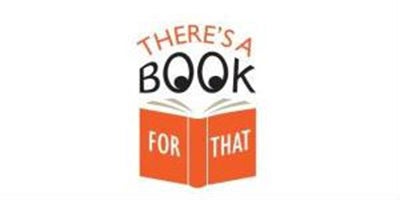 "Autistic is not a swear word. It is a beautiful word, a name for an identity that represents an entire group of people who are diverse in their personalities, characters, abilities, and deficits. Autism is not homogeneous. Autistics are not homogeneous. But we are everywhere." —Lydia X. Z. Brown
In honor of Autism Acceptance Month, Penguin Random House is excited to share this list of books by and for autistic people—from groundbreaking memoir and biography, to swoon-worthy romance, to middle grade detective fiction, and more.
For more information on autism and autistic people (including why we've chosen to use identity-first language), check out these organizations:
Autistic Self Advocacy Network (ASAN)
Autistic Women & Nonbinary Network (AWN)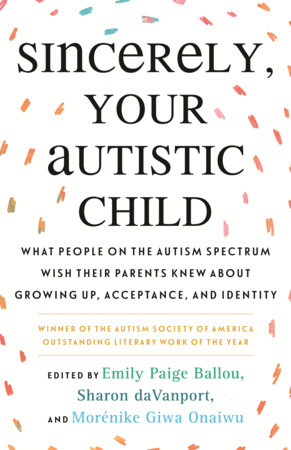 SINCERELY, YOUR AUTISTIC CHILD by AUTISTIC WOMEN AND NONBINARY NETWORK Edited by Emily Paige Ballou, Sharon daVanport and Morénike Giwa Onaiwu
A diverse collection of autistic voices that highlights how parents can avoid common mistakes and misconceptions, and make their child feel truly accepted, valued, and celebrated for who they are.
Most resources available for parents come from psychologists, educators, and doctors, offering parents a narrow and technical approach to autism. Sincerely, Your Autistic Child represents an authentic resource for parents written by autistic people themselves. From childhood and education to culture, gender identity, and sexuality, this anthology tackles the everyday joys and challenges of growing up while honestly addressing the emotional needs, sensitivity, and vibrancy of autistic kids, youth, and young adults. Contributors reflect on what they have learned while growing up on the autism spectrum and how parents can avoid common mistakes and overcome challenges while raising their child. Part memoir, part guide, and part love letter, Sincerely, Your Autistic Child is an indispensable collection that invites parents and allies into the unique and often unheard experiences of autistic children and teens.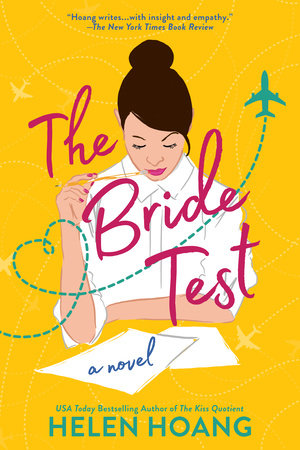 THE BRIDE TESTby Helen Hoang
From the USA Today bestselling author of The Kiss Quotient comes a romantic novel about love that crosses international borders and all boundaries of the heart…
Khai Diep has no feelings. Well, he feels irritation when people move his things or contentment when ledgers balance down to the penny, but not big, important emotions—like grief. And love. He thinks he's defective. His family knows better—that his autism means he just processes emotions differently. When he steadfastly avoids relationships, his mother takes matters into her own hands and returns to Vietnam to find him the perfect bride.
As a mixed-race girl living in the slums of Ho Chi Minh City, Esme Tran has always felt out of place. When the opportunity arises to come to America and meet a potential husband, she can't turn it down, thinking this could be the break her family needs. Seducing Khai, however, doesn't go as planned. Esme's lessons in love seem to be working…but only on herself. She's hopelessly smitten with a man who's convinced he can never return her affection. With Esme's time in the United States dwindling, Khai is forced to understand he's been wrong all along. And there's more than one way to love.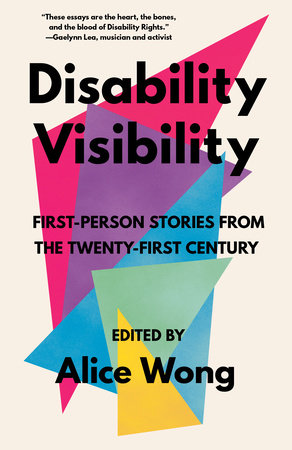 DISABILITY VISIBILITY: FIRST-PERSON STORIES FROM THE TWENTY-FIRST CENTURY Edited by Alice Wong
ONE OF THE PROGRESSIVE'S BEST BOOKS OF THE YEAR
One in five people in the United States lives with a disability. Some disabilities are visible, others less apparent—but all are underrepresented in media and popular culture. Now, just in time for the thirtieth anniversary of the Americans with Disabilities Act, activist Alice Wong brings together this urgent, galvanizing collection of contemporary essays by disabled people.
From Harriet McBryde Johnson's account of her debate with Peter Singer over her own personhood to original pieces by authors like Keah Brown and Haben Girma; from blog posts, manifestos, and eulogies to Congressional testimonies, and beyond: this anthology gives a glimpse into the rich complexity of the disabled experience, highlighting the passions, talents, and everyday lives of this community. It invites readers to question their own understandings. It celebrates and documents disability culture in the now. It looks to the future and the past with hope and love.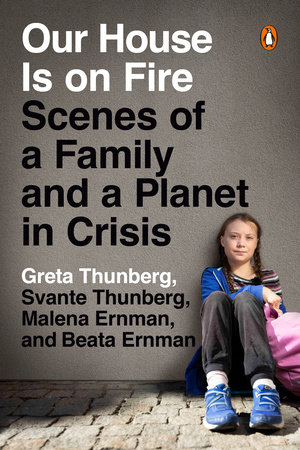 OUR HOUSE IS ON FIRE: SCENES OF A FAMILY AND A PLANET IN CRISIS by Greta Thunberg, Svante Thunberg, Malena Ernman and Beata Ernman
"A must-read ecological message of hope . . . Everyone with an interest in the future of this planet should read this book." –David Mitchell, The Guardian
When climate activist Greta Thunberg was eleven, her parents Malena and Svante, and her little sister Beata, were facing a crisis in their own home. Greta had stopped eating and speaking, and her mother and father had reconfigured their lives to care for her. Desperate and searching for answers, her parents discovered what was at the heart of Greta's distress: her imperiled future on a rapidly heating planet.
Steered by Greta's determination to understand the truth and generate change, they began to see the deep connections between their own suffering and the planet's. Written by a remarkable family and told through the voice of an iconoclastic mother, Our House Is on Fire is the story of how they fought their problems at home by taking global action. And it is the story of how Greta decided to go on strike from school, igniting a worldwide rebellion.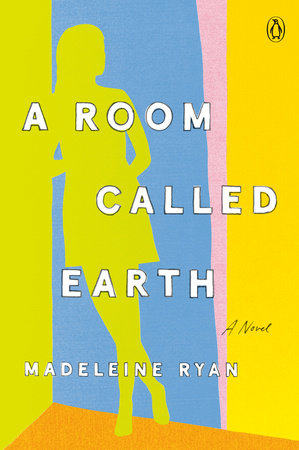 A ROOM CALLED EARTH by Madeleine Ryan
One of Bustle's Best Books of 2020!
An unforgettable story of a fiercely original young woman, whose radical perspective illuminates a new way of being in the world
As a full moon rises over Melbourne, Australia, a young woman gets ready for a party. And what appears to be an ordinary night out is–through the prism of her singular perspective–extraordinary. As the evening unfolds, each encounter she has reveals the vast discrepancies between what she is thinking and feeling, and what she is able to say. And there's so much she'd like to say. So when she meets a man and a genuine connection occurs, it's nothing short of a miracle. However, it isn't until she invites him home that we come to appreciate the humanity beneath the labels we cling to, and we can grasp the pleasure of what it means to be alive.
The debut novel from the inimitable Madeleine Ryan, A Room Called Earth is a humorous and heartwarming adventure inside the mind of a bright and dynamic woman. This hyper-saturated celebration of love and acceptance, from a neurodiverse writer, is a testament to moving through life without fear, and to opening ourselves up to a new way of relating to one another.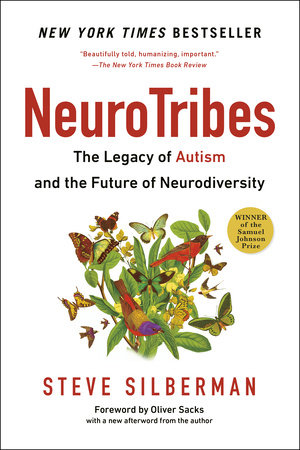 NEUROTRIBES by Steve Silberman
This New York Times–bestselling book upends conventional thinking about autism and suggests a broader model for acceptance, understanding, and full participation in society for people who think differently.
What is autism? A lifelong disability, or a naturally occurring form of cognitive difference akin to certain forms of genius? In truth, it is all of these things and more—and the future of our society depends on our understanding it. Wired reporter Steve Silberman unearths the secret history of autism, long suppressed by the same clinicians who became famous for discovering it, and finds surprising answers to the crucial question of why the number of diagnoses has soared in recent years. Going back to the earliest days of autism research, Silberman offers a gripping narrative of Leo Kanner and Hans Asperger, the research pioneers who defined the scope of autism in profoundly different ways; he then goes on to explore the game-changing concept of neurodiversity. NeuroTribes considers the idea that neurological differences such as autism, dyslexia, and ADHD are not errors of nature or products of the toxic modern world, but the result of natural variations in the human genome. This groundbreaking book will reshape our understanding of the history, meaning, function, and implications of neurodiversity in our world.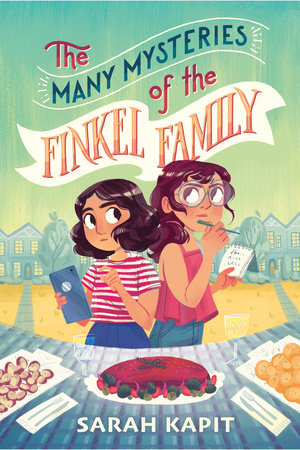 THE MANY MYSTERIES OF THE FINKEL FAMILY by Sarah Kapit
Fans of the Penderwicks and the Vanderbeekers, meet the Finkel family in this middle grade novel about two autistic sisters, their detective agency, and life's most consequential mysteries.
When twelve-year-old Lara Finkel starts her very own detective agency, FIASCCO (Finkel Investigation Agency Solving Consequential Crimes Only), she does not want her sister, Caroline, involved. She and Caroline don't have to do everything together. But Caroline won't give up, and when she brings Lara the firm's first mystery, Lara relents, and the questions start piling up.
But Lara and Caroline's truce doesn't last for long. Caroline normally uses her tablet to talk, but now she's busily texting a new friend. Lara can't figure out what the two of them are up to, but it can't be good. And Caroline doesn't like Lara's snooping—she's supposed to be solving other people's crimes, not spying on Caroline! As FIASCCO and the Finkel family mysteries spin out of control, can Caroline and Lara find a way to be friends again?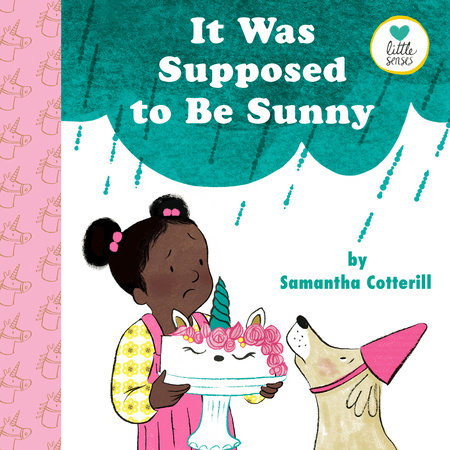 IT WAS SUPPOSED TO BE SUNNY by Samantha Cotterill
A perfectly planned birthday party goes awry in this gentle story about adapting to the unexpected, written for kids on the autism spectrum and called "brilliant" and "engaging" by autism specialist Tony Attwood
Laila feels like her sparkly sunshine birthday celebration is on the brink of ruin when it starts to storm. Then, just as she starts feeling okay with moving her party indoors, an accident with her cake makes her want to call the whole thing off. But with the help of her mom and a little alone time with her service dog, she knows she can handle this.
Changes in routine can be hard for any kid, but especially for kids on the autism spectrum. Samantha Cotterill's fourth book in the Little Senses series provides gentle guidance along with adorable illustrations to help every kid navigate schedule changes and overwhelming social situations.
Thank you to our guest contributor, Miranda Stinson, Publishing Assistant, Penguin Workshop.
---
There's a Book for That! is brought to you by Penguin Random House's Sales department. Please follow our Tumblr by clicking here—and share this link with your accounts: theresabookforthat.tumblr.com. Thank you!
Did you see something on the news or read about something on your commute? Perhaps you noticed something trending on Twitter? Did you think: "There's a book for that!"? Then please, send it our way at theresabookforthat@penguinrandomhouse.com
Posted: April 7, 2021