There's a Book for That: Autism Acceptance Month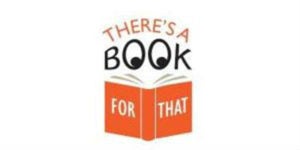 You may know April as Autism Awareness Month, but it's also Autism Acceptance Month, founded in 2011 by autistic self-advocate Paula Durbin Westby to push back against harmful stereotypes and put the voices of autistic people first. With that in mind, all the books we're highlighting today are by #actuallyautistic authors, and we couldn't be more proud to publish them.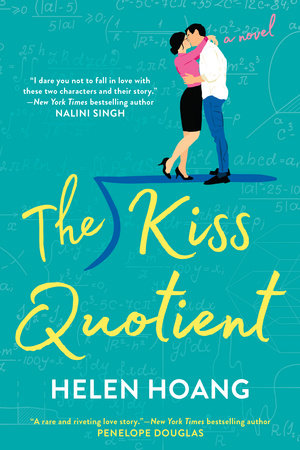 THE KISS QUOTIENT by Helen Hoang
Stella Lane thinks math is the only thing that unites the universe. She comes up with algorithms to predict customer purchases—a job that has given her more money than she knows what to do with, and way less experience in the dating department than the average thirty-year-old.
It doesn't help that Stella has Asperger's and French kissing reminds her of a shark getting its teeth cleaned by pilot fish. Her conclusion: she needs lots of practice—with a professional. Which is why she hires escort Michael Phan. The Vietnamese and Swedish stunner can't afford to turn down Stella's offer, and agrees to help her check off all the boxes on her lesson plan—from foreplay to more-than-missionary position… Before long, Stella not only learns to appreciate his kisses, but crave all of the other things he's making her feel. Their no-nonsense partnership starts making a strange kind of sense. And the pattern that emerges will convince Stella that love is the best kind of logic…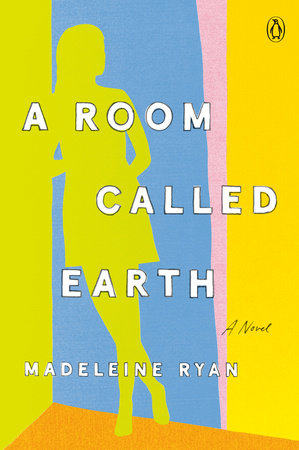 A ROOM CALLED EARTH by Madeleine Ryan
The debut novel from an autistic writer, an extraordinary story of a fiercely original young woman whose radical self-acceptance illuminates a new way of being in the world, and opens up a whole new realm of understanding and connection.
As a full moon rises over Melbourne, Australia, a young autistic woman gets ready for a party. What appears to be the start of an ordinary night out, though, is, through the prism of her mind, extraordinary. As the events of the night unfold, she moves from person to person, weaving a web around the magical, the mundane, and the tragic. From the inimitable mind of Madeleine Ryan, an outspoken advocate for neurodiversity, A Room Called Earth is a magical and miraculous adventure inside the mind of an autistic woman. Humorous and heartwarming, and brimming with joy, this hyper-saturated celebration of acceptance is a testament to moving through life without fear, and to opening ourselves up to a new way of relating to one another.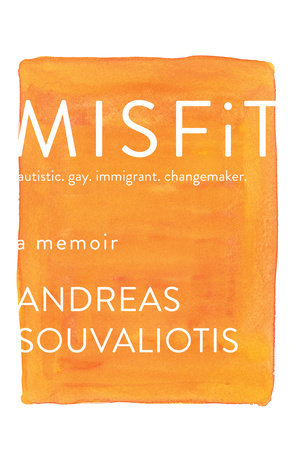 MISFIT by Andreas Souvaliotis
Updated and expanded: A new edition of the inspiring memoir by one of Canada's most unusual, successful and socially conscious businesspeople. Andreas Souvaliotis was raised at a time when being on the autism spectrum wasn't easily diagnosed or even discussed. Minds like his were simply considered odd. He also knew from an early age he was gay, and it terrified him as he was growing up with openly homophobic parents in one of Europe's least tolerant societies. Andreas's differences made him an outsider, right through to his mid-forties. And then suddenly, everything changed. Misfit is the extraordinary memoir of a man who realized there was strength in his strangeness, that it could be used as a force for good.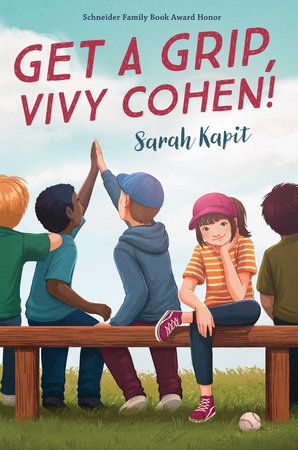 GET A GRIP, VIVY COHEN! by Sarah Kapit
In this perfectly pitched novel-in-letters, autistic eleven-year-old Vivy Cohen won't let anything stop her from playing baseball–not when she has a major-league star as her pen pal.
Vivy Cohen is determined. She's had enough of playing catch in the park. She's ready to pitch for a real baseball team.
But Vivy's mom is worried about Vivy being the only girl on the team, and the only autistic kid. She wants Vivy to forget about pitching, but Vivy won't give up. When her social skills teacher makes her write a letter to someone, Vivy knows exactly who to choose: her hero, Major League pitcher VJ Capello. Then two amazing things happen: A coach sees Vivy's amazing knuckleball and invites her to join his team. And VJ starts writing back!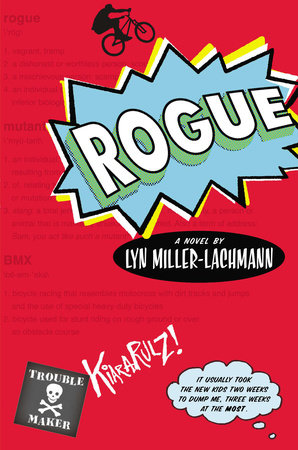 ROGUE by Lyn Miller-Lachmann
Kiara has Asperger's syndrome, and it's hard for her to make friends. So whenever her world doesn't make sense—which is often—she relies on Mr. Internet for answers. But there are some questions he can't answer, like why she always gets into trouble, and how do kids with Asperger's syndrome make friends? Kiara has a difficult time with other kids. They taunt her and she fights back. Now she's been kicked out of school. She wishes she could be like her hero Rogue—a misunderstood X-Men mutant who used to hurt anyone she touched until she learned how to control her special power.
When Chad moves in across the street, Kiara hopes that, for once, she'll be able to make friendship stick. When she learns his secret, she's so determined to keep Chad as a friend that she agrees not to tell. But being a true friend is more complicated than Mr. Internet could ever explain, and it might be just the thing that leads Kiara to find her own special power.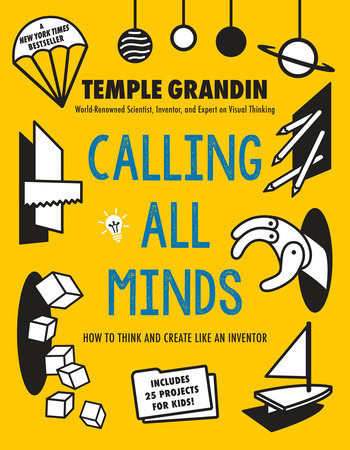 CALLING ALL MINDS by Temple Grandin
From world-renowned autism spokesperson, scientist, and inventor Temple Grandin — a book of personal stories, inventions, and facts that will blow young inventors' minds and make them soar.
Have you ever wondered what makes a kite fly or a boat float? Have you ever thought about why snowflakes are symmetrical, or why golf balls have dimples? Have you ever tried to make a kaleidoscope or build a pair of stilts? In Calling All Minds, Temple Grandin explores the ideas behind all of those questions and more. She delves into the science behind inventions, the steps various people took to create and improve upon ideas as they evolved, and the ways in which young inventors can continue to think about and understand what it means to tinker, to fiddle, and to innovate. And laced throughout it all, Temple gives us glimpses into her own childhood tinkering, building, and inventing.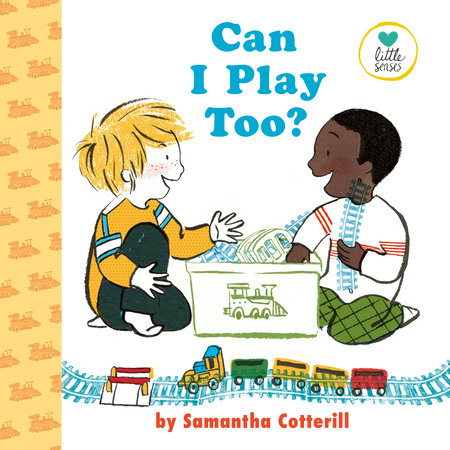 CAN I PLAY TOO? by Samantha Cotterill
Friendship–and trains!–take center stage in this gentle, inviting story about paying attention to other people's feelings.
Two boys' fun train-track-building project takes a turn when one of the boys obliviously insists on only doing things his way. Their disagreement spells disaster for the train and the friendship, until a kind teacher steps in and explains how to tell when a friend is feeling happy, frustrated, or angry. . . and how to ask for a do-over. Compromising and paying attention to how other people are feeling can be hard for any kid, but especially for kids on the autism spectrum. Samantha Cotterill's third book in the Little Senses series provides gentle guidance along with adorable illustrations to help every kid navigate the twists and turns of friendship and working together.
For more on these titles visit the collection Autism Acceptance Month
---
There's a Book for That! is brought to you by Penguin Random House's Sales department. Please follow our Tumblr by clicking here—and share this link with your accounts: theresabookforthat.tumblr.com. Thank you!
Did you see something on the news or read about something on your commute? Perhaps you noticed something trending on Twitter? Did you think: "There's a book for that!"? Then please, send it our way at theresabookforthat@penguinrandomhouse.com
Posted: April 8, 2020