There's a Book for That: Breast Cancer Awareness Month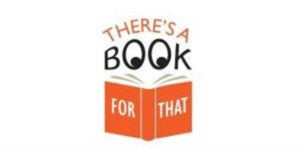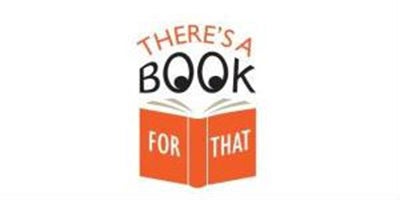 October is Breast Cancer Awareness Month, an annual campaign, symbolized by pink ribbons, to increase awareness of the disease and to raise funds for research into its cause, prevention, diagnosis, treatment and cure. From the National Breast Cancer Foundation: "The past year has posed a challenge to just about everything, and breast cancer prevention is no exception. Although we saw setbacks in screenings and early detection, we're rising to the challenge together." Please find below a selection of some of the best books Penguin Random House publishes to educate and support those confronting breast cancer. Visit nationalbreastcancer.org/breast-cancer-awareness-month for more information.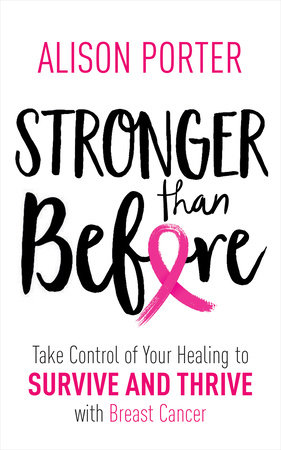 STRONGER THAN BEFORE: TAKE CHARGE OF YOUR HEALING TO SURVIVE AND THRIVE WITH BREAST CANCER by Alison Porter
Stronger Than Before is the book Alison Porter went looking for when she first learned she had breast cancer. It's a practical handbook to guide you – and your friends and family – through every stage of the illness, from early diagnosis to treatment choices, and ultimately to a life beyond cancer.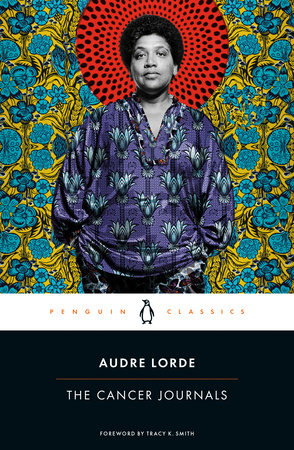 THE CANCER JOURNALS by Audre Lord
Moving between journal entry, memoir, and exposition, Audre Lorde fuses the personal and political as she reflects on her experience coping with breast cancer and a radical mastectomy.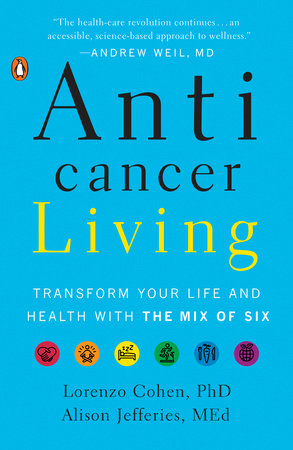 ANTICANCER LIVING: TRANSFORM YOUR LIFE AND HEALTH WITH THE MIX OF SIX by Lorenzo Cohen PhD, Alison Jefferies, MEd
The evidence is in: you can reduce cancer risk and support treatment by focusing on six key areas of health and wellness. These ideas were pioneered in David Servan-Schreiber's Anticancer: A New Way of Life, and became the basis for a research study developed by Lorenzo Cohen and Servan-Schreiber at The University of Texas MD Anderson Cancer Center. Anticancer Living provides an accessible, prescriptive guide to wellness based on the latest scientific findings and clinical trials, and it showcases the community of doctors, researchers, caregivers, and patients who have been inspired to create change.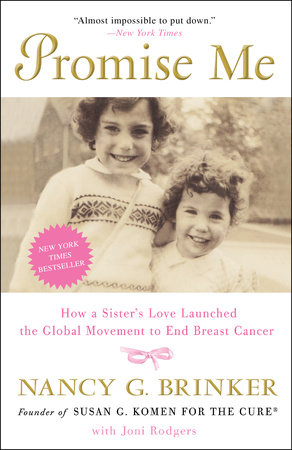 PROMISE ME: HOW A SISTER'S LOVE LAUNCHED THE GLOBAL MOVEMENT TO END BREAST CANCER by Nancy G. Brinker
Promise Me is a deeply moving story of family and sisterhood, the dramatic "30,000-foot view" of the democratization of a disease, and a soaring affirmative to the question: Can one person truly make a difference?
After losing her sister Suzy to breast cancer at the age of thirty-six, Nancy Brinker's mission to change the way the world talked about and treated breast cancer took on added urgency when she was herself diagnosed with the disease in 1984. Unlike her sister, Nancy survived and went on to make Susan G. Komen for the Cure into the most influential health charity in the country and arguably the world.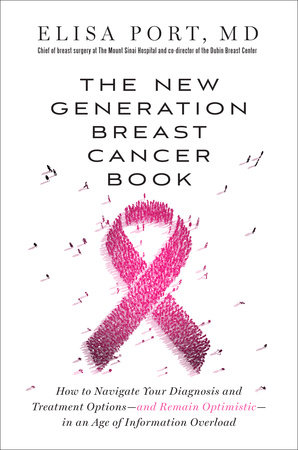 THE NEW GENERATION BREAST CANCER BOOK: HOW TO NAVIGATE YOUR DIAGNOSIS AND TREATMENT OPTIONS-AND REMAIN OPTIMISTIC-IN AN AGE OF INFORMATION OVERLOAD by Dr. Elisa Port
From the Chief of Breast Surgery at Mount Sinai Medical Center and Co-director of the Dubin Breast Center in Manhattan, the definitive guide to managing breast cancer in the information age, an optimistic antidote to internet information about screening, diagnosis, prognosis, and treatment.
JUST GET ME THROUGH THIS by Deborah A. Cohen and Robert M. Gelfand, M.D.
In Just Get Me Through This! Deborah A. Cohen and Robert M. Gelfand, M.D. help you deal with all the ups and downs of the breast cancer experience. From the shock of diagnosis to getting through treatment to getting on with your life, they pack it with plenty of straight talk and practical tips. This newly updated edition also includes advice from two prominent breast cancer surgeons.
FOR YOUNGER READERS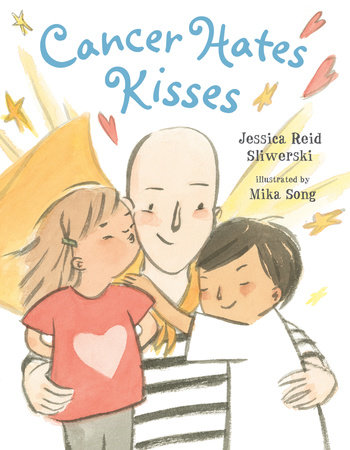 CANCER HATES KISSES by Jessica Reid Sliwerski; Illustrated by Mika Song; Ages 3 to 5
Author Jessica Reid Sliwerski was diagnosed with breast cancer four months after giving birth to her daughter. And through all the stages of treatment—surgery, chemotherapy, radiation, losing her hair—she thought about how hard it would be to talk to your child about cancer while coping with it. Mothers are superheroes when they're battling cancer, and this empowering picture book gives them an honest yet spirited way to share the difficult experience with their kids.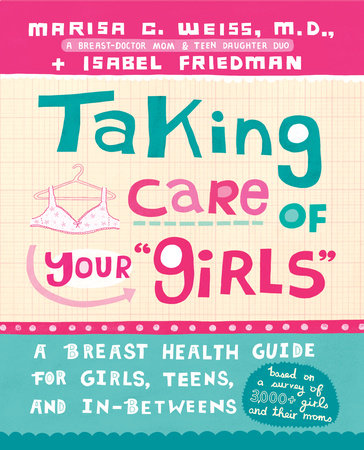 TAKING CARE OF YOUR GIRLS by Marisa C. Weiss, M.D., Isabel Friedman
Girls are as anxious and confused about their breasts as ever. That's why Marisa Weiss, M.D., an oncologist and breast health specialist, and her teenage daughter, Isabel, decided to create Taking Care of Your "Girls." Together, they polled more than three thousand girls and their moms and came up with a surprisingly huge list of worries and misconceptions resulting in this groundbreaking book for both mothers and daughters – a practical guide to breast care and a girl-to-girl conversation about the feelings and emotions that come with the territory.
For more on these and related titles visit Breast Cancer Awareness Month Books
---
There's a Book for That! is brought to you by Penguin Random House's Sales department. Please follow our Tumblr by clicking here—and share this link with your accounts: theresabookforthat.tumblr.com. Thank you!
Did you see something on the news or read about something on your commute? Perhaps you noticed something trending on Twitter? Did you think: "There's a book for that!"? Then please, send it our way at theresabookforthat@penguinrandomhouse.com
Posted: October 20, 2021