There's a Book for That: Crazy Rich Asians
Summer movie alert! Today, August 15, Crazy Rich Asians opens in theaters nationwide. The film adaptation of Kevin Kwan's #1 New York Times bestselling novel, CRAZY RICH ASIANS has been hotly anticipated and is the first film with an all-Asian cast and director since Wayne Wang's The Joy Luck Club 25 years ago. In its 100-point Metacritic review, Time Out writes, "Bursting with attitude and heart, Hollywood's first Asian-centric rom-com in years makes up for lost time in a big way." The first in a trilogy, CRAZY RICH ASIANS inspired us to seek out more reading riches in the following Asian novels: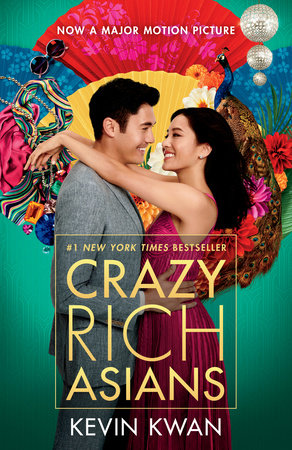 CRAZY RICH ASIANS (Movie Tie-In Edition) by Kevin Kwan
Kevin Kwan's funny, juicy first novel in the Crazy Rich Asians trilogy, in which the heir to one of the most massive fortunes in Asia brings his ABC (American-born Chinese) girlfriend home to meet the family…without telling her that they're loaded.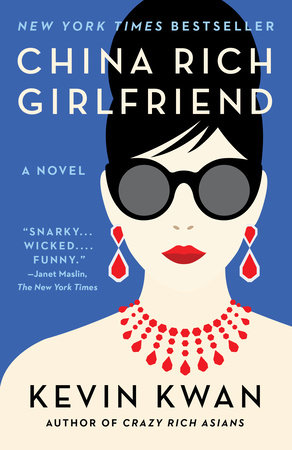 CHINA RICH GIRLFRIEND by Kevin Kwan
It's the eve of Rachel Chu's wedding, and she should be over the moon. She has a flawless Asscher-cut diamond, a wedding dress she loves, and a fiancé willing to thwart his meddling relatives and give up one of the biggest fortunes in Asia in order to marry her. Still, Rachel mourns the fact that her birthfather, a man she never knew, won't be there to walk her down the aisle. Then a chance accident reveals his identity. Suddenly, Rachel is drawn into a dizzying world of Shanghai splendor, a world where people attend church in a penthouse, where exotic cars race down the boulevard, and where people aren't just crazy rich … they're China rich.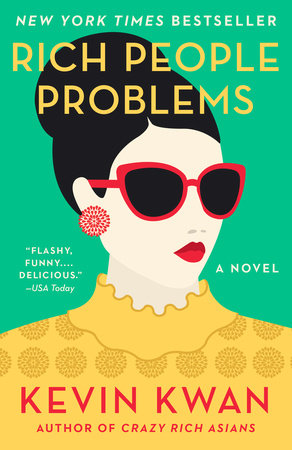 RICH PEOPLE PROBLEMS by Kevin Kwan
The biting and hilarious conclusion to the bestselling Crazy Rich Asians trilogy, in which the quest for money and status turns one family into a couture-clad battle royal.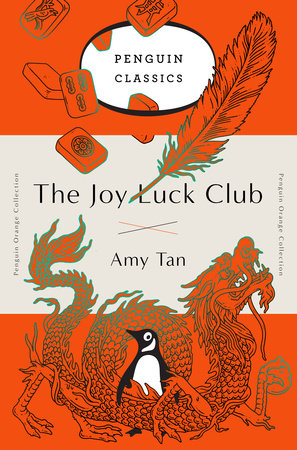 THE JOY LUCK CLUB by Amy Tan
In 1949 four Chinese women, recent immigrants to San Francisco, begin meeting to eat dim sum, play mahjong, and talk. United in shared unspeakable loss and hope, they call themselves the Joy Luck Club. With wit and sensitivity, Amy Tan examines the sometimes painful, often tender, and always deep connection between these four women and their American-born daughters.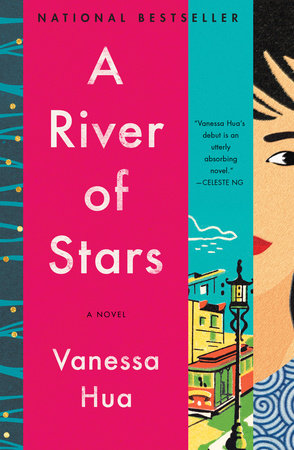 A RIVER OF STARS by Vanessa Hua
A powerful debut novel of motherhood, immigration, and identity, about a Chinese woman who makes her way to California to give her baby U.S. citizenship, and whose harrowing yet heart-warming journey redefines what it means to be an American.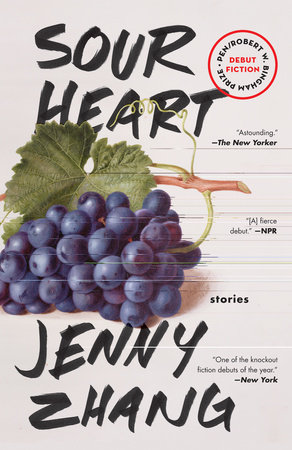 SOUR HEART: STORIES by Jenny Zhang
This acclaimed debut story collection centers on a community of immigrants who have traded their endangered lives as artists in China and Taiwan for the constant struggle of life at the poverty line in 1990s New York City. Zhang's exhilarating stories examine the many ways that family and history can weigh us down and also lift us up. Fueled by her singular voice and sly humor, this collection introduces Zhang as a bright and devastating force in literary fiction.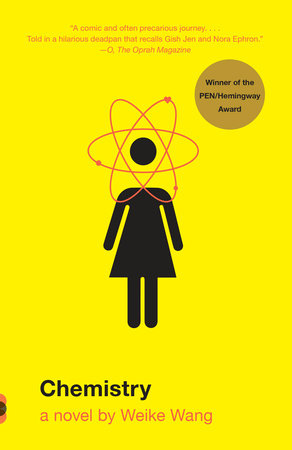 CHEMISTRY by Weike Wang
The luminous, PEN/Hemingway Award-winning debut novel:
At first glance, the quirky, overworked narrator of Weike Wang's debut novel seems to be on the cusp of a perfect life: her successful, supportive boyfriend has just proposed to her, and she is studying for a prestigious PhD in chemistry that will make her Chinese parents proud.But instead of feeling happy and hopeful, she is wracked with ambivalence and stress. When it all becomes too much and she begins breaking beakers, her life plan veers off course—and onto a new path of discoveries about everyone and everything she thought she knew. Smart, insightful, moving, and always funny, Chemistry is a unique and contemporary coming-of-age story.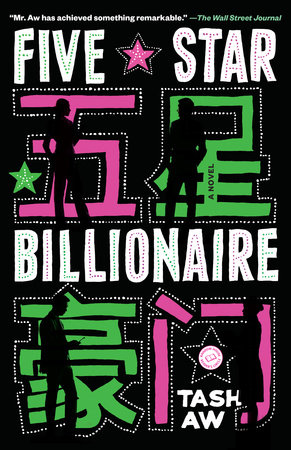 FIVE STAR BILLIONAIRE by Tash Aw
LONGLISTED FOR THE MAN BOOKER PRIZE • NAMED ONE OF THE BEST BOOKS OF THE YEAR BY NPR AND BOOKPAGE
Phoebe is a factory girl who has come to Shanghai with the promise of a job—but when she arrives she discovers that the job doesn't exist. Gary is a country boy turned pop star who is spinning out of control. Justin is in Shanghai to expand his family's real estate empire, only to find that he might not be up to the task. He has long harbored a crush on Yinghui, a poetry-loving, left-wing activist who has reinvented herself as a successful Shanghai businesswoman. Yinghui is about to make a deal with the shadowy Walter Chao, the five star billionaire of the novel, who with his secrets and his schemes has a hand in the lives of each of the characters.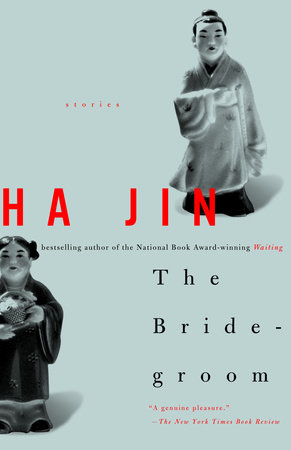 THE BRIDEGROOM: STORIES by Ha Jin
From the remarkable Ha Jin, winner of the National Book Award for his celebrated novel Waiting, a collection of comical and deeply moving tales of contemporary China that are as warm and human as they are surprising, disturbing, and delightful. In the title story, the head of security at a factory is shocked, first when the handsomest worker on the floor proposes marriage to his homely adopted daughter, and again when his new son-in-law is arrested for the "crime" of homosexuality.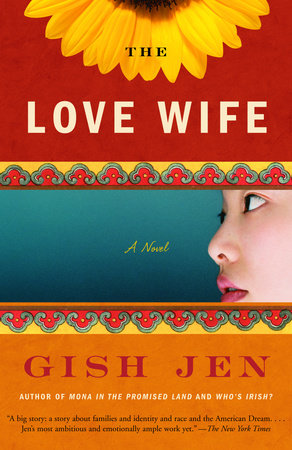 THE LOVE WIFE by Gish Jen
A barbed, moving, and stylistically dazzling new novel about the elusive nature of kinship: The Wongs describe themselves as a "half half" family, but the actual fractions are more complicated, given Carnegie's Chinese heritage, his wife Blondie's WASP background, and the various ethnic permutations of their adopted and biological children. Into this new American family comes a volatile new member. Her name is Lanlan. She is Carnegie's Mainland Chinese relative, a tough, surprisingly lovely survivor of the Cultural Revolution. Is Lanlan a very good nanny, a heartless climber, or a posthumous gift from a formidable mother who never stopped wanting her son to marry a nice Chinese girl?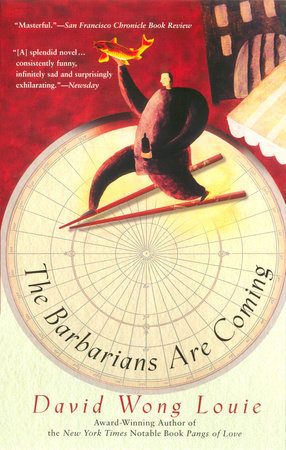 THE BARBARIANS ARE COMING by David Wong Louie
WINNER OF THE LANNAN FOUNDATION LITERARY AWARD
"David Wong Louie whips up a kind of reverse feast in his masterful first novel, The Barbarians Are Coming, beginning with a frothy comic dessert and egging us on to the main course, a heartbreaking tragedy about fathers and sons, dashed hopes and missed opportunities for love…a mature, richly characterized family saga whose universal themes take it far beyond the category of ethnic fiction."—San Francisco Chronicle Book Review
For more on these and related titles, visit Asian Novels
---
There's a Book for That! is brought to you by Penguin Random House's Sales department. Please follow our Tumblr by clicking here—and share this link with your accounts: theresabookforthat.tumblr.com. Thank you!
Did you see something on the news or read about something on your commute? Perhaps you noticed something trending on Twitter? Did you think: "There's a book for that!"? Then please, send it our way at theresabookforthat@penguinrandomhouse.com
Posted: August 15, 2018