There's a Book for That: Cyber-Security and Whistleblowers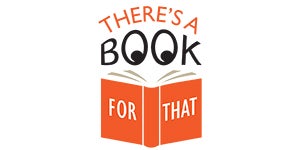 Julian Assange and his whistleblowing site Wikileaks are in the news this week because the Ecuadorian Embassy in London, where Assange is under political asylum, has cut off Assange's internet access stating Ecuador's policy not to interfere in foreign elections. In his Facebook interview with the New York Times, Assange called Hillary Clinton "a demon." Regarding Clinton's presidential campaign, Wikileaks has continued to post batches of potentially damaging emails and transcripts of the candidate's Goldman Sachs speeches that were hacked from Clinton campaign chair John Podesta's private email account. To meet public interest in cyber-security and whistleblowers we present the following titles:
Headline: Ecuador: We have 'temporarily restricted' Assange's internet (AP)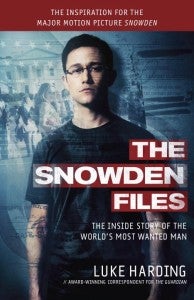 THE SNOWDEN FILES: THE INSIDE STORY OF THE WORLD'S MOST WANTED MAN by Luke Harding
The official movie tie-in to the Oliver Stone-directed major motion pictureSnowden. The book offers a definitive account of Edward Snowden, the extraordinary NSA whistleblower behind the biggest intelligence leak in history and the forces that tried to stop him; written by reporter Luke Harding, member of the Guardian's Snowden coverage team.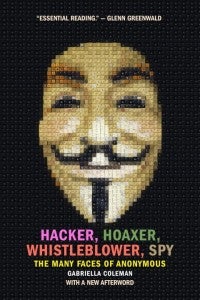 HACKER, HOAXER, WHISTLEBLOWER, SPY: THE MANY FACES OF ANONYMOUS by Gabriella Coleman
Here is the ultimate book on the worldwide movement of hackers, pranksters, and activists that operates under the non-name Anonymous, by the writer the Huffington Post says "knows all of Anonymous' deepest, darkest secrets."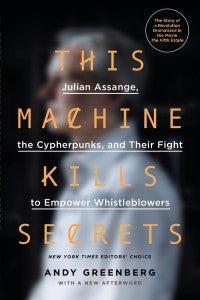 THIS MACHINE KILLS SECRETS: JULIAN ASSANGE, THE CYPHERPUNKS, AND THEIR FIGHT TO EMPOWER WHISTLEBLOWERS by Andy Greenberg
This is the unauthorized telling of the revolutionary cryptography story behind the motion picture The Fifth Estate and the documentary We Steal Secrets: The Story of Wikileaks. WikiLeaks brought to light a new form of whistleblowing, using powerful cryptographic code to hide leakers' identities while they spill the private data of government agencies and corporations.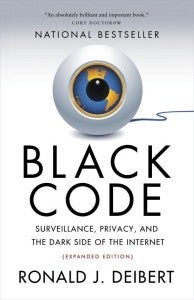 BLACK CODE: SURVEILLANCE, PRIVACY, AND THE DARK SIDE OF THE INTERNET by Ronald J. Deibert
In BLACK CODE, Ronald J. Deibert, a leading expert on digital technology, security, and human rights, lifts the lid on cyberspace and shows what's at stake for Internet users and citizens.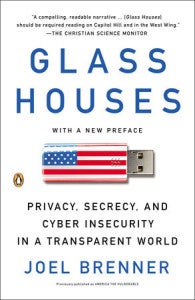 GLASS HOUSES: Privacy, Secrecy, and Cyber Insecurity in a Transparent World by Joel Brenner
Like the rest of us, governments and corporations inhabit "glass houses," all but transparent to a new generation of spies who operate remotely from such places as China, the Middle East, Russia, and even France. In this urgent wake-up call, Brenner draws on his extraordinary background to show what we can—and cannot—do to prevent cyber spies and hackers from compromising our security and stealing our latest technology.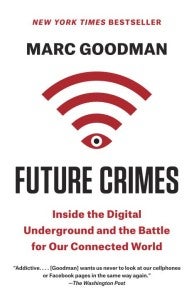 FUTURE CRIMES: Everything Is Connected, Everyone Is Vulnerable and What We Can Do About It by Marc Goodman
From former FBI Futurist, Interpol advisor and beat cop Marc Goodman, a deep dive into the digital underground illuminating the alarming ways criminals, corporations, and even countries are using new and emerging technologies against you—and how this makes everyone more vulnerable than you ever thought possible.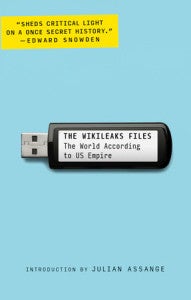 THE WIKILEAKS FILES : THE WORLD ACCORDING TO US EMPIRE by WikiLeaks, Julian Assange
The WikiLeaks Files exposes the machinations of the United States as it imposes a new form of imperialism on the world. The book also includes an introduction by Julian Assange, founder and editor-in-chief of Wikileaks, examining the ongoing debates about freedom of information, international surveillance, and justice.
For more information on these and other titles on cyber-security and whistleblowers visit the collection: Cyber-Security & Whistleblowers
Posted: October 19, 2016