There's a Book for That: Earth Day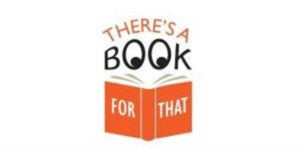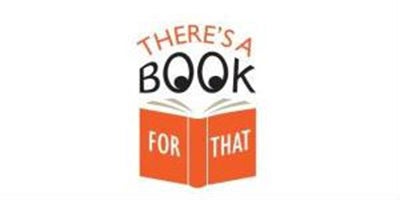 Save our Planet! Is there any doubt that our personal health and our magnificent Earth's health are inextricably bound? Today, Thursday, April 22, we celebrate the 51st Earth Day. In, 1970, millions of people took to the streets to protest industrial pollution and the Environmental Protection Agency was created. Coordinated by The Earth Day Network, Earth Day is the largest civic-focused day of action in the world. We know taking action begins with concern and understanding. The following "actionable" books for all ages inspire and inform our conversations about conservation: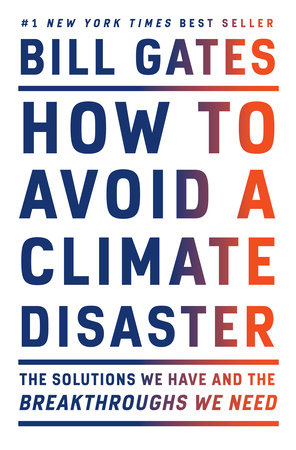 HOW TO AVOID A CLIMATE DISASTER: THE SOLUTIONS WE HAVE AND THE BREAKTHROUGHS WE NEED by Bill Gates
In this urgent, authoritative book, Bill Gates sets out a wide-ranging, practical—and accessible—plan for how the world can get to zero greenhouse gas emissions in time to avoid a climate catastrophe.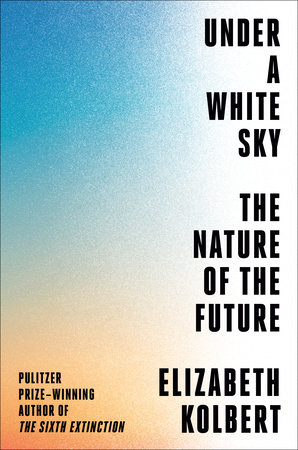 UNDER A WHITE SKY: THE NATURE OF THE FUTURE by Elizabeth Kolbert
The Pulitzer Prize-winning author of The Sixth Extinction returns to humanity's transformative impact on the environment, now asking: After doing so much damage, can we change nature, this time to save it? In Under a White Sky, Elizabeth Kolbert takes a hard look at the new world we are creating. She meets scientists who are trying to preserve the world's rarest fish, which lives in a single, tiny pool in the middle of the Mojave. She visits a lava field in Iceland, where engineers are turning carbon emissions to stone; an aquarium in Australia, where researchers are trying to develop "super coral" that can survive on a hotter globe; and a lab at Harvard, where physicists are contemplating shooting tiny diamonds into the stratosphere in order to reflect sunlight back to space and cool the earth. One way to look at human civilization, says Kolbert, is as a ten-thousand-year exercise in defying nature.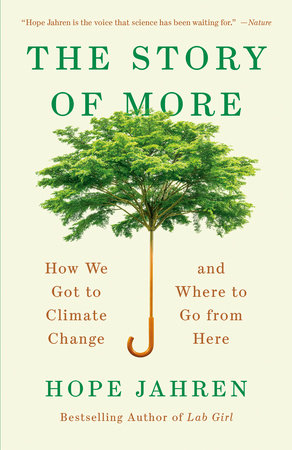 THE STORY OF MORE: HOW WE GOT TO CLIMATE CHANGE AND WHERE TO GO FROM HERE by Hope Jahren
Bestselling author of Lab Girl Hope Jahren is an award-winning geobiologist, a brilliant writer, and one of the seven billion people with whom we share this earth. The Story of More is her impassioned open letter to humanity as we stand at the crossroads of survival and extinction. At once an explainer on the mechanisms of warming and a capsule history of human development, The Story of More illuminates the link between our consumption habits and our endangered earth, showing us how we can use less and share more. It is the essential pocket primer on climate change that will leave an indelible impact on everyone who reads it.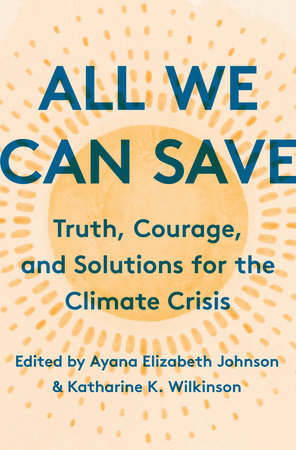 ALL WE CAN SAVE: TRUTH, COURAGE, AND SOLUTIONS FOR THE CLIMATE CRISIS edited by Ayana Elizabeth Johnson, Katharine K. Wilkinson
Provocative and illuminating essays making the case that women are on the front lines of climate change—as those most at risk, and those most likely to solve it.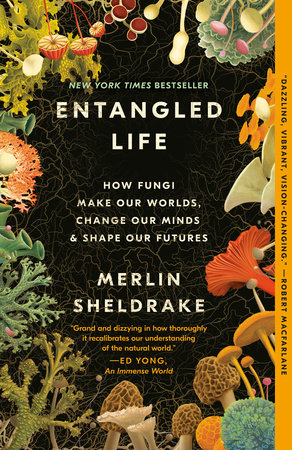 ENTANGLED LIFE: HOW FUNGI MAKE OUR WORLDS, CHANGE OUR MINDS & SHAPE OUR FUTURES by Merlin Sheldrake
"One of those rare books that can truly change the way you see the world around you… It's fearless in scope, analytically astute, and brimming with infectious joy." —HELEN MACDONALD, AUTHOR OF H IS FOR HAWK
Fungi throw our concepts of individuality and even intelligence into question. They are metabolic masters, earth makers, and key players in most of life's processes. They can change our minds, heal our bodies, and even help us remediate environmental disaster. By examining fungi on their own terms, Sheldrake reveals how these extraordinary organisms – and our relationships with them – are changing our understanding of how life works.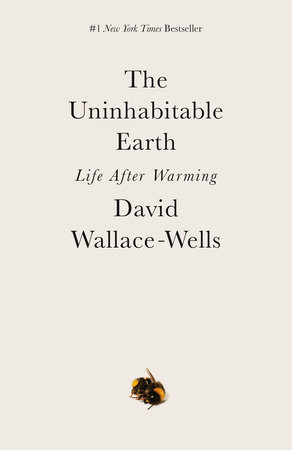 THE UNINHABITABLE EARTH: LIFE AFTER WARMING by David Wallace-Wells
In his travelogue of our near future, David Wallace-Wells brings into stark relief the climate troubles that await—food shortages, refugee emergencies, and other crises that will reshape the globe. But the world will be remade by warming in more profound ways as well, transforming our politics, our culture, our relationship to technology, and our sense of history. It will be all-encompassing, shaping and distorting nearly every aspect of human life as it is lived today. Like An Inconvenient Truth and Silent Spring before it, The Uninhabitable Earth is both a meditation on the devastation we have brought upon ourselves and an impassioned call to action. For just as the world was brought to the brink of catastrophe within the span of a lifetime, the responsibility to avoid it now belongs to a single generation.
FOR YOUNGER READERS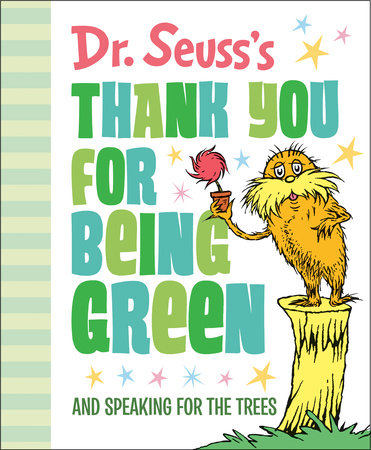 SEUSS'S THANK YOU FOR BEING GREEN: AND SPEAKING FOR THE TREES by Dr. Seuss
This tiny book packs a BIG message of thanks, spoken directly by the Lorax! Featuring unrhymed messages of gratitude for anyone who makes it a point to reduce, recycle, and reuse! Illustrated with classic illustrations from The Lorax and other Dr. Seuss books, and printed on recycled paper, it's the perfect small gift to say thanks for helping the Lorax to speak for the trees—and all the other living things—with whom we share the planet!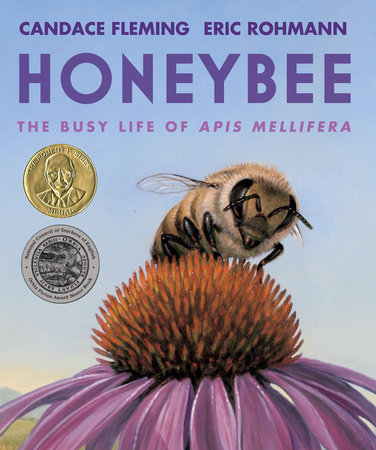 HONEYBEE: THE BUSY LIFE OF APIS MELLIFERA by Candace Fleming; Ilustrated by Eric Rohmann
Robert F. Sibert Medal Winner; Named a Best Book of the Year by Kirkus Reviews, NPR, Shelf Awareness, School Library Journal, Publishers Weekly and more!
A tiny honeybee emerges through the wax cap of her cell. Driven to protect and take care of her hive, she cleans the nursery and feeds the larvae and the queen. But is she strong enough to fly? Not yet! Apis builds wax comb to store honey, and transfers pollen from other bees into the storage. She defends the hive from invaders. And finally, she begins her new life as an adventurer.
Eric Rohmann's exquisitely detailed illustrations bring the great outdoors into your hands in this poetically written tribute to the hardworking honeybee. Award-winning author Candace Fleming describes the life cycle of the honeybee in accessible, beautiful language. Honeybee also features a stunning gatefold and an essay on the plight of honeybees.
For more on these and related titles visit the collection, Earth Day, 2021
Posted: April 22, 2021