There's a Book for That: Hanukkah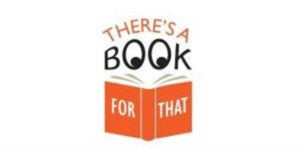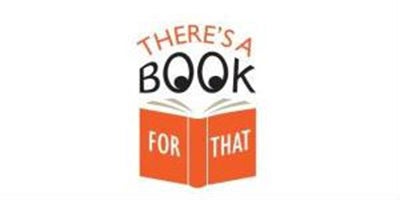 In 2021, Hanukkah, the Festival of Lights, began at sundown on Sunday, November 28, and will last until sundown on Monday, December 6. Hanukkah is Hebrew for "dedication" and it commemorates the victory of the Maccabees over the Syrian Greek army, and the rededication of the Holy Temple in Jerusalem and restoring its menorah, or lamp. The "miracle" of Hanukkah is that only one vial of oil was found with just enough oil to illuminate the Temple lamp for one day, and yet it lasted for eight full days. As families celebrate the holiday, we've gathered the following Hanukkah titles for children to learn from and enjoy: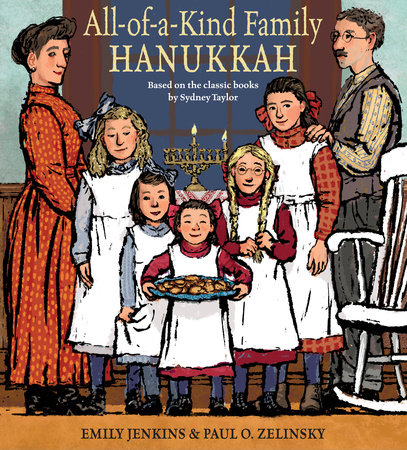 ALL-OF-A-KIND FAMILY HANUKKAH by Emily Jenkins, Paul O. Zelinsky
First published in 1951, Sydney Taylor's chapter books have become time-honored favorites, touching generations of readers. In this time when immigrants often do not feel accepted, the All-of-a-Kind Family gives a heartwarming glimpse of a Jewish immigrant family and their customs that is as relevant—and necessary—today as when it was first written. Jenkins and Zelinsky's charming compliment to Taylor's series perfectly captures the warmth and family values that made the original titles classics.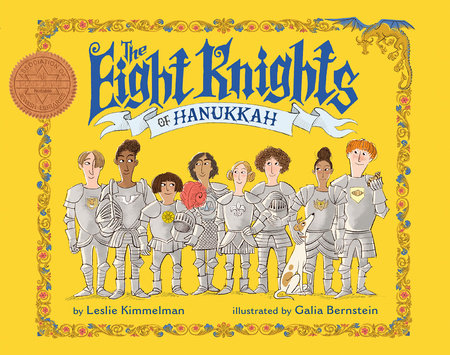 THE EIGHT KNIGHTS OF HANUKKAH by Leslie Kimmelman, Galia Bernstein
A Sydney Taylor Notable Book
It's the last night of Hanukkah and everyone is doing their part for the big celebration, but a dragon called Dreadful has other ideas. He roams the countryside, interrupting the party preparations. Lady Sadie must call upon the Eight Knights of Hanukkah to perform deeds of awesome kindness and stupendous bravery and put an end to the dragon's shenanigans.
When Dreadful eats all the special donuts the baker made, Sir Lily helps the baker make more sufganiyot. Sir Alex makes a young lad a new dreidel after Dreadful scorched his original one. And on the Knights go—but when they finally catch up to Dreadful, a funny surprise awaits them! Leslie Kimmelman crafts a humorous and touching story out of a bit of wordplay and a love for a holiday that truly shines. Galia Bernstein's artwork is full of appeal and is sure to satisfy fantasy fans. Back matter includes a note on the traditions of Hanukkah and directions for playing the dreidel game.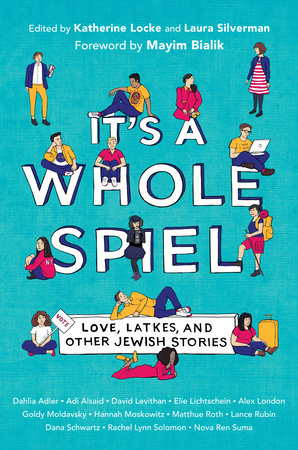 IT'S WHOLE SPIEL: LOVE, LATKES, AND OTHER JEWISH STORIES by Katherine Locke, Laura Silverman, Introduction by Mayim Bialik
Get ready to fall in love, experience heartbreak, and discover the true meaning of identity in this poignant collection of short stories about Jewish teens, including entries by David Levithan, Nova Ren Suma, and more!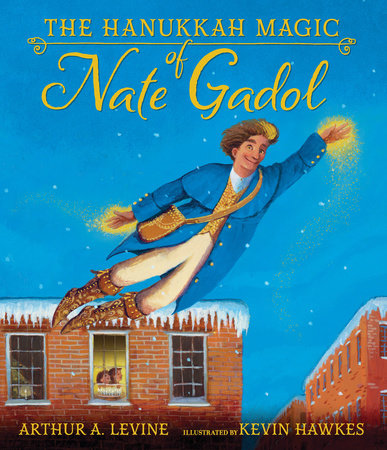 THE HANUKKAH MAGIC OF NATE GADOL by Arthur A. Levine; illustrated by Kevin Hawkes
From an imaginative team come a new larger-than-life holiday hero who brings Hanukkah wonder and generosity to anyone in need! In this charming holiday hybrid story, well-known children's author and editor Arthur A. Levine pairs with award-winning illustrator Kevin Hawkes to offer a mythical, magical take on the way Jewish families came to give and receive gifts over Hanukkah, just as their Christian neighbors do at Christmas, thanks to a loving spirit named Nate Gadol working behind the scenes—together with a certain jolly old soul.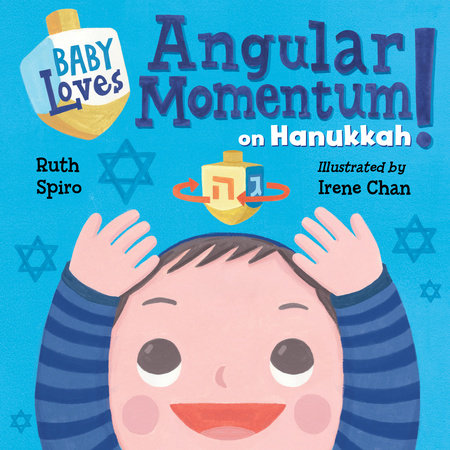 BABY LOVES ANGULAR MOMENTUM ON HANUKKAH! By Ruth Spiro, Irene Chan
Baby discovers the science behind spinning a dreidel on Hanukkah! Accurate enough to satisfy an expert, yet simple enough for baby, this clever board book explores angular momentum, torque, friction, and gravity. Beautiful, visually stimulating illustrations complement age-appropriate language to encourage baby's sense of wonder. Parents and caregivers may learn a thing or two as well.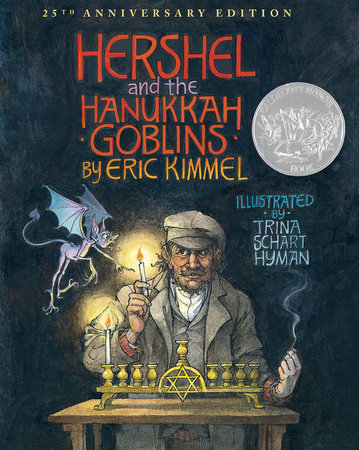 HERSHEL AND THE HANUKKAH GOBLINS: 25TH ANNIVERSARY EDITION by Eric A. Kimmel, Trina Schart Hyman
A classic Hanukkah tale, now available in a beautiful anniversary edition. A Caldecott Honor book. On the first night of Hanukkah, a weary traveler named Hershel of Ostropol eagerly approaches a village, where plenty of latkes and merriment should warm him. But when he arrives not a single candle is lit. A band of frightful goblins has taken over the synagogue, and the villagers cannot celebrate at all! Hershel vows to help them. Using his wits, the clever trickster faces down one goblin after the next, night after night. But can one man alone save Hanukkah and live to tell the tale? This 25th anniversary edition includes an insightful afterword from the author and publisher explaining the book's origins and remembering Trina Schart Hyman, the illustrator who brought the tale to life.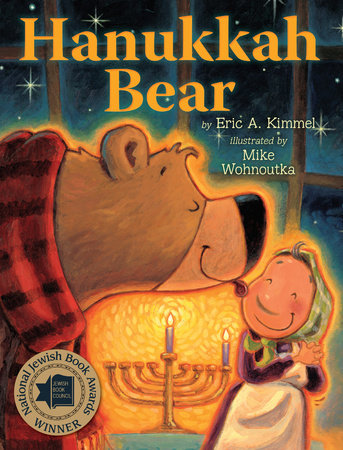 HANUKKAH BEAR by Eric A. Kimmel, Mike Wohnoutka
National Jewish Book Award Winner
Bubba Brayna's legendary latkes lure an unexpected visitor into her home in this playful Hanukkah tale from a master storyteller. Lively illustrations by Mike Wohnoutka, portraying the sprightly Bubba Brayna and her very hungry guest, accompany this instant family favorite, a humorous reworking of Eric A. Kimmel's earlier classic tale, The Chanukkah Guest. A traditional recipe for latkes is included in the back matter, along with interesting, digestible facts about the history and traditions of Hanukkah.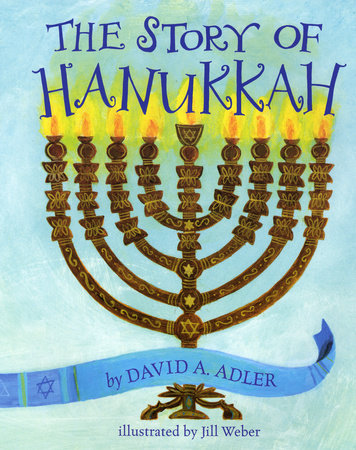 THE STORY OF HANUKKAH by David A. Adler, Jill Weber
Hanukkah is a wonderful time filled with games, food, family, and fun. It's also the celebration of an ancient miracle, and retelling and remembering the story of that miracle is an essential part of the holiday, for young and old. The story of the courageous Maccabees is retold in simple yet dramatic text, accompanied by vibrant paintings of the battle, the Temple of Jersualem, and the oil which miraculously burned for eight long nights.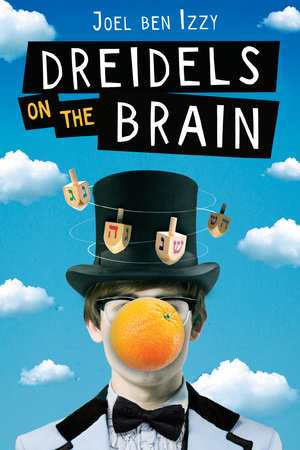 DREIDELS ON THE BRAIN by Joel ben Izzy
At last a great American Hanukkah story! This very funny, very touching novel of growing up Jewish has the makings of a holiday classiOne lousy miracle. Is that too much to ask? Evidently so for Joel, as he tries to survive Hannukah, 1971 in the suburbs of Los Angeles. That's no small task when you're a "seriously funny-looking" twelve-year-old magician who dreams of being his own superhero. And Joel's a long way from that as the only Jew at Bixby School, where his attempts to make himself disappear fail spectacularly. Home is no better, with a family that's not just mortifyingly embarrassing but flat-out broke. That's why Joel's betting everything on these eight nights, to see whether it's worth believing in God or miracles or anything at all. The whole kingdom has gathered to celebrate Hanukkah—but a dastardly dragon keeps interrupting the festivities. Can the Eight Knights of Hanukkah set things right?
To learn more about these and related titles visit Hanukkah
---
There's a Book for That! is brought to you by Penguin Random House's Sales department. Please follow our Tumblr by clicking here—and share this link with your accounts: theresabookforthat.tumblr.com. Thank you!
Did you see something on the news or read about something on your commute? Perhaps you noticed something trending on Twitter? Did you think: "There's a book for that!"? Then please, send it our way at theresabookforthat@penguinrandomhouse.com
Posted: December 1, 2021