There's a Book for That: Happy Birthday Dr. Seuss!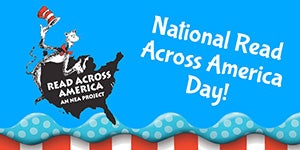 Happy Birthday Dr. Seuss! In honor of the occasion, The National Education Association established Read Across America twenty years ago. The annual reading motivation and awareness program calls for every child in every community to celebrate reading on March 2nd, the birthday of the beloved children's author who was born Theodor Seuss Geisel on this day in Springfield, Massachusetts in 1904. Special reading parties are taking place in libraries, schools and bookstores across the country.
Penguin Random House and Read Across America offer parents, children, librarians and teachers resources and activities they need to keep reading on the calendar 365 days a year – check them out here. We recommend the following titles to learn about the man and enjoy his timeless, ageless classics:
Bigger than New Year's, the Fourth of July, and Halloween all rolled into one, birthdays are for celebrating with Dr. Seuss in his first all-color picture book, Happy Birthday to You! Fly with the Great Birthday Bird in this fantastical commemoration of YOU! And make the most of your special day, which only comes once a year!
"Today you are you! That is truer than true!
There is no one alive who is you-er than you!"
The ultimate birthday gift for ages one to 101—from the one and only Dr. Seuss!
Cat fanciers rejoice! Available for the first time is a picture book-size, jacketed edition of The Cat in the Hat by Dr. Seuss—the classic, deliciously anarchic story of a giant cat in a hat whose unexpected arrival turns a dull, rainy day into a madcap adventure. Although written for beginning readers, The Cat in the Hat makes an ideal read-aloud for children of all ages. Highly collectible, it's a purr-fect gift for Seuss fans of all ages!
From soaring to high heights and seeing great sights to being left in a Lurch on a prickle-ly perch, Dr. Seuss addresses life's ups and downs with his trademark humorous verse and illustrations, while encouraging readers to find the success that lies within.
Long before "going green" was mainstream, Dr. Seuss's Lorax spoke for the trees and warned of the dangers of disrespecting the environment. In this cautionary rhyming tale (printed on recycled paper) we learn of the Once-ler, who came across a valley of Truffula Trees and Brown Bar-ba-loots, and how his harvesting of the tufted trees changed the landscape forever.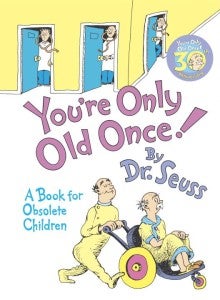 YOU'RE ONLY OLD ONCE!: A BOOK FOR OBSOLETE CHILDREN: 30TH ANNIVERSARY EDITION
With his unmistakable rhymes and signature illustration style, Dr. Seuss creates a classic picture-book ode to aging in You're Only Old Once! On a visit to "the Golden Years Clinic on Century Square for Spleen Readjustment and Muffler Repair," readers will laugh with familiar horror at the poking and prodding and testing and ogling that go hand in hand with the dreaded appellation of "senior citizen." Though Dr. Seuss is known for his peerless work in books for children, this comical look at what it's like to get older is ideal for Seuss fans of advanced years.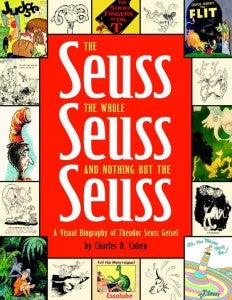 THE SEUSS, THE WHOLE SEUSS AND NOTHING BUT THE SEUSS: A VISUAL BIOGRAPHY OF THEODOR SEUSS GEISEL by Charles Cohen; Ages 8 to 12
Theodor Seuss Geisel, creator of Horton the Elephant, the Grinch, the Cat in the Hat, and a madcap menagerie of the best-loved children's characters of all time, stands alone as the preeminent figure of children's literature. But Geisel was a private man who was happier at the drawing table than he was across from any reporter or would-be biographer. Under the thoughtful scrutiny of Charles D. Cohen, Geisel's lesser known works yield valuable insights into the imaginative and creative processes of one of the 20th century's most original thinkers.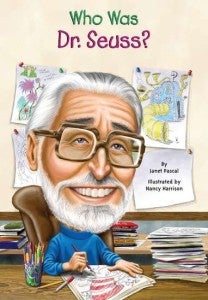 WHO WAS DR. SEUSS? By Janet Pascal, Nancy Harrison; Ages 8 to 12
Ted Geisel loved to doodle from the time he was a kid. He had an offbeat, fun-loving personality. He often threw dinner parties where guests wore outrageous hats! And he donned quirky hats when thinking up ideas for books- like his classic The Cat in the Hat. This biography, with black-and-white illustrations throughout, brings an amazingly gifted author/illustrator to life.
From his very first book to his very last book, here in one big volume are 13 classic Dr. Seuss stories, everyone's favorites. All of the words and virtually all of the illustrations are included. Each story is prefaced by a short essay by someone whose life was changed by Dr. Seuss or who is simply an unabashed admirer. Also included are photographs of Dr. Seuss, memorabilia, and original sketches from his books. The stories included are: And to Think That I Saw It on Mulberry Street, Horton Hears a Who!, McElligot's Pool, If I Ran the Zoo, Happy Birthday to You!, Dr. Seuss's Sleep Book, Yertle the Turtle, The Cat in the Hat, How the Grinch Stole Christmas!, Green Eggs and Ham, The Lorax, The Sneetches, and Oh, the Places You'll Go!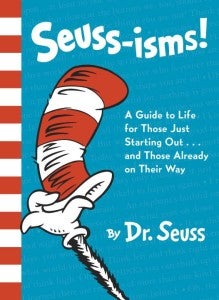 SEUSS-ISMS! A GUIDE TO LIFE FOR THOSE JUST STARTING OUT…AND THOSE ALREADY ON THEIR WAY
The one and only Dr. Seuss dispenses invaluable advice about life in this collection of his most memorable quotes. With over sixty pages of cherished Seuss art and quotes from such classics as The Cat in the Hat, Horton Hatches the Egg, Green Eggs and Ham, How the Grinch Stole Christmas!, Oh, the Places You'll Go!, and many more, this humorous and inspiring collection is, indeed, perfect for those just starting out…or those who are already on their way!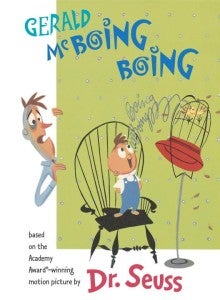 GERALD MCBOING BOING by Dr. Seuss, illustrated by Mel Crawford
They say it all started
when Gerald was two—
That's the age kids start talking—least, most of them do.
Well, when he started talking,
you know what he said?
He didn't talk words—
he went boing boing instead!
So goes the hilarious tale of a boy who was a little bit different—a tale that only Dr. Seuss could create. Based on the Academy Award-winning motion picture!
For more on these and other Seuss titles visit the collection: Dr. Seuss Read Across America 2017
Posted: March 2, 2017