There's a Book for That: Happy Birthday Jane Austen!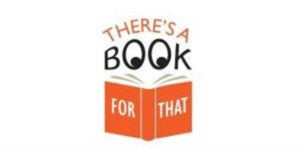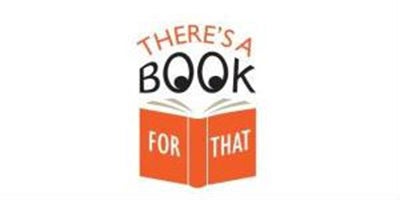 Ah! There is nothing like staying at home, for real comfort. – Jane Austen
Happy Birthday Jane Austen! Born December 16, 1775, in Hampshire, England Jane Austen is known best for her 6 major novels beginning with SENSE AND SENSIBILITY. We are hard-pressed to think of a more beloved author, one who continues to influence so many writers, filmmakers and readers. 245 years after her birth, Austen-mania continues because of Jane Austen's universal and timeless themes and social critiques. Take a tour through some of her most famous novels and the contemporary books they've inspired: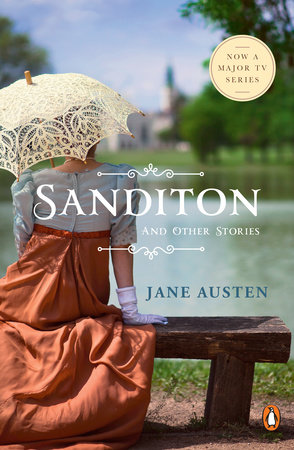 SANDITON AND OTHER STORIES by Jane Austen, Margaret Drabble
In time for the highly-awaited TV series, a new edition of Jane Austen's delightful final work, set in a newly established seaside resort with a glorious cast of hypochondriacs and speculators. This volume includes Sanditon, as well as two other lesser-known works, Lady Susan and The Watsons. With three vital and less familiar works by one of the most important novelists in the English language, this book is a must-have for Austen fans.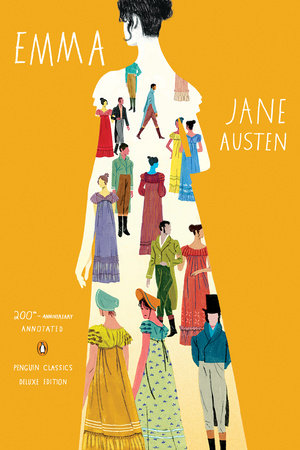 EMMA 200TH-ANNIVERSARY ANNOTATED EDITION by Jane Austen; Edited by Juliette Wells
The culmination of Jane Austen's genius, a sparkling comedy of love and marriage.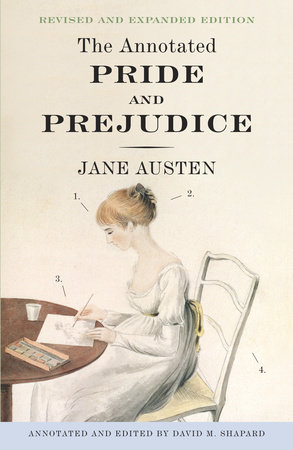 THE ANNOTATED PRIDE AND PREJUDICE: A REVISED AND EXPANDED EDITION by Jane Austen
The first-ever fully annotated edition of one of the most beloved novels in the world is a sheer delight for Jane Austen fans. Here is the complete text of Pride and Prejudice with thousands of annotations on facing pages, including maps and illustrations, rules of etiquette, citations, letters, chronology et al…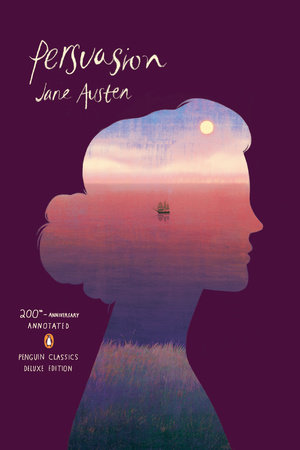 PERSUASION by Jane Austen: Foreword by Audrey Niffenegger, Colm Tóibín
A Penguin Classics Deluxe Edition of Jane Austen's final novel written during her race against failing health. Persuasion tells the story of Anne Elliot, a woman who – at twenty-seven – is no longer young and has few romantic prospects. Eight years ago, she was persuaded by her friend Lady Russell to break off her engagement to Frederick Wentworth, a handsome naval captain with neither fortune nor rank. When Anne and Frederick meet again, he has acquired both, but still feels the sting of her rejection. A brilliant satire of vanity and pretension, Austen's last completed novel is also a movingly told love story tinged with the heartache of missed opportunities.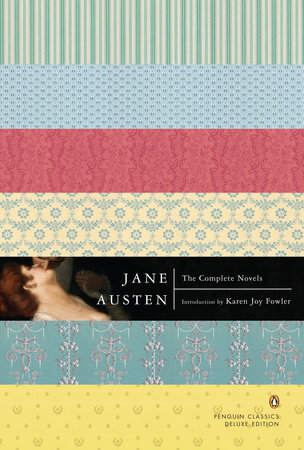 THE COMPLETE NOVELS by Jane Austen; Introduction by Karen Joy Fowler
Now in Penguin Classics Deluxe: a treasure trove of Jane Austen's novels
Few novelists have conveyed the subtleties and nuances of their own social milieu with the wit and insight of Jane Austen. Here in one volume are her seven great novels: Sense and Sensibility, Pride and Prejudice, Mansfield Park, Emma, Northanger Abbey, Persuasion, and Lady Susan. Through her vivacious and spirited heroines and their circle, Austen vividly portrays English middle-class life as the eighteenth century came to a close and the nineteenth century began. Each of the novels is a love story and a story about marriage—marriage for love, for financial security, for social status. But they are not romances; ironic, comic, and wise, they are masterly evocations of the society Jane Austen observed. This beautiful volume covers the literary career of one of England's finest prose stylists of any century.
Introduction by bestselling author of The Jane Austen Book Club Karen Joy Fowler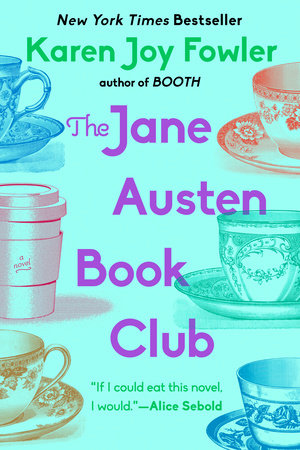 THE JANE AUSTEN BOOK CLUB by Karen Joy Fowler
In California's central valley, five women and one man join to discuss Jane Austen's novels. Over the six months they get together, marriages are tested, affairs begin, unsuitable arrangements become suitable, and love happens. With her eye for the frailties of human behavior and her ear for the absurdities of social intercourse, Karen Joy Fowler has never been wittier nor her characters more appealing. The result is a delicious dissection of modern relationships.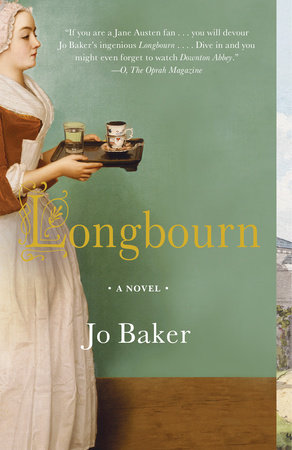 LONGBOURN by Jo Baker
The servants take center stage in this irresistibly imagined belowstairs answer to Pride and Prejudice. While Elizabeth Bennet and her sisters fuss over balls and husbands, Sarah, their orphaned housemaid, is beginning to chafe against the boundaries of her class. When a new footman arrives at Longbourn under mysterious circumstances, the carefully choreographed world she has known all her life threatens to be completely, perhaps irrevocably, upended. Mentioned only fleetingly in Jane Austen's classic, here Jo Baker dares to take us beyond the drawing rooms of Regency England and, in doing so, uncovers the real world of the novel that has captivated readers' hearts around the world for generations.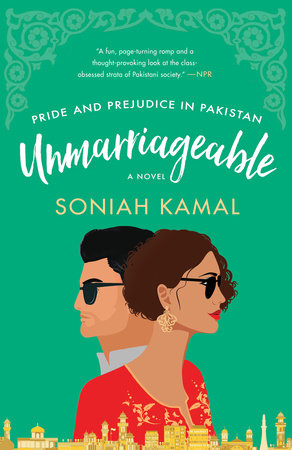 UNMARRIAGEABLE: A NOVEL by Soniah Kamal
In this retelling of Pride & Prejudice set in modern-day Pakistan, feminist schoolteacher Alys Binat has sworn never to marry—until an encounter with one Mr. Darsee at a wedding makes her reconsider.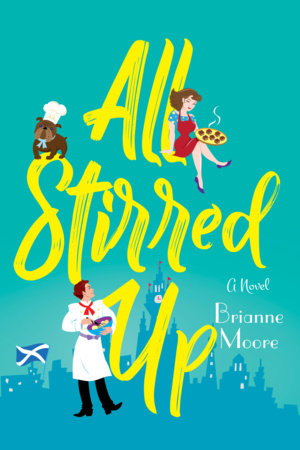 ALL STIRRED UP: A NOVEL by Brianne Moore
Inspired by Jane Austen's Persuasion. She returned to save her family's dying legacy—but found the ghosts of her past alive and well.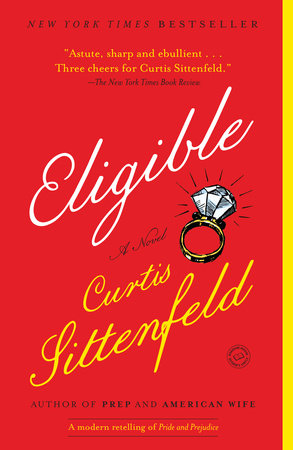 ELIGIBLE: A MODERN RETELLING OF PRIDE AND PREJUDICE by Curtis Sittenfeld
This version of the Bennet family—and Mr. Darcy—is one that you have and haven't met before: Liz is a magazine writer in her late thirties who, like her yoga instructor older sister, Jane, lives in New York City. When their father has a health scare, they return to their childhood home in Cincinnati to help—and discover that the sprawling Tudor they grew up in is crumbling and the family is in disarray. Enter Chip Bingley, a handsome new-in-town doctor who recently appeared on the juggernaut reality TV dating show "Eligible".
FOR YOUNGER READERS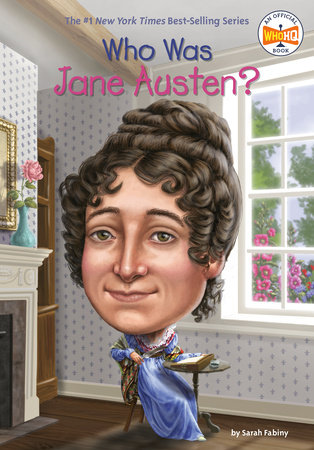 WHO WAS JANE AUSTEN? by Sarah Fabiny, Who HQ, Jerry Hoare
Step into the world of Georgian England and learn more about the genteel life of this beloved author.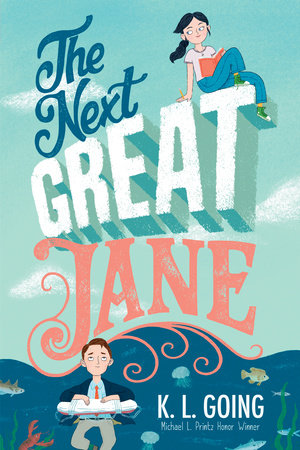 THE NEXT GREAT JANE by K. L. Going
From award-winning author K. L. Going comes a happily-ever-after story of a girl who discovers the true secret to all good writing—through an unlikely friendship, some well-intentioned matchmaking, and little bit of science.
For more on these and other Jane Austen titles visit Jane!
---
There's a Book for That! is brought to you by Penguin Random House's Sales department. Please follow our Tumblr by clicking here—and share this link with your accounts: theresabookforthat.tumblr.com. Thank you!
Did you see something on the news or read about something on your commute? Perhaps you noticed something trending on Twitter? Did you think: "There's a book for that!"? Then please, send it our way at theresabookforthat@penguinrandomhouse.com
Posted: December 16, 2020