There's a Book for That: Heart Health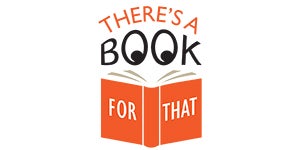 February is American Heart Month, a great time to make changes that can lead to a lifetime of heart health. Heart disease is the leading cause of death for men and women claiming more than 600,000 lives each year. While many lifestyle choices and medical conditions can put you at risk for heart disease, the main ones are high blood pressure, high ldl cholesterol, and smoking.
According to the CDC, small changes can make a big difference:
1. Schedule regular visits with your doctor to talk about your heart health
2. Exercise daily. If this is difficult, start by taking 15 minute walks, and work up from there.
3. Focus on healthy eating habits like cooking at home and limiting sodium intake.
4. Kick the smoking habit!
To support these heart-healthy changes, we offer the following:
FEATURED TITLES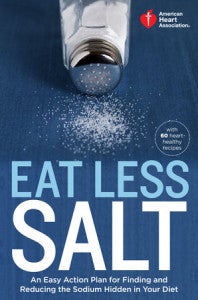 American Heart Association Eat Less Salt: An Easy Action Plan for Finding and Reducing the Sodium Hidden in Your Diet  from The American Heart Association
Knock down that sodium–but not the flavor–to decrease your blood pressure and risks for heart attack and stroke. This toolkit, sodium tracker, and cookbook in one gives you solid health information and 60 low-sodium recipes for favorite comfort foods. With the book's step-by-step approach, eating less salt has never been more achievable.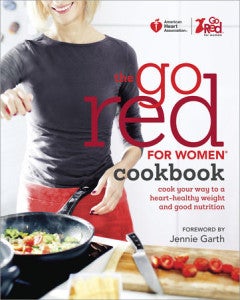 American Heart Association The Go Red For Women Cookbook: Cook Your Way to a Heart-Healthy Weight and Good Nutrition from The American Heart Association, Jennie Garth
A health cookbook for women, by women
The American Heart Association's Go Red for Women social initiative has inspired hundreds of thousands of women to eat nutritiously, exercise regularly, and maintain a healthy weight. Now the iconic "red dress" can be your kitchen companion all year long, with 200 recipes to help you take charge of your health.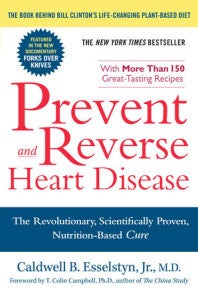 Prevent and Reverse Heart Disease: The Revolutionary, Scientifically Proven, Nutrition-Based Cure by Caldwell B. Esselstyn Jr. M.D.
Based on the groundbreaking results of his twenty-year nutritional study, Prevent and Reverse Heart Disease illustrates that a plant-based, oil-free diet can not only prevent the progression of heart disease but can also reverse its effects.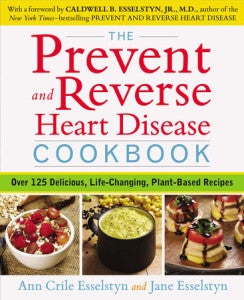 The Prevent and Reverse Heart Disease Cookbook: Over 125 Delicious, Life-Changing, Plant-Based Recipes by Ann Crile Esselstyn, Jane Esselstyn
The long-awaited cookbook companion to the revolutionary New York Times bestseller Prevent and Reverse Heart Disease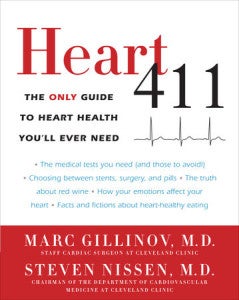 Heart 411: The Only Guide to Heart Health You'll Ever Need by Marc Gillinov, M.D., Steven Nissen, M.D.
The definitive guide to heart health from two of America's most respected doctors at Cleveland Clinic, the #1 hospital for heart health in America.
Are you one of the eighty-two million Americans currently diagnosed with cardiovascular disease—or one of the millions more who think they are healthy but are at risk? Whether your goal is to get the best treatment or stay out of the cardiologist's office, your heart's health depends upon accurate information and correct answers to key questions.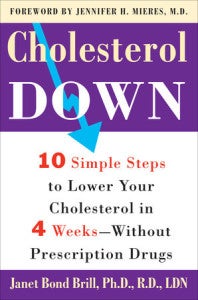 Cholesterol Down: Ten Simple Steps to Lower Your Cholesterol in Four Weeks–Without Prescription Drugs by Janet Bond Brill, Ph.D., R.D., LDN
Take Control of Your Cholesterol— Without Drugs
If you are one of the nearly 100 million Americans struggling with high cholesterol, then Dr. Janet Brill offers you a revolutionary new plan for taking control of your health—without the risks of statin drugs. With Dr. Brill's breakthrough Cholesterol Down Plan, you simply add nine "miracle foods" to your regular diet and thirty minutes of walking to your daily routine. That's all. This straightforward and easy-to-follow program can lower your LDL ("bad") cholesterol by as much as 47 percent in four weeks.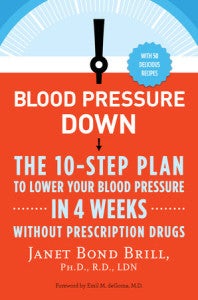 Blood Pressure Down: The 10-Step Plan to Lower Your Blood Pressure in 4 Weeks–Without Prescription Drugs by Janet Bond Brill, Ph.D., R.D., LDN
If you have high blood pressure, you're not alone: nearly a third of adult Americans have been diagnosed with hypertension, and another quarter are well on their way. Yet a whopping 56 percent of diagnosed patients do not have it under control. Easy, effective, safe—and delicious—Blood Pressure Down is the encouraging resource that empowers you, or your loved ones, to lower your blood pressure and live a longer, heart-healthy life.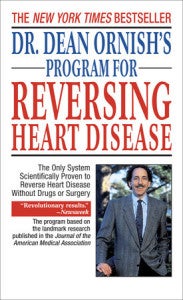 Dr. Dean Ornish's Program for Reversing Heart Disease: The Only System Scientifically Proven to Reverse Heart Disease Without Drugs or Surgery by Dean Ornish, M.D.
Dr. Dean Ornish is the first clinician to offer documented proof that heart disease can be halted, or even reversed, simply by changing your lifestyle. Dr. Ornish's program has yielded amazing results. Participants reduced or discontinued medications; their chest pain diminished or disappeared.
For more on these and related titles visit the collection: Heart Health Month
Posted: February 8, 2017