There's a Book for That: Hispanic Heritage Month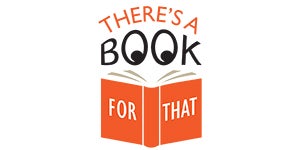 Hispanic Heritage Month runs from September 15th through October 15th during which time we honor the contributions of Hispanic and Latino Americans to the United States and celebrate their heritage and culture. Hispanic Heritage Month, whose roots go back to 1968, begins each year on September 15, the anniversary of independence of five Latin American countries: Costa Rica, El Salvador, Guatemala, Honduras and Nicaragua. Mexico, Chile and Belize also celebrate their independence days during this period and Columbus Day (Día de la Raza) is October 12th. Enjoy the following array of titles – memoir, history, poetry and fiction – to mark the occasion.
For more information visit: http://www.hispanicheritagemonth.org/
FEATURED TITLES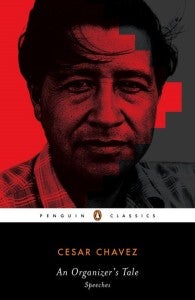 AN ORGANIZER'S TALE: SPEECHES by Cesar Chavez, edited by Ilan Stavans
The first major collection of writings by civil rights leader Cesar Chavez
One of the most important civil rights leaders in American history, Cesar Chavez was a firm believer in the principles of nonviolence, and he effectively employed peaceful tactics to further his cause. Through his efforts, he helped achieve dignity, fair wages, benefits, and humane working conditions for hundreds of thousands of farm workers.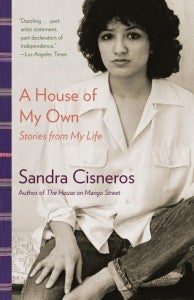 A HOUSE OF MY OWN: STORIES FROM MY LIFE by Sandra Cisneros
A richly illustrated jigsaw autobiography and an intimate album of a literary legend's life and career—
From the Chicago neighborhoods where she grew up—and which inspired her groundbreaking novel, The House on Mango Street—to the region of Mexico where her "ancestors lived for centuries," the places Sandra Cisneros has resided have provided inspiration for her now-classic works of fiction and poetry.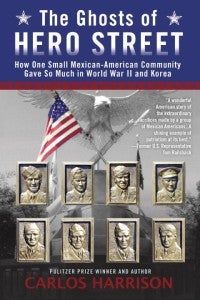 THE GHOSTS OF HERO STREET: HOW ONE SMALL MEXICAN-AMERICAN COMMUNITY GAVE SO MUCH IN WORLD WAR II AND KOREA by Carlos Harrison
This is the compelling and inspiring account of a street in Silvis, Illinois, and the families who sent more than fifty-seven of their own to fight in World War II and Korea—and who would not be denied their dignity or their honor.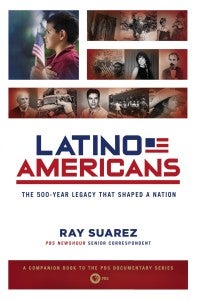 LATINO AMERICANS: THE 500-YEAR LEGACY THAT SHAPED A NATION by Ray Suarez
Latino Americans chronicles the rich and varied history of Latinos, who have helped shaped our nation and have become, with more than fifty million people, the largest minority in the United States. This companion to the landmark PBS miniseries vividly and candidly tells how the story of Latino Americans is the story of our country.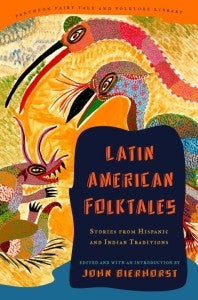 LATIN AMERICAN FOLKTALES: STORIES FROM HISPANIC AND INDIAN TRADITIONS edited by John Bierhorst
The wisdom and artistry of Latin America's storytellers preserve one of the world's richest folktale traditions—combining the lore of medieval Europe, the ancient Near East, and pre-Columbian America.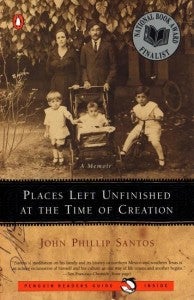 PLACES LEFT UNFINISHED AT THE TIME OF CREATION by John Phillip Santos
Finalist for the National Book Award! In this beautifully wrought memoir, award-winning writer John Philip Santos weaves together dream fragments, family remembrances, and Chicano mythology, reaching back into time and place to blend the story of one Mexican family with the soul of an entire people
FOR YOUNGER READERS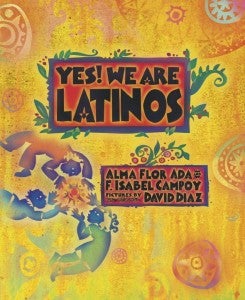 YES! WE ARE LATINOS: POEMS AND PROSE ABOUT THE LATINO EXPERIENCE by Alma Flor Ada, F. Isabel Campoy, David Diaz
Thirteen young Latinos and Latinas living in America are introduced in this book celebrating the rich diversity of the Latino and Latina experience in the United States. Free-verse fictional narratives from the perspective of each youth provide specific stories and circumstances for the reader to better understand the Latino people.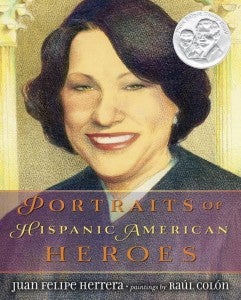 PORTRAITS OF HISPANIC AMERICAN HEROES by Juan Felipe Herrera, Raul Colon
This visually stunning book showcases twenty Hispanic and Latino American men and women who have made outstanding contributions to the arts, politics, science, humanitarianism, and athletics. Gorgeous portraits complement sparkling biographies of Cesar Chavez, Sonia Sotomayor, Ellen Ochoa, Roberto Clemente, and many more.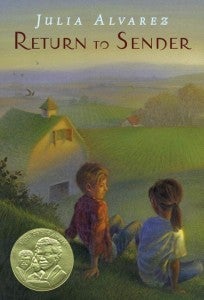 RETURN TO SENDER by Julia Alvarez
After Tyler's father is injured in a tractor accident, his family is forced to hire migrant Mexican workers to help save their Vermont farm from foreclosure. Tyler isn't sure what to make of these workers. Are they undocumented? And what about the three daughters, particularly Mari, the oldest, who is proud of her Mexican heritage but also increasingly connected to her American life.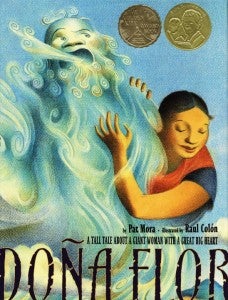 DOÑA FLOR: A TALL TALE ABOUT A GIANT WOMAN WITH A GREAT BIG HEART by Pat Mora, Raul Colon
Doña Flor is a giant woman who lives in a puebla with lots of families. She loves her neighbors–she lets the children use her flowers for trumpets, and the families use her leftover tortillas for rafts. So when a huge puma is terrifying the village, of course Flor is the one to investigate.
For more on these and related titles, visit the collection: Hispanic Heritage Month titles
Posted: September 13, 2016