There's a Book for That: Memorial Day 2017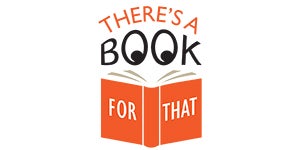 On the last Monday of May we pay tribute to the American men and women who have died in service to our country. To honor the occasion, here is an essential list of nonfiction and fiction which honor their sacrifices. From classic, and award-winning, novels to front-line journalism, these titles take readers back to the Civil War and up to the Middle East conflict.
FEATURED TITLES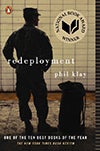 REDEPLOYMENT by Phil Klay
Winner of the 2014 National Book Award for Fiction, Marine Corps veteran Phil Klay's Redeployment takes readers to the frontlines of the wars in Iraq and Afghanistan, asking us to understand what happened there, and what happened to the soldiers who returned.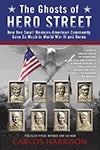 THE GHOSTS OF HERO STREET: HOW ONE SMALL MEXICAN-AMERICAN COMMUNITY GAVE SO MUCH IN WORLD WAR II AND KOREA by Carlos Harrison
The Mexican-American families who lived on one street in Silvis, Illinois sent fifty-seven of their children to fight in World War II and Korea—more than any other place that size in the country. Eight of those children died. It's a distinction recognized by the Department of Defense, one that earned that strip a distinguished name: Hero Street. Based on interviews with relatives, friends, and soldiers who served alongside the men, as well as personal letters and photographs, The Ghosts of Hero Street is the compelling and inspiring account of a street of soldiers—and men—who would not be denied their dignity or their honor.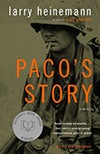 PACO'S STORY: A NOVEL by Larry Heinemann
Paco Sullivan is the only man in Alpha Company to survive a cataclysmic Viet Cong attack on Fire Base Harriette in Vietnam. Everyone else is annihilated. Brilliantly and vividly written, Paco's Story–winner of a National Book Award–plunges you into the violence and casual cruelty of the Vietnam War, and the ghostly aftermath that often dealt the harshest blows.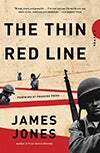 THE THIN RED LINE: A NOVEL by James Jones, Foreword by Francine Prose
They are the men of C-for-Charlie company—"Mad" 1st Sgt. Eddie Welsh, Pvt. 1st Class Don Doll, Pvt. John Bell, Capt. James Stein, Cpl. Fife, and dozens more just like them—infantrymen who are about to land, grim and white-faced, on an atoll in the Pacific called Guadalcanal. This is their story, a shatteringly realistic walk into hell and back.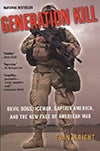 GENERATION KILL: DEVIL DOGS, ICEMAN, CAPTAIN AMERICA, AND THE NEW FACE OF AMERICAN WAR by Evan Wright
Based on Evan Wright's National Magazine Award-winning story in Rolling Stone, this is the raw, firsthand account of the 2003 Iraq invasion that inspired the HBO® original mini-series.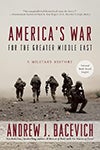 AMERICA'S WAR FOR THE GREATER MIDDLE EAST by Andrew J. Bacevich
A searing reassessment of America's foreign policy in the Middle East over the past four decades—by a retired Army Colonel and New York Times-bestselling author. From the end of World War II to 1980, virtually no American soldiers were killed in action while serving in the Greater Middle East. Since 1990, virtually no American soldiers have been killed in action anywhere else outside the "open-ended war" in the Greater Middle East.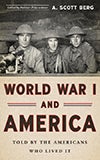 WORLD WAR I AND AMERICA: TOLD BY THE AMERICANS WHO LIVED IT edited by A. Scott Berg
For the centenary of America's entry into World War I, A. Scott Berg presents a landmark anthology of American writing from the cataclysmic conflict that set the course of the 20th century.

VOICES OF WAR: STORIES OF SERVICE FROM THE HOME FRONT AND THE FRONT LINES edited by The Library of Congress
The experience of war has affected every generation in the twentieth and twenty-first centuries, and every soldier has a story to tell. Since the year 2000, the Veteran's History Project, a permanent department of the Library of Congress, has been collecting and preserving the memories of veterans. In the first book to showcase the richness and depth of this collection, Voices of War tells a compelling, emotional, history of the experience of war, weaving together veterans' stories from in World Wars I and II, Korea, Vietnam, and the Persian Gulf.
FOR YOUNGER READERS

THE RED BADGE OF COURAGE by Stephen Crane, Wendell Minor; Ages 9-11
Henry Fleming dreams of the thrill of battle and performing heroic deeds in the American Civil War. But his illusions are shattered when he comes face to face with the bloodshed and horrors of war. Now he's a raw recruit, Henry experiences both fear and self-doubt. Will war make Henry a coward or a hero? A vivid fictionalized account of the experiences of an ordinary innocent young soldier on the battlefields of the American Civil War, introduced by American writer, illustrator and historian, Wendell Minor.

VIETNAM WAR (DK EYEWITNESS BOOKS); Ages 8 to 12
A visual and informative guide to one of the longest and most controversial wars in American history, now revised and updated. Explore the people, places, battles, and weapons of America's Indochina struggle. Now available for the first time in paperback, DK Eyewitness Books: Vietnam War tells the dramatic story of patriotism, tragedy, bloody conflict, and heroism.
For more on these and related titles visit the collection: Memorial Day 2017
Posted: May 25, 2017