There's a Book for That: National Great Outdoors Month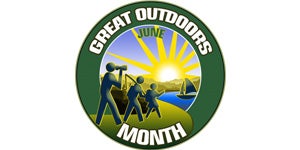 June is National Great Outdoors Month as proclaimed by President Obama through the American Recreation Coalition. With the start of summer many Americans are planning vacations to our National Parks, but spending time out of doors doesn't require a lot of planning and expense. How does the Sam Cooke song go? "Flowers in Spring, the robins that sing, the sunbeams that shine, they're yours and they're mine…  best things in life they are free."
Breaking free of screen time to enjoy a hike, walk, swim or to fish, camp or birdwatch is rejuvenating and so important for children who are typically spending 5 to 7 hours on a screen daily. To inspire your outings, we've rounded up some adventurous and beautiful narrative nonfiction as well as books with kids in mind. Join these authors as they navigate America's trails, rivers, waves and wilderness with humor and insight.
Learn more about National Great Outdoors Month events, including Governor and Capitol Campouts by visiting: Great Outdoors Month.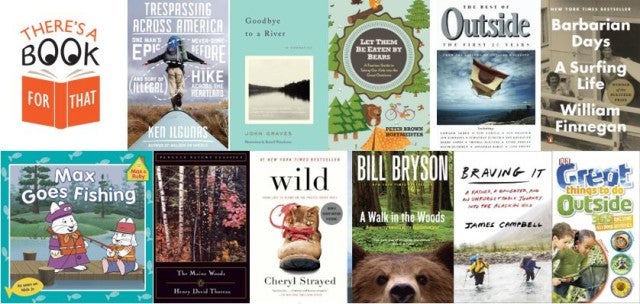 FEATURED TITLES
THE BEST OF OUTSIDE: THE FIRST 20 YEARS by Mark Bryant, Outside Magazine Editors, Thomas McGuane
For years, Outside magazine has set the standard for original and engaging reports on travel, adventure, sports, and the environment. Along the way, many of America's best journalists and storytellers – such as Jon Krakauer, Tim Cahill, E. Annie Proulx, Edward Abbey, Thomas McGuane, David Quammen, and Jane Smiley  – have made the magazine a venue for some of their most compelling work.
GOODBYE TO A RIVER: A NARRATIVE by John Graves
In the 1950s, a series of dams was proposed along the Brazos River in north-central Texas. Graves therefore decided to visit that stretch of the river, which he had known intimately as a youth. Goodbye to a River is his account of that farewell canoe voyage.
BRAVING IT: A FATHER, A DAUGHTER, AND AN UNFORGETTABLE JOURNEY INTO THE ALASKAN WILD by James Campbell
The powerful and affirming story of a father's journey with his teenage daughter to the far reaches of Alaska.
WILD: FROM LOST TO FOUND ON THE PACIFIC CREST TRAIL by Cheryl Strayed
In the wake of her mother's death, with no experience or training and driven only by blind will, Cheryl Strayed hiked more than a thousand miles of the Pacific Crest Trail from the Mojave Desert through California and Oregon to Washington State—alone.
A WALK IN THE WOODS: REDISCOVERING AMERICA ON THE APPALACHIAN TRAIL by Bill Bryson
Back in America after twenty years in Britain, Bill Bryson decided to reacquaint himself with his native country by walking the 2,100-mile Appalachian Trail, which stretches from Georgia to Maine. To a writer with the comic genius of Bill Bryson, it also provides endless opportunities to witness the majestic silliness of his fellow human beings.
TRESPASSING ACROSS AMERICA: ONE MAN'S EPIC, NEVER-DONE-BEFORE (AND SORT OF ILLEGAL) HIKE ACROSS THE HEARTLAND by Ken Ilgunas
Told with sincerity, humor, and wit, Trespassing Across America is both a fascinating account of one man's remarkable journey along the Keystone XL pipeline and a meditation on climate change, the beauty of the natural world, and the extremes to which we can push ourselves—both physically and mentally.
THE MAINE WOODS by Henry David Thoreau, Introduction by Edward Hoagland
"Here was traveling of the old heroic kind over the unaltered face of nature." -Henry David Thoreau
Over a period of three years, Thoreau made three trips to the largely unexplored woods of Maine. He climbed mountains, paddled a canoe by moonlight, and dined on cedar beer, hemlock tea and moose lips.
LET THEM BE EATEN BY BEARS: A FEARLESS GUIDE TO TAKING OUR KIDS INTO THE GREAT OUTDOORS
By Peter Brown Hoffmeister
Based on the author's acclaimed Integrated Outdoor Program, LET THEM BE EATEN BY BEARS is an inspiring guide to getting kids to enjoy and appreciate nature.
BARBARIAN DAYS: A SURFING LIFE by William Finnegan
Winner of the Pulitzer Prize! BARBARIAN DAYS is a deeply-rendered self-portrait of a life-long surfer by the acclaimed New Yorker journalist. Surfing looks like a sport, but that's only to outsiders. To initiates, it is something else entirely: a beautiful addiction, a morally dangerous pastime, a way of life.
FOR YOUNG READERS
MAX GOES FISHING (Grosset & Dunlap)
Ages 3 to 5
Ruby and the Bunny Scouts are going canoeing to get their canoeing badges. Meanwhile, Max is fishing with his toy duck. When Ruby's canoe is accidentally let loose, Max saves the day by using his fishing pole to bring it back!
GREAT THINGS TO DO OUTSIDE (DK Publishing)
Ages 5 to 9
Get kids away from the TV, unplug, and step into the great outdoors with GREAT THINGS TO DO OUTSIDE. Consisting of practical projects to do outside ranging from simple observation activities like bird watching, hunting for fossils, observing air power, and forecasting the weather, to more ambitious projects.
For more information on these and related titles visit: National Great Outdoors Month titles.
Posted: June 8, 2016