There's a Book for That!: National Poetry Month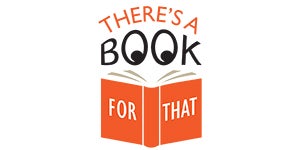 What are words worth? We know they are invaluable! And poets, especially, feel the weight of each one as they aspire to put "the best words in the best order." Poets are heralded the world over, since time immemorial, for their revelatory gifts. Still, many avid readers shy away from poetry. Though our young years are steeped in rhyme and lyric, the joy gets lost along the way somehow as poems become more difficult to decipher. Wordsworth's wise phrase "we murder to dissect" speaks to poetic pleasures lost. And yet, at times of celebration, protest or sorrow people turn to poetry, recognizing its particular power.  Penguin Random House is the proud publisher of two of the most broad-reaching poets of our time, Mary Oliver and Billy Collins. Like their work, the following anthologies are also wonderful gateways to a newfound appreciation of poetry for all ages and appetites. Happy National Poetry Month!
FEATURED TITLES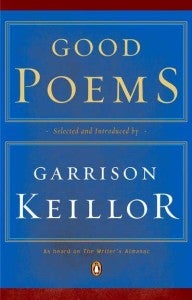 GOOD POEMS selected by Garrison Keillor
Every day people tune in to The Writer's Almanac on public radio and hear Garrison Keillor read them a poem. Good Poems is the first anthology of poems from the show, chosen by Keillor for their wit, their frankness, their passion, their "utter clarity in the face of everything else a person has to deal with at 7 a.m." View Keillor's other anthologies here.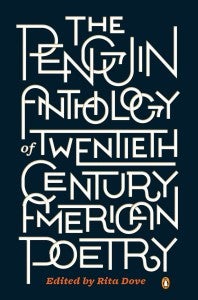 THE PENGUIN ANTHOLOGY OF TWENTIETH-CENTURY AMERICAN POETRY edited by Rita Dove
As seen on Charlie Rose!
Rita Dove, Pulitzer Prize winner and former Poet Laureate of the United States, introduces readers to the most significant and compelling poems of the past hundred years in The Penguin Anthology of Twentieth-Century American Poetry.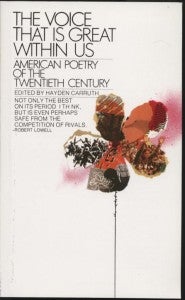 THE VOICE THAT IS GREAT WITHIN US: AMERICAN POETRY OF THE TWENTIETH CENTURY edited by Hayden Carruth
This famous anthology includes the works of more than 130 major American poets of the modern period–Robert Frost, Paul Goodman, Carl Sandburg and Gwendolyn Brooks among them–along with short biographies of each.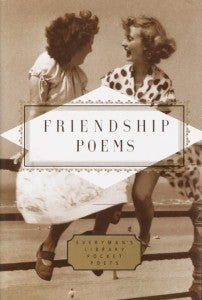 FRIENDSHIP POEMS edited by Peter Washington
A celebration of friendship in all its aspects–from the delight of making a new friend to the serene joys of longtime devotion. Poems about best friends, false friends, dear friends, lost friends, even animal friends. These poems have been selected from the work of great poets in all times and places, including Emily Dickinson, W.H. Auden, Henry Thoreau, Shakespeare, Sappho, Robert Frost, Rudyard Kipling, Walt Whitman, and many others.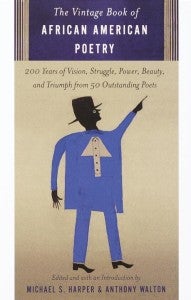 THE VINTAGE BOOK OF AFRICAN AMERICAN POETRY: 200 YEARS OF VISION, STRUGGLE, POWER, BEAUTY, AND TRIUMPH FROM 50 OUTSTANDING POETS edited by Michael S. Harper, Anthony Walton
In The Vintage Book of African American Poetry, editors Michael S. Harper and Anthony Walton present the definitive collection of black verse in the United States–200 years of vision, struggle, power, beauty, and triumph from 52 outstanding poets: From the neoclassical stylings of slave-born Phillis Wheatley to the wistful lyricism of Paul Lawrence Dunbar . . . the rigorous wisdom of Gwendolyn Brooks to the chiseled modernism of Robert Hayden.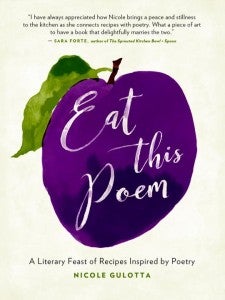 EAT THIS POEM: A LITERARY FEAST OF RECIPES INSPIRED BY POETRY by Nicole Gulotta
A literary cookbook that celebrates food and poetry, two of life's essential ingredients.
In the same way that salt seasons ingredients to bring out their flavors, poetry seasons our lives; when celebrated together, our everyday moments and meals are richer and more meaningful. The twenty-five inspiring poems in this book—from such poets as Marge Piercy, Louise Glück, Mark Strand, Mary Oliver, Billy Collins, Jane Hirshfield—are accompanied by seventy-five recipes that bring the richness of words to life in our kitchen, on our plate, and through our palate.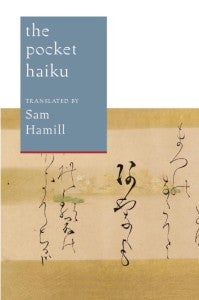 THE POCKET HAIKU edited by Sam Hamill
In this collection of haiku, translator Sam Hamill has compiled the best from the tradition, spanning the sixteenth through nineteenth centuries, with a particular focus on the three great masters: Bashō, Buson, and Issa. Based on images from nature, the poems address the themes of joy, temporality, beauty, wonder, loneliness, and loss.
FOR YOUNGER READERS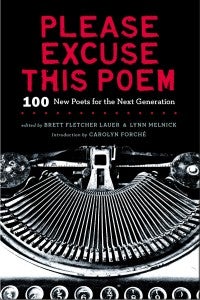 PLEASE EXCUSE THIS POEM: 100 NEW POETS FOR THE NEXT GENERATION edited by Brett F Lauer, Lynn Melnick, Carolyn Forche; Ages 14 and up
One hundred poems. One hundred voices. One hundred different points of view.
Here is a cross-section of American poetry as it is right now—full of grit and love, sparkling with humor, searing the heart, smashing through boundaries on every page. Please Excuse This Poem features one hundred acclaimed younger poets from truly diverse backgrounds and points of view, whose work has appeared everywhere from The New Yorker to Twitter, tackling a startling range of subjects in a startling range of poetic forms.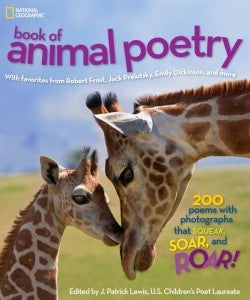 NATIONAL GEOGRAPHIC BOOK OF ANIMAL POETRY: 200 POEMS WITH PHOTOGRAPHS THAT SQUEAK, SOAR, AND ROAR by J. Patrick Lewis; Ages 4 to 8
"Add a little natural wonder to your poetry shelves. Because if we're talking about the best possible compliment to your eyes and ears alike, few have as many perks and grand moments as this." —School Library Journal starred review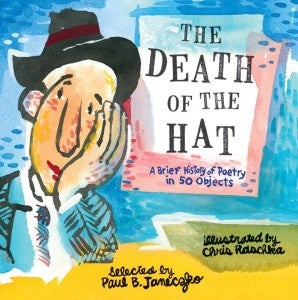 THE DEATH OF THE HAT: A BRIEF HISTORY OF POETRY IN 50 OBJECTS by Paul B. Janeczko, Chris Raschka; Ages 8 to 12
A celebrated duo reunites for a look at poems through history inspired by objects—earthly and celestial—reflecting the time in which each poet lived.
A book-eating moth in the early Middle Ages. A peach blossom during the Renaissance. A haunted palace in the Victorian era. A lament for the hat in contemporary times. Poetry has been a living form of artistic expression for thousands of years, and throughout that time poets have found inspiration in everything from swords to stamp albums, candles to cobwebs, manhole covers to the moon.
THE 20TH CENTURY CHILDREN'S POETRY TREASURY edited by Jack Prelutsky, watercolors by Meilo So; Ages 0 and up
Here in one gloriously illustrated volume are 211 wonderful poems that represent the best this century has to offer. From sibling rivalry, school, monsters, food, and just plain silliness, to such ageless themes as the seasons, Who am I? and the many moods of childhood, this is a collection that begs to be read aloud and shared with the whole family.
For more on these and more great anthologies visit Poetry Anthologies from Penguin Random House
Posted: April 6, 2017