There's a Book for That: Tennis!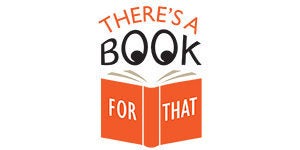 The U.S. Open Tennis Tournament is in full swing at Billie Jean King National Tennis Center in Flushing Meadows-Corona Park, Queens, New York City. Some of the highlights, and upsets, so far include Australian John Millman defeating his "hero" Roger Federer and Maria Sharapova losing to Spain's Carla Suárez Navarro. With all eyes on the ball this week, we've decided to serve some court-side reading to fans… aces all!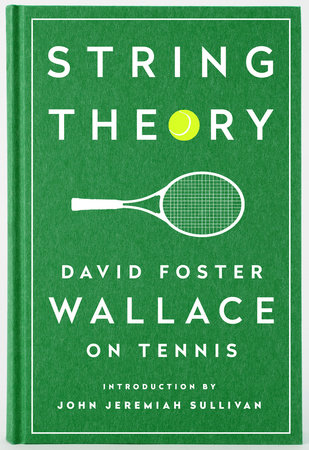 STRING THEORY: DAVID FOSTER WALLACE ON TENNIS by David Foster Wallace, John Jeremiah Sullivan
An instant classic of American sports writing—the tennis essays of David Foster Wallace, "the best mind of his generation" (A. O. Scott) and "the best tennis-writer of all time" (New York Times)
Gathered for the first time in a deluxe collector's edition from Library of America, here are David Foster Wallace's legendary writings on tennis, five tour-de-force pieces written with a competitor's insight and a fan's obsessive enthusiasm. Wallace brings his dazzling literary magic to the game he loved as he celebrates the other-worldly genius of Roger Federer; offers a wickedly witty dissection of Tracy Austin's memoir; considers the artistry of Michael Joyce, a supremely disciplined athlete on the threshold of fame; resists the crush of commerce at the U.S. Open; and recalls his own career as a "near-great" junior player. Whiting Award-winning writer John Jeremiah Sullivan provides an introduction.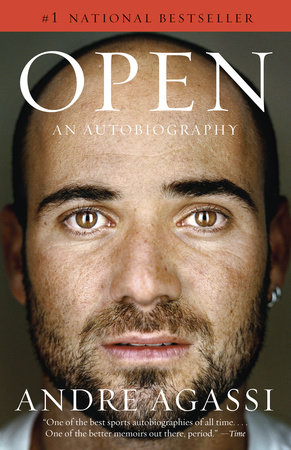 OPEN: AN AUTOBIOGRAPHY by Andre Agassi
Andre Agassi had his life mapped out for him before he left the crib. Groomed to be a tennis champion by his moody and demanding father, by the age of twenty-two Agassi had won the first of his eight grand slams and achieved wealth, celebrity, and the game's highest honors. But as he reveals in this searching autobiography, off the court he was often unhappy and confused, unfulfilled by his great achievements in a sport he had come to resent. Agassi writes candidly about his early success and his uncomfortable relationship with fame, his marriage to Brooke Shields, his growing interest in philanthropy, and—described in haunting, point-by-point detail—the highs and lows of his celebrated career.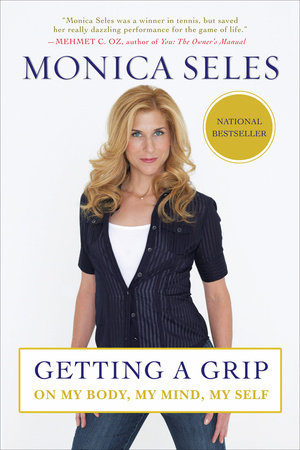 GETTING A GRIP: ON MY BODY, MY MIND, MY SELF by Monica Seles
Getting a Grip chronicles Monica Seles's early success on the tennis circuit where, at age sixteen, she became the youngest winner in French Open history. For three years she dominated the tour, seemingly unstoppable, until a deranged Steffi Graf fan plunged a knife into her back during a match in Hamburg and turned her life upside down. Her injuries healed but the emotional trauma was deep. After an excruciating injury forced her to take time off from tennis in 2003, Seles embarked on her own journey. As she uncovered the painful emotional reasons that had been the trigger for her binge-eating, she finally found the peace and balance she had been searching for. Seles's determination, amazing talent, and touching vulnerability make her story truly inspiring.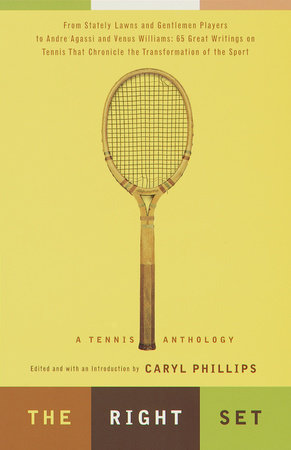 THE RIGHT SET: A TENNIS ANTHOLOGY edited by Caryl Phillips
In The Right Set, award-winning novelist and editor Caryl Phillips presents a collection of 65 writings on the remarkable evolution of a gentleman's pastime into a sport of jet-set players of athletic and psychological genius. Here are the stories of champions as well as the volleys between tradition and innovation–debates on everything from etiquette and earnings to André Agassi's rejection of the customary tennis whites. Insightful, informative, wonderfully entertaining, The Right Set is as colorful and surprising as the game itself.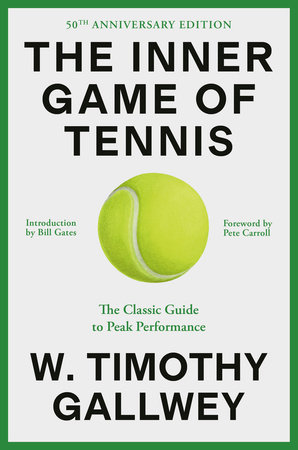 THE INNER GAME OF TENNIS: THE CLASSIC GUIDE TO THE MENTAL SIDE OF PEAK PERFORMANCE by Timothy Gallwey, Pete Carroll, Zach Kleinman
With more than 800,000 copies sold since it was first published thirty years ago, this phenomenally successful guide has become a touchstone for hundreds of thousands of people. Written by W. Timothy Gallwey, a leading innovator in sports psychology, the book is not just for tennis players, or even just for athletes in general, this handbook works for anybody who wants to improve his or her performance in any activity, from playing music to getting ahead at work.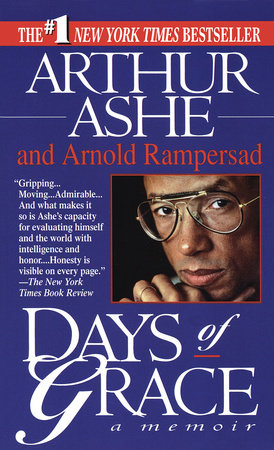 DAYS OF GRACE: A MEMOIR by Arthur Ashe, Arnold Rampersad
Days of Grace is an inspiring memoir of a remarkable man who was the true embodiment of courage, elegance, and the spirit to fight: Arthur Ashe–tennis champion, social activist, and person with AIDS. Frank, revealing, touching–DAYS OF GRACE is the story of a man felled to soon. It remains as his legacy to us all….
FOR YOUNGER READERS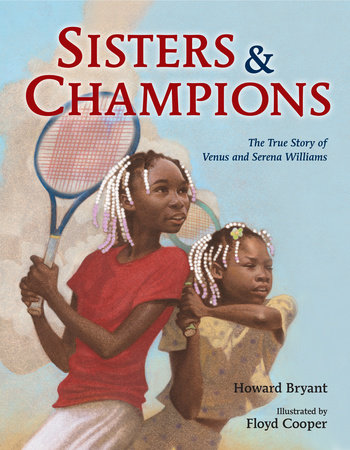 SISTERS AND CHAMPIONS: THE TRUE STORY OF VENUS AND SERENA WILLIAMS by Howard Bryant, Floyd Cooper
Everyone knows the names Venus & Serena Williams. They've become synonymous with championships, hard work, and with shaking up the tennis world. This inspirational true story, written by award-winning sports journalist, Howard Bryant, and brought to beautiful life by Coretta Scott Kind Award and Honor winner, Floyd Cooper, details the sisters' journey from a barely-there tennis court in Compton, CA, to Olympic gold medals and becoming the #1 ranked women in the sport of tennis. Here is a worthy ode to Venus and Serena Williams, the incredible sister duo who will go down in history as two of the greatest athletes of all time.
For more on these titles visit the collection Tennis Reading
---
There's a Book for That! is brought to you by Penguin Random House's Sales department. Please follow our Tumblr by clicking here—and share this link with your accounts: theresabookforthat.tumblr.com. Thank you!
Did you see something on the news or read about something on your commute? Perhaps you noticed something trending on Twitter? Did you think: "There's a book for that!"? Then please, send it our way at theresabookforthat@penguinrandomhouse.com
Posted: September 5, 2018