There's a Book for That: UFOS and NASA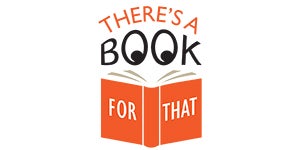 This week we honor the 47th anniversary of the Apollo 11 space mission.  Neil Armstrong and Buzz Aldrin were the first humans to walk on the moon on July 20th, 1969. Since then, space exploration continues to fascinate and propel science and entrepreneurs. However, NASA has been "trending" for another reason this month – their cameras cut out just after showing an unidentified flying object leading to questions and conspiracy theories along the lines of "what does NASA not want us to see?" NASA responded that the station "regularly passes out of range," which causes the video signal to disappear. To satisfy piqued interest in UFOs we have objects to identify ourselves… in the way of books!
HEADLINE: NASA Responds to Viral 'UFO' Video (Voice of America)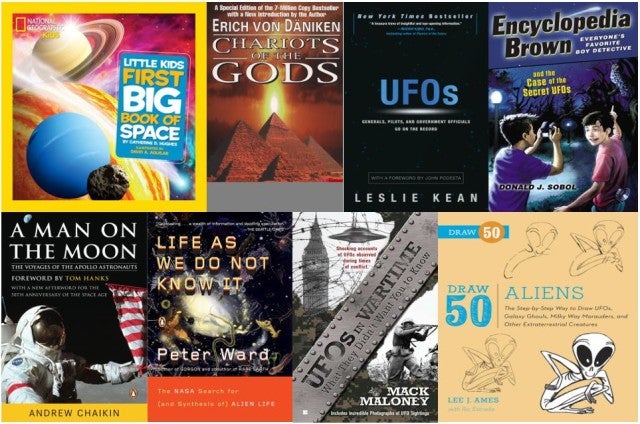 FEATURED TITLES
CHARIOTS OF THE GODS by Erich Von Daniken
CHARIOTS OF THE GODS was immediately recognized as a work of monumental importance when it first introduced the theory that ancient Earth had established contact with aliens.
UFOS: GENERALS, PILOTS, AND GOVERNMENT OFFICIALS GO ON THE RECORD by Leslie Kean
With the support of former White House chief of staff John Podesta, investigative journalist Kean draws on her years of research to separate fact from fiction and to lift the veil on decades of U.S. government misinformation. Throughout, she presents irrefutable evidence that unknown flying objects—metallic, luminous, and seemingly able to maneuver in ways that defy the laws of physics—actually exist.
UFOS IN WARTIME: WHAT THEY DIDN'T WANT YOU TO KNOW by Mack Maloney
Although often written off as myths, UFOs are found in Renaissance Art, on ancient coins, etched on cave walls-and even reported in the Bible. Even more surprising is when they are documented most: in times of war. These sightings are made by high ranking officials, soldiers, and news reporters. Why do these sightings spike so drastically during wartime? Could it be mistaken aircraft? Or is someone-or something- looking in on us?
LIFE AS WE DO NOT KNOW IT : THE NASA SEARCH FOR (AND SYNTHESIS OF) ALIEN LIFE by Peter Ward
An engrossing and revelatory first look at the search for alien life—on Earth and beyond
DRAW 50 ALIENS: THE STEP-BY-STEP WAY TO DRAW UFOS, GALAXY GHOULS, MILKY WAY MARAUDERS, AND OTHER EXTRATERRESTRIAL CREATURES by Lee J. Ames, Ric Estrada
Alien fever is running high – the Alien and Star Wars movies have made outer space fascinating to a whole new generation of children.  An ideal tool for young artists or the parent or teacher seeking to help a child master their artistic skills, DRAW 50 ALIENS includes creatures from every walk of the galaxy.
A MAN ON THE MOON: THE VOYAGES OF THE APOLLO ASTRONAUTS by Andrew Chaikin, Foreword by Tom Hanks
This acclaimed portrait of heroism and ingenuity captures a watershed moment in human history. The astronauts themselves have called it the definitive account of their missions. On the night of July 20, 1969, our world changed forever when Neil Armstrong and Buzz Aldrin walked on the moon. Based on in-depth interviews with twenty-three of the twenty-four moon voyagers, as well as those who struggled to get the program moving, A MAN ON THE MOON conveys every aspect of the Apollo missions with breathtaking immediacy and stunning detail.
FOR YOUNGER READERS
NATIONAL GEOGRAPHIC LITTLE KIDS FIRST BIG BOOK OF SPACE by Catherine D. Hughes, David A. Aguilar
Ages 4 to 8
This beautiful book is the latest addition to the National Geographic Little Kids First Big Book series. These colorful pages will introduce young children to the wonders of space, with colorful illustrations by David Aguilar and simple text that is perfect for beginning readers or for reading aloud. The book will explain basic concepts of space, beginning with what is most familiar to kids and expanding out into universe.
ENCYCLOPEDIA BROWN AND THE CASE OF THE SECRET UFOS by Donald J. Sobol
Ages 8 to 12
Everyone's favorite kid sleuth is back to solve ten new confounding cases!
For more on these and related titles, visit the edelweiss collection: UFOS and SPACE MISSIONS
Posted: July 19, 2016