There's a Book for That: Yoga Month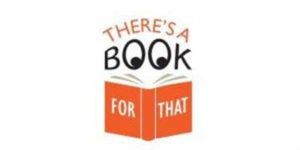 Shall we say a collective "om" for National Yoga Month? September was designated as National Yoga Month through the Department of Health and Human Services in 2008. Although it's an ancient practice, yoga is well-integrated into contemporary culture and universally acknowledged for its overall health benefits beyond the physical attributes of flexibility and balance. Studies show yoga does everything from fighting anxiety and depression, to reducing inflammation in the body. To help you in your practice we offer the following books for all levels and ages: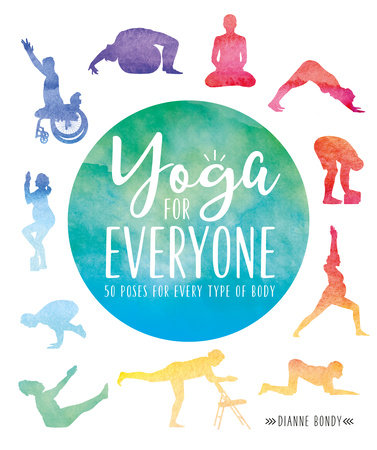 YOGA FOR EVERYONE: 50 POSES FOR EVERY TYPE OF BODY by Dianne Bondy
This book offers yoga for everyone: big, small, elderly, pregnant, disabled—everyone. It's why that word is in the title. No matter who you are, you can do all 50 poses in this book. And then you can perform all 10 sequences, which combine different poses into one singular experience that focus on specific physical and mental issues.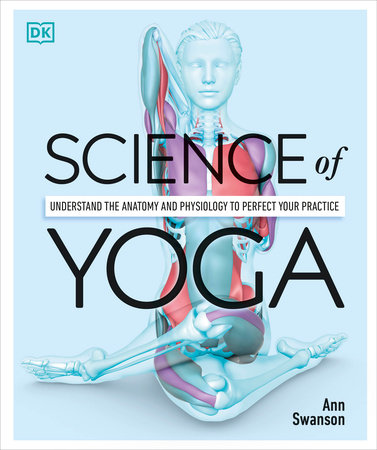 SCIENCE OF YOGA: UNDERSTAND THE ANATOMY AND PHYSIOLOGY TO PERFECT YOUR PRACTICE by Ann Swanson
Did you know that yoga practice can help lower your blood pressure, decrease inflammation and prevent age-related brain changes? Recent scientific research now backs up what were once anecdotal claims about the benefits of yoga to every system in the body. Explore the physiology of 30 key yoga poses, in-depth and from every angle, and master each asana with confidence and control.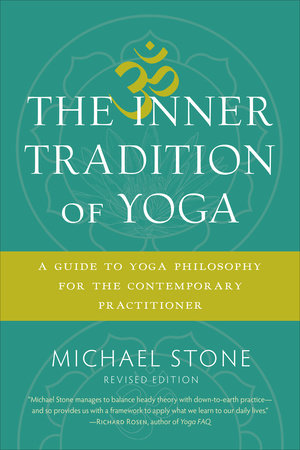 THE INNER TRADITION OF YOGA: A GUIDE TO YOGA PHILOSOPHY FOR THE CONTEMPORARY PRACTITIONER by Michael Stone
This wise, accessible guide—now revised and updated—makes the spiritual and ethical teachings of the yogic tradition immediately relatable to our practice on the mat and in our everyday relationships and activities. Stone draws from numerous disciplines—including Buddhism and psychotherapy—to provide an in-depth, completely clear explanation of yogic philosophy, along with teachings on how to work with the conditions of our life and fully appreciate yoga as a practice of being intimate with moment-to-moment reality.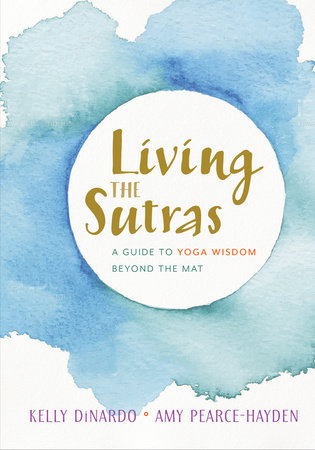 LIVING THE SUTRAS: A GUIDE TO YOGA WISDOM BEYOND THE MAT by Kelly DiNardo, Amy Pearce-Hayden
In its highest form, yoga is a practice for your body and your mind. Living the Sutras brings the wisdom of classical yoga philosophy into your life in an accessible and relevant way. The Yoga Sutras, a foundational text of yoga philosophy and practice, written by the guru Patanjali over two thousand years ago, are made up of 196 aphorisms that offer potent teachings on how to deal with loss and pain, and guidance on how to lead a healthy and fulfilling life. The book is at once an introduction to the classical philosophy, a quick guide for students and teachers, and an active self-study that helps you to engage with yoga wisdom in a deeply personal way.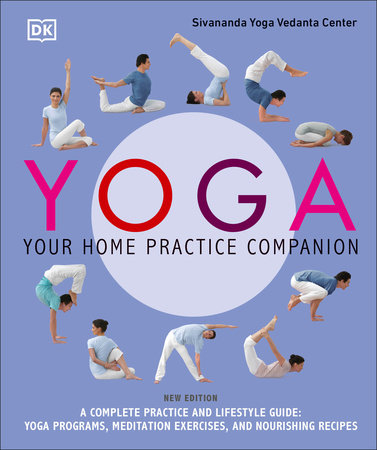 YOGA: YOUR HOME PRACTICE COMPANION: A COMPLETE PRACTICE AND LIFESTYLE GUIDE: YOGA PROGRAMS, MEDITATION EXERCISES, AND NOURISHING RECIPES by Sivananda Yoga Vedanta Centre
Achieve a healthy body, mental alertness, and inner serenity through the practice of hatha yoga. Yoga: Your Home Practice Companion teaches you how to master breathing and mindfulness techniques to combat stress and recharge your energy. Combining step-by-step asanas, detailed anatomical illustrations, programs, mindfulness techniques, plant-based diet advice, and recipes, this is the complete practice and lifestyle guide for students of all abilities.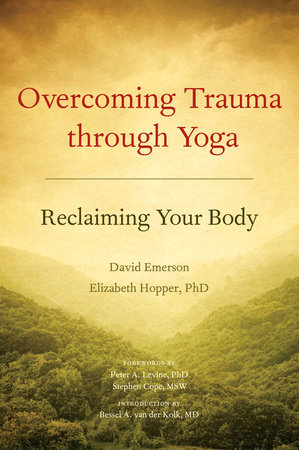 OVERCOMING TRAUMA THROUGH YOGA: RECLAIMING YOUR BODY by David Emerson, Elizabeth Hopper, Ph.D.
Overcoming Trauma through Yoga is a book for survivors, clinicians, and yoga instructors who are interested in mind/body healing. It introduces trauma-sensitive yoga, a modified approach to yoga developed in collaboration between yoga teachers and clinicians at the Trauma Center at Justice Resource Institute. The trauma-sensitive yoga described in this book moves beyond traditional talk therapies that focus on the mind, by bringing the body actively into the healing process. This allows trauma survivors to cultivate a more positive relationship to their body through gentle breath, mindfulness, and movement practices.
YOGA AS MEDICINE: THE YOGIC PRESCRIPTION FOR HEALTH AND HEALING by Yoga Journal, Timothy McCall
The Bible of yoga therapy, this is the most definitive overview of the science of yoga ever written, by the medical editor of Yoga Journal, who is both a practicing yogi and a western-trained physician.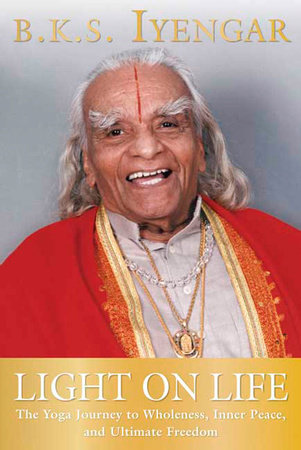 LIGHT ON LIFE: THE YOGA JOURNEY TO WHOLENESS, INNER PEACE, AND ULTIMATE FREEDOM by B.K.S. Iyengar
B.K.S. Iyengar—hailed as "the Michelangelo of yoga" (BBC) and considered by many to be one of the most important yoga masters wrote the deminal book, Light on Yoga.Here Iyengar explores the yogic goal to integrate the different parts of the self (body, emotions, mind, and soul). For the first time, Iyengar uses stories from his own life, humor, and examples from modern culture to illustrate the profound gifts that yoga offers.
YOGA FOR KIDS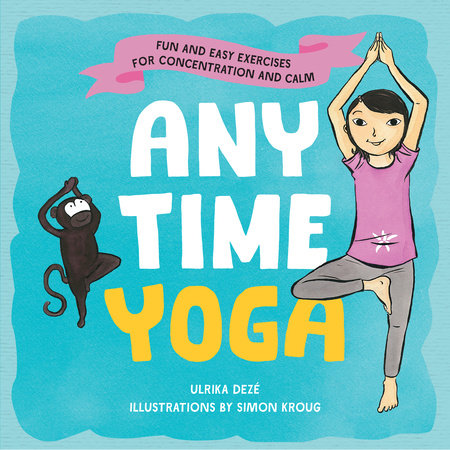 ANYTIME YOGA: FUN AND EASY EXERCISES FOR CONCENTRATION AND CALM by Ulrika Dezé, Simon Kroug
Simple yoga poses for kids ages 3-7 to practice throughout the day, for energy in the morning, focus during the day, and calm when they need a break. Whether you have 15 minutes or an hour, the series of poses are adaptable and can be done with just one kid or in a larger classroom setting. The book also includes four guided meditations that can be read aloud to complement the yoga practices.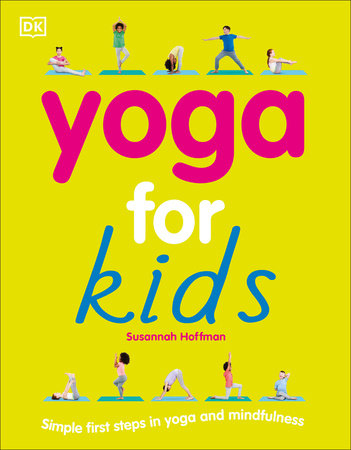 YOGA FOR KIDS: SIMPLE FIRST STEPS IN YOGA AND MINDFULNESS by Susannah Hoffman, Patricia Arquette
With more than 50 poses and activities, Yoga for kids shows that supporting a child's positive mental health doesn't need to be expensive, time-consuming, or difficult. Poses and activities help children to de-stress, focus, and get moving while having fun.
For more on these titles visit the collection Yoga Month
---
There's a Book for That! is brought to you by Penguin Random House's Sales department. Please follow our Tumblr by clicking here—and share this link with your accounts: theresabookforthat.tumblr.com. Thank you!
Did you see something on the news or read about something on your commute? Perhaps you noticed something trending on Twitter? Did you think: "There's a book for that!"? Then please, send it our way at theresabookforthat@penguinrandomhouse.com
Posted: September 11, 2019