This Pride Month, Penguin Random House Celebrates the Stories That Move Us Forward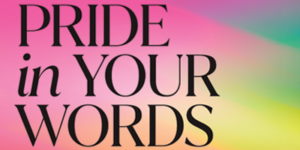 Following last week's release of our first-ever zine, today marks the official launch of this year's Pride initiative, Pride in Your Words!  Building upon the storytelling tradition set forth in 2019 with Under One Roof, 2020 with Passport to Pride, and 2021 with In Your Words, our aim is to celebrate the stories and experiences of LGBTQ+ authors who provide inspiration, visibility, and encouragement, so that everyone can live joyfully in their identities and intersectionality.  
As announced last week, a key element of the initiative is the Pride in Your Words Zine, created in partnership with our authors and the LGBTQ+ Network. Learn more about the zine and download your issue here.
Within the pages of the zine, you'll notice original illustrations from lettering artist Kyle Letendre. To take these words beyond the page, for the month of June, you can also find them on signs and billboards across the country – from New York City and Chicago to Dallas and Orlando. Our hope is that more people will see – and truly understand – the power in these words, that it will inspire conversation, and that it will move us toward a better future.
To underpin our efforts, we're also creating and updating book lists and resources on both PRH.com and Brightly (such as The Ultimate LGBTQIA+ Pride Book List and Great LGBTQIA+ Books for Kids and Teens), that consumers can access via the zine, the billboards, and a robust organic and paid digital campaign.
We'll be donating 15% of PRH.com net proceeds in June to The Trevor Project, LGBTQ Saves, and The Zebra Coalition, to uplift LGBTQ+ youth and help to ensure they get the chance to write their own stories.
We hope you'll support these efforts in June and all year long, using #PrideinYourWords (and #TeamPRH if posting from a personal account).
Please see the campaign one-sheet here and reach out to Anthony Key and Haley Larson with any questions.
Posted: May 31, 2022