Thomas Kostigen Explores the Intersection of Climate Change and COVID-19 in Webinar (4/22)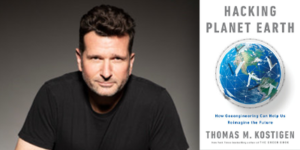 Thomas Kostigen, author HACKING PLANET EARTH (TarcherPerigee) will be participating in a Harvard Business School Association of Boston virtual event, "How Top Companies, Climate Change and COVID-19 Intersect," via a Webinar (free for members, $20 for non-members) on Wednesday, April 22, from 12:00 noon to 1:00pm (ET).
From giant parasols hovering above the Earth to shield us from an unforgiving sun, to lasers shooting up into clouds to coax out much-needed water, Kostigen introduces readers to this inspiring work and the people who are spearheading it. These futurist, far- thinking, world-changing ideas will save us, and Hacking Planet Earth offers readers their new vision for the future.
Thomas M. Kostigen is an award-winning and New York Times-bestselling author and journalist. He founded the Climate Survivalist column for USA Today and has written for numerous publications, including The Washington Post, National Geographic, Discover, Departures, The Los Angeles Times, the Chicago Tribune, and The Wall Street Journal, among others. Most recently, he wrote two books for National Geographic on climate preparedness (one of which won the prestigious Louis J. Battan Author's Award).
!!A reminder for PRH employees: If you are posting this article to a personal or other non-PRH account you must include the hashtag #TeamPRH.!!
Posted: April 21, 2020