Three of Our Debut Authors Make 2016 First Novel Prize Shortlist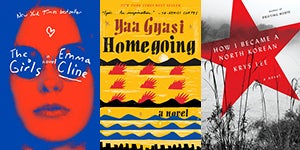 The Center for Fiction's seven-title shortlist for its annual First Novel Prize includes three of our authors and their books published by Penguin Random House imprints:
Congratulations to our authors and their publishers.
View the complete 2016 First Novel Prize shortlist here
Each shortlisted author receives $1,000, with $10,000 going to the First Novel Prize winner, who will be announced at The Center for Fiction's Annual Benefit and Awards Dinner on December 6 at The Metropolitan Club in New York.
The Center for Fiction First Novel Prize is awarded to the best debut novel published between January 1 and December 31 of the award year. This year's judges are Viet Thanh Nguyen, Chris Abani, Kate Christensen, Rivka Galchen, and Kate Walbert.
Posted: September 1, 2016