Three of Our Debut Novelists In Conversation at "Burning Pizza Affair" Virtual Event via Zoom (7/16)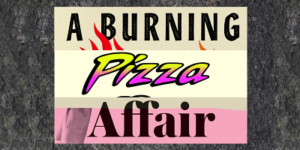 Megha Majumdar, author of A BURNING (Knopf), Jean Kyoung Frazier, author of PIZZA GIRL (Doubleday), and Sanaë Lemoine, author THE MARGO AFFAIR (Hogarth), will be in conversation with Kevin Nguyen at a "Burning Pizza Affair" virtual event hosted by Powerhouse Arena via Zoom on Thursday, July 16 at 7:00 pm (ET).
Majumdar's A BURNING is an electrifying debut novel about three unforgettable characters that seek to rise–to the middle class, to political power, to fame in the movies–and find their lives entangled in the wake of a catastrophe in contemporary India. Taut, symphonic, propulsive, and riveting from its opening lines, it has the force of an epic while being so masterfully compressed it can be read in a single sitting.
Bold, tender, propulsive, and unexpected in countless ways, Jean Kyoung Frazier's PIZZA GIRL is a moving and funny portrait of a flawed, unforgettable young woman as she tries to find her place in the world.
Exposing the seams between private lives and public faces, THE MATGOT AFFAIR is a novel of deceit, desire, and transgression—and the exhilarating knife-edge upon which the danger of telling the truth outweighs the cost of keeping secrets.
Megha Majumdar was born and raised in Kolkata, India. She moved to the United States to attend college at Harvard University, where she was a Traub Scholar, followed by graduate school in social anthropology at Johns Hopkins University. She works as an associate editor at Catapult, and lives in New York City.
Jean Kyoung Frazier lives in Los Angeles.
Sanaë Lemoine was born in Paris to a Japanese mother and French father, and raised in France and Australia. She earned her undergraduate degree from the University of Pennsylvania and her MFA at Columbia University. She now lives in New York.
Mr. Nguyen is a One World author (NEW WAVES), the features editor at The Verge and was previously a senior editor at GQ. He lives in Brooklyn, New York.
!! As a reminder, if you are posting to a personal or other non-PRH account you must include the hashtag #TeamPRH !!
Posted: July 15, 2020