Three Questions for Putnam's Neil Nyren on Editing John Sandford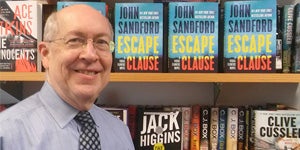 Neil Nyren, Executive Vice President, Associate Publisher, Editor in Chief, G. P. Putnam's Sons, has been editing books by #1 New York Times-bestselling author John Sandford since 1988, most recently, ESCAPE CLAUSE: A Virgil Flowers Novel, published this week by Putnam.  Mr. Nyren offers personal insights into the full scope of his editorial work with Mr. Sandford.
What are some of the primary characteristics that distinguish a Virgil Flowers novel from a Lucas Davenport novel?
Virgil works for Lucas at the Minnesota Bureau of Criminal Apprehension. He came about because once Lucas got married and had a family, he had to settle down a little – he couldn't be the sexy loose cannon he used to be. So John created Virgil as a younger Lucas, but with a lot of idiosyncrasies of his own. There tends to be more humor in the Flowers books, and they're more freewheeling, so they have their own distinct style, while still being part of the Davenport universe – every book has some interaction between Virgil and Lucas, sometimes about the case Virgil's working on, sometimes about incidents that may have been in the previous Prey book – or even one that's coming up.
How would you describe your editor/author relationship with John Sandford and how it has evolved over the years?
We've been working together since 1988, so, as you can imagine, we know each other's minds pretty well by now, and there's a lot of mutual trust. We use shorthand, and tend to anticipate one another's thoughts, with the result that we often don't actually have to voice those thoughts – they're already incorporated into the book. It's a great partnership.
How does John keep the Lucas Davenport and Virgil Flowers series fresh and where can he take the series going forward?
John keeps his characters fresh by constantly evolving them, getting them into new situations, both personal and professional, setting new parameters. With Davenport, for instance, he started as a Minneapolis cop, rose to deputy chief, then got picked by the governor to be a state-wide troubleshooter. Now, as a result of events in the last two Prey books, Davenport is embarking on a new role as a federal marshal, but with a difference – he gets to pick his own cases, anywhere in the country.
As for Virgil, his role has stayed pretty much the same so far, but in ESCAPE CLAUSE, he's getting kind of serious about a woman he met in the last book. Only problem is, she has a sister named Sparkle who has her own eye on Virgil, and, as you can imagine, that provides problems: You mess around with Sparkle, she tells him, you could get yourself stabbed. "She carries a knife?" "No, but I do."
Posted: October 20, 2016