Tim Shriver Discusses THE CALL TO UNITE with Jewel via Zoom (3/16)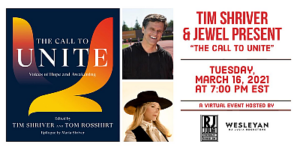 Tim Shriver, co-editor of THE CALL TO UNITE: Voices of Hope and Awakening (The Open Field), will talk about his new book in conversation with singer/songwriter Jewel at a virtual event hosted by RJ Julia via Zoom on Tuesday, March 16 at 7:00 pm (ET).
At the start of 2020, in what felt already like an age of disorder, our world faced one of the gravest global challenges in a century. COVID-19 raced around the earth, and chaos erupted. Yet in the midst of this crisis, billions of human beings responded with love. Across the globe, people sought to connect, whether in person from a socially distant six feet or via a screen from 10,000 miles away.
In that moment, Tim Shriver saw an opportunity for those hungry for community to answer a call to heal, a call to hope, a call to unite. He asked monks and nuns, artists and activists, nurses and doctors, ex-presidents and ex-cons to come together to share messages of inspiration, transformation, and love. This book captures the spirit of that 24-hour event.
Featuring stories and insights from Bishop TD Jakes, Elizabeth Gilbert, Van Jones, Amy Grant, Dr. Rheeda Walker, Pastor Rick Warren, Rev. Jacqui Lewis, Jewel, Deepak Chopra and many others, THE CALL TO UNITE offers readers a book of wisdom to turn to in hard times – filled with prayers, poems, spiritual insights and lessons to live by that will stand the test of time.
Tim Shriver is the founder of UNITE; the longtime Chair of Special Olympics; a bestselling author; a former teacher; a founding force of the social and emotional learning movement; a film producer; a husband; father, and grandfather; and a seeker of unity in society and in himself.
Jewel went from a girl who grew up with no running water on an Alaskan homestead, to a homeless teenager in San Diego, to an award winning, multi-platinum recording artist who released one of the bestselling debuts of all time. Through her career Jewel has sold over 30 million albums worldwide.
!! As a reminder, if you are posting to a personal or other non-PRH account you must include the hashtag #TeamPRH !!
Posted: March 14, 2021