Tim Tebow Launches SHAKEN: The Young Readers Edition with Book Report Contest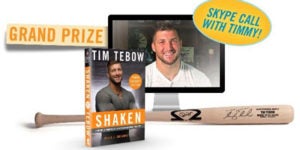 Tim Tebow's newest book, SHAKEN: The Young Reader's Edition – Fighting to Stand Strong No Matter What Comes Your Way, was published by WaterBrook, a Crown Publishing Group imprint, on September 12, and launched with a book report contest that is running through January 8, 2018.  The Heisman Trophy winner, former NFL quarterback, professional baseball player (in the New York Mets minor league system) and author is  very enthused about this contest, which is aimed at youth ages 10 to 15 years old, to encourage reading and writing while reminding them of their identity in Jesus. 
"There is nothing more empowering, more life-giving and more exciting than having a strong identity," says Tebow. "My prayer is that, no matter what you're facing today, this book will help you discover an unshakable identity and a God-designed purpose for your life!"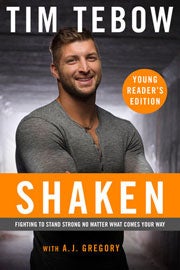 Participants are invited to write a report, limited to one page with a maximum of 750 words, on how the SHAKEN: The Young Reader's Edition inspired or challenged them in their lives. The grand prizewinner will receive a limited edition, signed Tim Tebow "TT-15" baseball bat, a signed copy of the book, and a Skype call with Tebow. The two runners-up will receive a signed, game-played baseball from Tebow and a signed copy of Shaken: The Young Reader's Edition. For official rules and details, visit www.WMBooks.com/ShakenRules.  (As with all of our consumer-facing promotions, employees of Penguin Random House, their immediate families, and persons living in their households are not eligible to enter this contest).
Young readers of SHAKEN will be captivated and motivated by Tebow's personal stories of highs and lows. With the enthusiastic voice and contagious positivity that he's known for, Tebow inspires his young readers to believe that God is ready to do great things through them—in their families, their schools, and around the world.
Last week Tebow appeared at Catalyst – a two-day conference to help leaders build great churches, grow strong teams, and be a catalyst for change – in Atlanta.  He spoke about a number of the themes found in SHAKEN, such as identity and courage.
Posted: October 11, 2017