Tim Tebow Wins 2017 Christian Book of Year Award for SHAKEN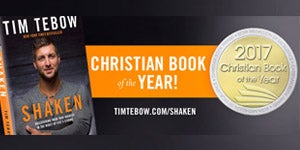 The Evangelical Christian Publishers Association (ECPA) has announced the winners of its 2017 Christian Book Awards and the Christian Book of the Year went to Tim Tebow for SHAKEN, a New York Times bestseller published by WaterBrook, an imprint of the Crown Publishing Group. The Christian Book Awards are among the oldest and most prestigious prizes in Christian publishing, honoring the year's finest in Christian publishing since 1978. The 2017 awards were presented on May 2 at the ECPA Leadership Summit in Colorado Springs.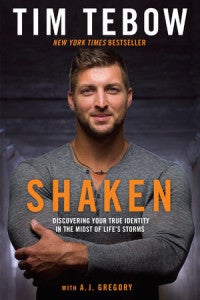 The Christian Book of the Year is the top book award in the Christian Book Award program, and recognizes both excellence and significance of impact in Christian publishing.  Of the 240 entries in this year's program, one title was chosen from among the 59 finalists to represent Christian publishing's finest in 2017.
Congratulations to Mr. Tebow, his editor, Bruce Nygren, and everyone at WaterBrook on the occasion of this honor.
In SHAKEN,  the Heisman Trophy-winning Tebow shares glimpses of his journey, the highs and the lows, telling how he stayed grounded in the face of disappointment, criticism, and intense media scrutiny. Following an exceptional college football career with the Florida Gators and a promising NFL playoff run with the Denver Broncos, Tebow was traded to the New York Jets, then released after one season.  In the fall of 2016, he signed a professional baseball contract with the New York Mets and is currently playing for the Mets' Single A affiliate the Columbia Fireflies. Through it all, Tim continues the work of the Tim Tebow Foundation, which he began in 2010.
View all of the 2017 Christian Book Award winners here.
WaterBrook will be publishing two forthcoming books from Tim Tebow this year: one for homeschoolers, KNOW WHO YOU ARE. LIVE LIKE IT MATTERS. (May 16), and SHAKEN: The Young Readers Edition (September 19).
Posted: May 4, 2017