Tiny Reparations Books Debuts Logo, Announces Inaugural Acquisitions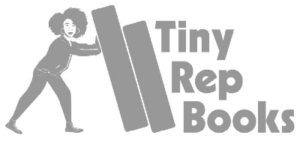 Phoebe Robinson, founder of Tiny Reparations Books, and Christine Ball, SVP, Publisher of Dutton and Plume, have announced the first acquisitions for the new imprint. Editor Amber Oliver, a recent addition to the editorial team, will edit both books as well as Robinson's forthcoming fall 2021 book, Six Feet Apart. The Tiny Reparations Books logo, designed by Dominique Jones, was also unveiled.
The first nonfiction title acquired was RAGE: The Evolution of a Black Queer Body in America, a searing collection of essays—veering from the hilarious to the profound—from freelance writer and former senior editor at Out, Lester Fabian Brathwaite. As a young gay Black man, Brathwaite's search for love thrust him into the crosshairs of a potent and specific brand of racism. In RAGE, he converts his trauma into a powerful weapon and critiques the evolution of his Black queer consciousness. Tiny Reparations Books bought world rights from Robert Guinsler at Sterling Lord Literistic, Inc.
Tiny Reparations Books also preempted North American rights for Kai Harris's stunning debut,What the Fireflies Knew, which Harris has been writing while pursuing her PhD in fiction at Western Michigan University. This deeply compassionate coming-of-age novel is told from the perspective of an eleven-year-old as she tries to make sense of her new life living with her estranged grandfather and sister after the death of her father and disappearance of her mother. Capturing all the vulnerability, perceptiveness, and inquisitiveness of a young Black girl on the cusp of puberty, this novel reveals that heartbreaking but necessary component of growing up––the realization that loved ones can be flawed, sometimes significantly so, and that the perfect family we all dream of looks different up close. Harris is represented by Ayesha Pande at Ayesha Pande Literary.
Of the acquisitions, Phoebe Robinson said: "What attracted me to both of these books—in very different ways—was the voice. Lester's bold, acerbic, and important collection takes the American condition to task, while Kai's point of view and exquisite prose beautifully render Black girlhood. I couldn't be more excited to have both of these books on my list!"
About Tiny Reparations Books:
Tiny Reparations Books is a highly curated imprint dedicated to publishing both literary fiction and nonfiction as well as essay collections that highlight and amplify unique and diverse voices. The imprint is committed to publishing complex, honest, and humorous work that not only reflects the current conversation but also pushes it forward.
Posted: September 30, 2020