Tiny Reparations Books' PORTRAIT OF A THIEF Lands on New York Times Bestseller List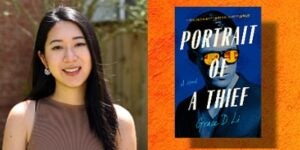 Portrait of a Thief by Grace D. Li, only the second novel published by Tiny Reparations Books, landed at #15 on the New York Times bestseller list for the week of April 24, marking the first bestseller from the new imprint.
It's also the first New York Times bestseller for Editor Amber Oliver, who says, "I loved Portrait of a Thief from the moment it landed in my inbox.
Pitched as an art heist, a story of diaspora, unlikely friendships, the colonization of art, and the complexity of the Chinese American identity, I knew immediately that this was my kind of my book. And when I dipped in and read Grace's poetic writing, I was swept in not only by her words and distinct voice, but by the thrilling heist and the characters as they grappled with identity, family, friendships, their hopes for the future laid out ahead of them. There is something so powerful about the way Portrait of a Thief tackles tough subjects, like repatriation of art, and who gets to claim it, and I'm deeply honored I got to edit this book and help bring it to readers."
Portrait of a Thief launched with glowing media attention, with rave reviews from The New York Times, Washington Post, Entertainment Weekly, Buzzfeed, and author features in The Los Angeles Times and San Francisco Chronicle, among others, with more to come. It was named a Barnes & Noble Discover pick and has been optioned by Netflix.
The San Francisco Chronicle praised, ""Beneath its glitzy European museum settings, late-night street races, sexual tensions and a plot involving an enigmatic Chinese billionaire, Grace D. Li's debut art-heist novel, Portrait of a Thief, …wrestles with some weighty questions about cultural repatriation and the legacy of colonial crimes."
Founded in 2020 by Phoebe Robinson with the Plume imprint, Tiny Reparations Books is a highly curated imprint dedicated to publishing both literary fiction and nonfiction as well as essay collections that highlight and amplify unique and diverse voices. The imprint is committed to publishing complex, honest, and humorous work that not only reflects the current conversation but also pushes it forward.
Posted: April 25, 2022