Tochi Onyebuchi Presents REBEL SISTERS via Crowdcast (12/5)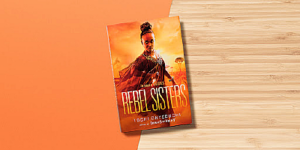 Tochi Onyebuchi, author of REBEL SISTERS (Razorbill), will be in conversation with V.E. Schwab at a virtual event hosted by Astoria Bookshop via Crowdcast on Saturday, December 5 at 1:00 pm (ET).
In the epic, action-packed sequel to the "brilliant" (Booklist starred review) novel War Girls, the battles are over, but the fight for justice has just begun. In REBEL SISTERS, it's been five years since the Biafran War ended. Ify is now nineteen and living where she's always dreamed–the Space Colonies. She is a respected, high-ranking medical officer and has dedicated her life to helping refugees like herself rebuild in the Colonies.
Back in the still devastated Nigeria, Uzo, a young synth, is helping an aid worker, Xifeng, recover images and details of the war held in the technology of destroyed androids. Uzo, Xifeng, and the rest of their team are working to preserve memories of the many lives lost, despite the government's best efforts to eradicate any signs that the war ever happened. Though they are working toward common goals of helping those who suffered, Ify and Uzo are worlds apart. But when a mysterious virus breaks out among the children in the Space Colonies, their paths collide. Ify makes it her mission to figure out what's causing the deadly disease. And doing so means going back to the homeland she thought she'd left behind forever.
Tochi Onyebuchi holds a B.A. from Yale, an MFA in Screenwriting from Tisch, a Masters degree in Global Economic Law from L'institut d'études politiques, and a J.D. from Columbia Law School. His writing has appeared in Asimov's and Ideomancer, among other places. Tochi resides in Connecticut where he works in the tech industry and is currently writing the epic sequel to Beasts Made of Night.
!! As a reminder, if you are posting to a personal or other non-PRH account you must include the hashtag #TeamPRH !!
Posted: December 2, 2020