Today: Jacqueline Woodson Joins Carla Hayden and Jason Reynolds for "Race in America" Virtual Event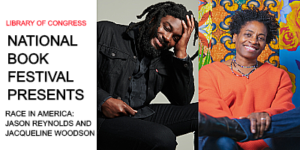 To commemorate Juneteenth, Librarian of Congress Carla Hayden will host a virtual chat with Jacqueline Woodson, Penguin Random House author and former National Ambassador for Young People's Literature, and Jason Reynolds, current National Ambassador for Young People's Literature, about ways to hear and support kids during a period of nationwide protest against injustice.
Watch this "Race in America" virtual event presentation as it premieres today, June 19, from 4:00 to 5:00 pm (ET) on both the Library of Congress Facebook page at https://www.facebook.com/libraryofcongress and the Library's YouTube site at https://www.youtube.com/loc/. The presentation will also be available for viewing afterwards at those sites and on the Library of Congress website at loc.gov.
This event is part of the National Book Festival Presents series"Hear You, Hear Me,"named for a phrase from the Langston Hughes poem "Theme for English B":
But I guess I'm what
I feel and see and hear, Harlem, I hear you.
hear you, hear me—we two—you, me, talk on this page.
Posted: June 19, 2020