Today: Michelle Obama BECOMING Film Premieres Globally on Netflix.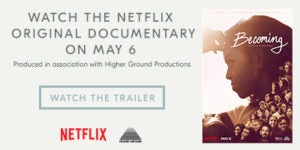 Michelle Obama's BECOMING, a Netflix original documentary film directed by Nadia Hallgren, is released globally today, May 6. Produced in association with Barack and Michelle Obama's Higher Ground Productions, the film presents a rare and up-close look at Mrs. Obama's worldwide tour in support of BECOMING, her #1 New York Times bestselling memoir.
Mrs. Obama commented on Instagram: "Those months I spent traveling — meeting and connecting with people in cities across the globe — drove home the idea that what we share in common is deep and real and can't be messed with. In groups large and small, young and old, unique and united, we came together and shared stories, filling those spaces with our joys, worries, and dreams. We processed the past and imagined a better future. In talking about the idea of 'becoming,' many of us dared to say our hopes out loud. I treasure the memories and that sense of connection now more than ever, as we struggle together to weather this pandemic, as we care for our loved ones, and cope with loss, confusion, and uncertainty. It's hard these days to feel grounded or hopeful, but I hope that like me, you'll find joy and a bit of respite in what Nadia has made"
To watch the BECOMING Netflix trailer, click here.
Posted: May 6, 2020