TODAY: RHCB Author Diana Kapp Presents "Virtual Take Your Daughter to Work Day" on Instagram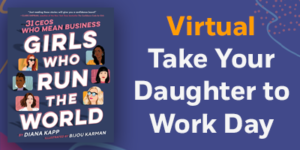 Diana Kapp, author of GIRLS WHO RUN THE WORLD: 31 CEOs Who Mean Business (Delacorte Books for Young Readers), is partnering with Girl Scouts of Texas Oklahoma Plains and Junior Achievement of Northern California to present a free virtual event today, April 23, as an alternative activity for those who would normally bring their children into the office as part of Take Your Children to Work Day. And while today's event is female-focused, the content will be inspiring for all.
Check out the "Virtual Take Your Daughter to Work Day" on the @girlswhoruntheworldbook Instagram page, from 9:00am to 9:00pm (ET). Every hour on the hour, Kapp is live on Instagram for 20 minutes at a time with a different female CEO or founder to share wisdom and advice for young girls. To view the complete schedule, click here.
The following leaders are among the participants: Sallie Krawcheck, Ellevest; Katia Beauchamp, Birchbox; Heidi Zak, ThirdLove; Leslie Blodgett, bareMinerals; Mariam Naficy, Minted; Nancy Lublin, Crisis Text Line; Theresia Gouw, Acrew Capital; and Kara Goldin, HINT Water. For a complete list of the CEOs, with background on each, click here.
GIRLS WHO RUN THE WORLD, part biography, part business how-to, and fully empowering, shows that you're never too young to dream BIG! With colorful portraits, fun interviews and DIY tips, this book features the success stories of 31 leading ladies today of companies like Rent the Runway, PopSugar, and Soul Cycle.
Posted: April 23, 2020