TODAY's Dylan Dreyer Launches Her New Picture Book Virtually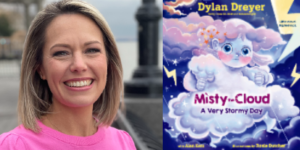 TODAY Show co-host and meteorologist Dylan Dreyer celebrates the publication of her new picture book, MISTY THE CLOUD: A Very Stormy Day (Random House Books for Young Readers), in conversation with DIARY OF A WIMPY KID author Jeff Kinney at a virtual event hosted by An Unlikely Story Bookstore & Café via Crowdcast tonight, October 12 at 6:00 pm (ET).
To register, click here.
MISTY THE CLOUD: A Very Stormy Day is the first book in a new sky-high series about how to deal with good days, bad days, and everything in between. In this new picture-book brand, Dreyer combines her extensive weather knowledge with her experience as a mom, introducing readers to Misty the Cloud. When Misty feels so gloomy that her dreary mood turns into a giant thunderstorm, she must learn how to calm down so that she doesn't rain on everyone else's day. This accessible story combines the topic of weather with lessons on emotional intelligence and navigating feelings, at a time when childhood anxiety is on the rise.
Dreyer is a meteorologist for NBC News, a co-host of the 3rd Hour of TODAY, and the host of Earth Odyssey with Dylan Dreyer. She's covered hurricanes with 130 mph winds, but she loves a nice breeze when she walks her dog, Bosco. She's stood out in six-foot snowstorms (which is taller than her!), but she loves to go sledding with her sons, Calvin and Oliver. She's watched roads turn into rivers during strong thunderstorms, but she loves to splash in puddles. She's traveled the country (and been to 49 states!) and the world . . . she's even been to the North Pole! She loves the weather and thinks the world is a fascinating place.
!! A reminder: You can share this feature. If you are posting to a personal or other non-PRH account you must include the hashtag #TeamPRH !!
Posted: October 12, 2021