TOGETHER and THE SOMMELIER'S ATLAS OF TASTE Receive André Simon Awards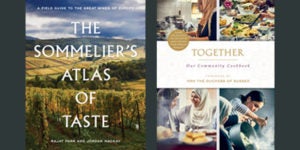 Clarkson Potter and Ten Speed Press took home awards at the 2018 André Simon Food and Drink Book Awards, the most prestigious food and drink book honors in the U.K., essentially the equivalent of the James Beard Awards in the U.S., at a ceremony in London on Tuesday, February 5.
The Ten Speed Press title, THE SOMMELIER'S ATLAS OF TASTE: A Field Guide to the Great Wines of Europe by Rajat Parr and Jordan Mackay, won the André Simon Drink Award. This marks the second year in a row that a TSP book has won this prize. The Clarkson Potter title, TOGETHER: Our Community Cookbook by the HUBB Community Kitchen, with a foreword by HRH The Duchess of Sussex, received an André Simon Special Commendation Award.
Meera Sodha, the André Simon food-book award assessor, said: "TOGETHER touched the core of my soul. These women came together after the Grenfell tragedy to cook for family and friends. Their stories are ones that are never usually heard and their food – beautiful and delicious home cooking – is not ordinarily seen. It's a rare and beautiful book which shows the power of cooking and eating together as a way to connect, share, love – and in this case, grieve and heal."
The André Simon drink-book award assessor, Victoria Moore, said of THE SOMMELIER'S ATLAS OF TASTE: "It isn't easy to produce fresh insights and fascinating commentary on some of the most well-trampled wine regions on earth, but sommelier-turned-wine producer Rajat Parr and writer Jordan Mackay have managed to do just that, and to do so with style; I expect this book to find its way on to the shelves of wine drinkers and collectors as well as those of aspiring sommeliers."
Congratulations to everyone at Clarkson Potter and Ten Speed Press who contributed to the success of these books.
To view the complete list of 2018 André Simon Food and Drink Book Awardswinners, click here.
André Simon, a French-born wine merchant, gourmet, and highly-regarded writer about wine, established the André Simon Award for gastronomic literature in 1965. Mr. Simon died in 1970 at the age of 93, but the awards that carry his name continue to this day, judged by the Trustees of the André Simon Memorial Fund.
Posted: February 7, 2019