---
Tokarczuk and Vásquez Finalists for 2019 Man Booker International Prize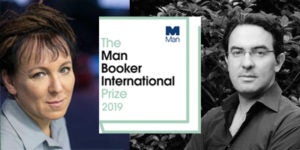 Riverhead Books publishes two of the six books on the Man Booker International Prize 2019 shortlist: acclaimed Polish author Olga Tokarczuk's DRIVE YOUR PLOW OVER THE BONES OF THE DEAD and renowned Colombian writer Juan Gabriel Vásquez's THE SHAPE OF RUINS. Tokarczuk won the 2018 Man Booker International Prize for her "non-traditional" narrative fiction, FLIGHTS.
Congratulations and good luck to Ms. Tokarczuk and Mr. Vásquez, as well as their translators, and everyone at Riverhead.
To view the complete shortlist, click here.
The winner of the 2019 Man Booker International Prize will be announced on May 21 at an awards dinner in London.
Posted: April 10, 2019