Toni Morrison's THE BLUEST EYE is New "Read With Jenna" Book Club Pick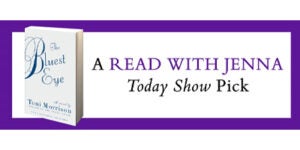 Toni Morrison's THE BLUEST EYE (Vintage) is the Read With Jenna book club selection for December, it was announced by TODAY Show host Jenna Bush Hager. This timeless classic, which celebrates its 50th Anniversary this fall, already spent 4 weeks on The New York Times bestseller list earlier this year. Morrison's virtuosic first novel asks powerful questions about race, class, and gender with the subtlety and grace that have always characterized her writing.
Ms. Bush Hager shares, "Just the other night I was talking to my sister, Barbara, about the first time I read THE BLUEST EYE. I remember where I was sitting when it was assigned to my sophomore English class at Austin High School. While it started as another homework project, it quickly turned into reading a book I felt I had chosen for myself. I remember marking it up like I had never marked up any books before.
"I was totally in awe of Toni Morrison's ability to make us feel like we were walking in Pecola's footsteps … Thematically, I had never read anything quite like this. It was a book that talked about adult subjects but the underlying themes of racism, otherness and feeling not good enough were things that my classmates were dealing with, particularly my classmates of color. It was the first book that really opened my eyes to how literature can create understanding and take you into worlds you don't know."
THE BLUEST EYE will be celebrated throughout the month with interviews on TODAY (major guests to be announced) and an online virtual book club discussion on December 20, as well as numerous social media posts and comments from readers at #ReadWithJenna.
Read more about the #ReadWithJenna TODAY book club and additional thoughts from Ms. Bush Hager about Toni Morrison and THE BLUEST EYE here.
Posted: December 1, 2020