Tonight: A Virtual Conversation With Art Spiegelman, Author of MAUS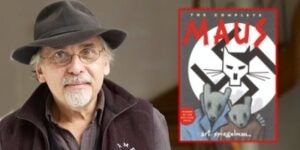 Art Spiegelman, author of MAUS: A Survivor's Tale (Pantheon), will be discussing his Pulitzer-winning graphic novel tonight at 7:00 pm (ET) via Zoom . This virtual public conversation is sponsored by various organizations based in Tennessee, including the Ascension Lutheran Church of Chattanooga, TN; B'nai Zion Congregation, Chattanooga, TN; The Jewish Federation of Greater Chattanooga; Mizpah Congregation, Chattanooga, TN, and The Tennessee Holler.
To register, click here.
The removal of MAUS from the 8th grade curriculum by the McMinn County School Board in Tennessee last month sparked conversation across the nation. MAUS has been hailed as "the greatest graphic novel ever written" and recounts the experiences of Spiegelman's father during the Holocaust. This haunting tale within a tale intertwines Spiegelman's relationship with his father with his father's account of one of history's most unspeakable tragedies. It is an unforgettable story of survival and a disarming look at the legacy of trauma.
Spiegelman is a staff artist and contributing editor at The New Yorker, as well as as the cofounder/coeditor of RAW. In addition to MAUS, he is the author of BREAKDOWNS and IN THE SHADOW OF NO TOWERS. He lives in New York City with his wife, Françoise Mouly.
Posted: February 7, 2022