Tonight: BIGNY Presents a Panel Discussion, "Redesigning the Classics," via Zoom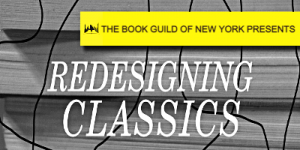 The Book Industry Guild of New York (BIGNY) presents "Redesigning the Classics," a virtual discussion of what goes into reimagining and republishing a classic novel in the twenty-first century. What inspires modern readers to rediscover classic novels? Their design! An interpretation in itself, design choices for covers and inset illustrations can make individuals pick up books written centuries earlier.
"Redesigning the Classics" panelists include Maëlle Doliveux, cofounder and in-house designer at Beehive Books; Ed Gaither, lead designer at Recovering the Classics; Peter Norton, vice president and publisher at Printers Row Publishing Group; and Jo Obarowski, creative director at Sterling Publishing. The panel will be moderated by Gary Bouchard, director of Gregory J. Grappone Humanities Institute at Saint Anselm College.
The program will be held via Zoom beginning at 6:00 pm, preceded by a pre-panel social (also via Zoom) from 5:15 pm. to 5:45 pm.. Admission is a donation of your choosing.
For more information and to RSVP, click here.
Posted: May 12, 2021